So here is the question you've been wondering about:
What to write in Valentine's Day card?
Should it be personal, should you just include some message from the internet or create a poem for your other half?
Is she going to be disappointed if you just write "Happy Valentine's Day" with nothing else?
If you're struggling to come up with something unique, while showing a bit of emotion and don't want to go overboard, here are a few options you have.
1.Cheeky / Sweet Message
You can get plenty of ideas here and if it makes her or his smile, the success achieved!
You don't have to pour your heart out in the card, make the other half smile instead and she will have something funny and sweet to show her friends too.
Example:
"Are you a banana? Because I find you a-peel-ing."
2. Choose a Novelty Valentine's Day Card
If you choose something unconventional, the card itself is already a pretty good start and all you need to add is simple "Happy Valentine's Day" and "I Love You".
Writing a love poem into a novelty card it probably not the best combination.
Keep it simple and let the card do its job and speak for you.
Example: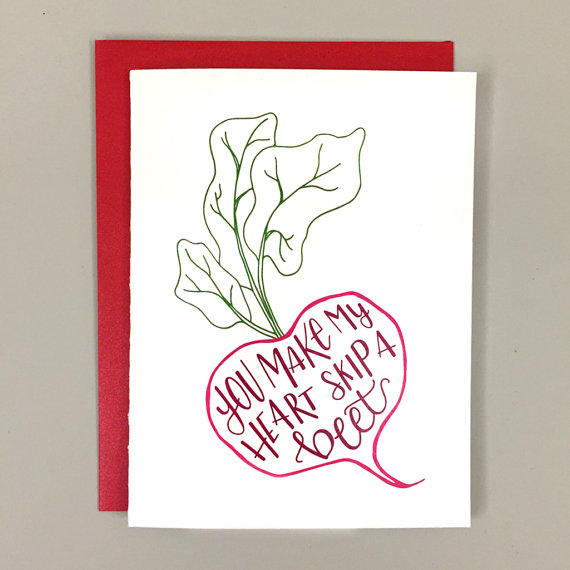 3. For a new relationship
Obviously, avoid any sex-related connotations.
They might make the other half a bit uncomfortable.
Instead, focus on the fact that now you have a special person to celebrate Valentine's Day with.
Example:
"I was never a fan of this holiday until meeting you, my sweet Valentine."
4. For a long-term relationship
If you've been together a while, on Valentine's Day you just wanted to celebrate the good times you had together and look forward to the bright future.
Mention some of your favorite stories you shared and which make you both laugh and express your hopes for many more Valentines Days spent together.
Example:
"When I saw you, I was afraid to meet you. When I met you, I was afraid to kiss you. When I kissed you, I was afraid to love you. Now that I love you, I'm afraid to lose you." – Rene Yasenek
5. For husband or wife
Make your husband or wife feel appreciated on Valentine's Day. Mention some of the things her or she does for you and how much you value it. Reflect on the good times and express your gratitude for having him or her in your life.
Example:
"Every love story is beautiful, but ours is my favorite. Thank you for all your support over these years and mowing the lawn every Saturday. Here is to many more happy moments together, Happy Valentine's Day my Love!"
If you're still wondering what to write in Valentine's Day card? 
You can get plenty of inspiration in here:
Happy Valentine's Day Messages
14 Cheeky Valentine's Day Messages
20 Romantic Valentine's Day Messages for Girlfriend
20 Original Valentine messages for Husband