Flowers bring color, joy, and fragrance to our homes and gardens. The UK is home to an abundance of wildflowers that come in all shapes and sizes, which you'll find dotted across parkland, moorland, forests, and other open spaces.
Wildflower offerings across the UK
British flora is humble when it comes to international standards, however, if you know where to look, you'll find an array of beautiful blooms dotted around the country. The majority of woodland flowers tend to arrive in early spring and grow (and are sold) anywhere from the north of Scotland, including around Edinburgh and Glasgow, to the South of England, and locations such as London, Southampton, and Bristol.
Where to look
If you wish to view an assortment of wildflowers come springtime, look to watercourses and wetlands. It's there that you'll find an assortment of bold and beautiful blooms, many of which sit on the surface of water or upon tufts. When late summer arrives, you'll begin to see these blooms pop up all over the place, particularly on heaths, banks, and moors, where you'll often discover a scattering of cowslips and orchids.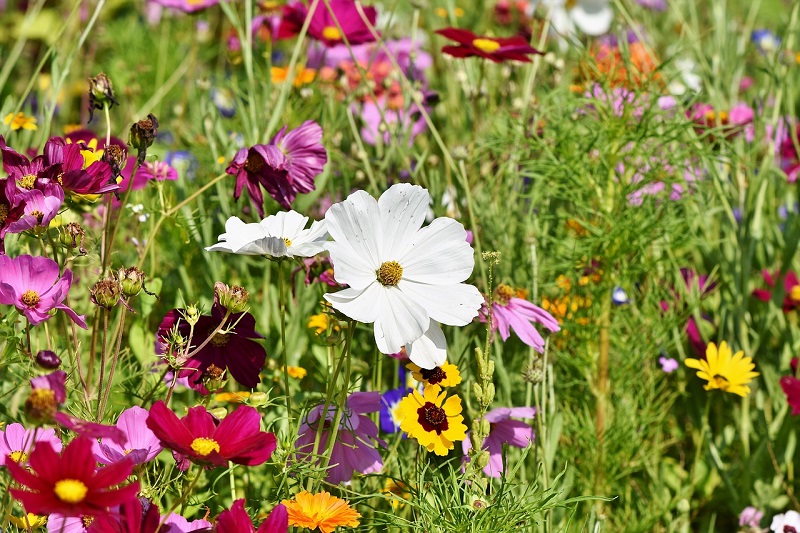 Wildflowers of Great Britain
Asides from those discussed above, there are a number of other must-see wildflowers in the UK. We've listed some of our favorites below:
Corncockle
This particular species, which also goes by the name of Agrostemma githago was once classed as a weed. However, it's tall stance and pretty magenta flowers make this annual bloom so much more than that.
Wood Anemone
The Anemone nemorosa comes in the shape of a delicate, floral creation, brandishing a pretty pastel hue and a yellow, sunshine center. They make up the canopy of woodlands and flower extremely early on in the year.
Ramsons
Also known as Allium ursinum, these fragrant species often carpet the floors of limestone woods. They are renowned for smelling a little like garlic.
Columbine
This species is also known as Aquilegia vulgaris and grows in woodland spots across the country, particularly in areas brandishing limestone. The flowers, which are a punchy purple hue, take the name Columbine – the Latin for dove – as they are said to look like five doves clustered together.
Cow Parsley
Also known as Anthriscus sykvestris, this species grows in shaded hedgerows, and most typically during May. It boasts shades of green and white and is often planted in show gardens.
Thrift
With the botanical name Armeria maritima, this hot-hued species is a must-see. It often grows close to the sea, on a ledge and can be found in locations such as Wales, Liverpool, Southampton, and Brighton. Its bright pink shade certainly makes it stand out from the crowd, yet despite its picture-perfect appearance, it's actually pretty hardy.
Daisy
This popular species Bellis perennis grows in a wide variety of locations, including everywhere from Glasgow to Manchester. It thrives in both suburban and isolated locations and boasts yellow, white and green shades.
Kingcup
Caltha palustris grows in the months of early spring and adds an instant injection of color to both woodland stream areas and marshlands, in the shape of a carpet of canary yellow.
Harebell
The pretty powder blue flowers of the Campanula rotundifolia are admired by many. They tend to grow on healthy turf in the months of summer and are particularly prevalent in Scotland.
Cuckoo Flower
Cardamine pratensis, Milkmaids or Lady's Smock comes in the shape of a pastel purple flower that is prevalent in grassy verges and meadows. It blooms in late spring.
Cornflower
Also named Centaurea cyanus, this particular species of flower is a cornfield exile and is surprisingly tall. It's now grown in a number of gardens across England as an annual plant.
Chicory
Cichorium intybus is a slender, lengthy flower that tends to grow in solitude. It's often found on dusty roadsides and boasts a brilliant blue daisy top, which is extremely picturesque.
Pyramidal Orchid
With the botanical name Anacamptis pyramidalis, this midsummer bloom boasts a shape reminiscent of an isosceles triangle. They tend to stick to the milder parts of the UK, such as London, Birmingham, Nottingham, and Brighton.
---
Local And International Delivery
Flowers By Occasion And Holiday
Specialized Gift Ideas