Roses mean many things, with both variety and hue having different connotations. When you choose a particular color, style or number of roses, you bring a whole new meaning to the gift. So what makes red roses so popular, and why should you choose red roses for Valentine's Day?
The meaning of red roses
Traditionally, the rose is considered the flower of love, which is why red roses are popular Valentine's Day gifts. The hue and variant convey deep emotions, including that of longing, love, and desire. Red roses are often also used to express feelings of admiration, respect, and devotion.
As well as the color, the number of roses that is gifted also portrays a specific meaning. A dozen roses are the most prevalent quantity to give and are associated with the messages 'I love you' and 'be mine'.
The history of roses
Roses have a long and vibrant history. According to fossil evidence, this species is 35 million years old, with around 150 species found throughout the Northern Hemisphere. You'll find roses everywhere from Alaska to Mexico, while there are even a handful of variants found in certain Northern African countries.
When it comes to popular folklore, the red rose was once the favorite flower of the Roman goddess of love, Venus. To this day, red roses remain the most popular flower for Valentine's Day and are an iconic way to express affection and passion.
Garden cultivation of roses began an impressive 5,000 years ago, with the first cases of this linking back to parts of China. Roses were then grown extensively in the Middle East during the Roman period when large public rose gardens in the south of Rome became hugely popular. This species of flower boasted many uses, including medicinal, as confetti at celebratory events, and as a perfume. Post the fall of the Roman Empire, the prevalence of roses has risen and fallen in response to the gardening trends at the time.
During the fifteenth century, the rose was seen as a symbol for those fighting to control England. The white rose was assigned to York, and the red rose to Lancaster. As a result, the conflict became known as the 'War of the Roses'.
During the 17th century, the demand for roses heightened even further. Rosewater even became legal tender. It wasn't until the late eighteenth century that cultivated roses traveled to Europe. To this day, most contemporary roses can be traced back to this ancestry.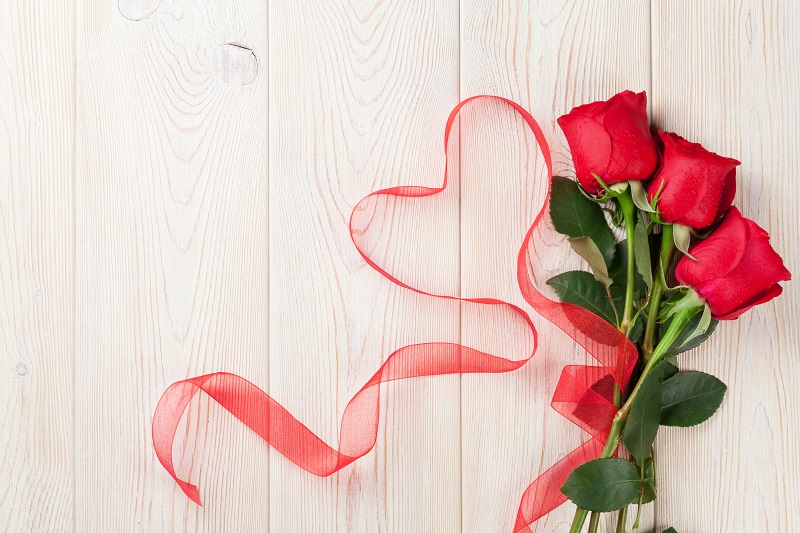 Where to order red roses for Valentine's Day
Roses (especially those of the red variety) make a great gift for Valentine's Day. Ordering a bouquet of red roses online is a hassle-free way to send the message of love to a friend, girlfriend or partner. Serenata Flowers has a huge selection of Valentine's Day roses, many of which offer same day and next day delivery. You can even have them couriered directly to the individual's home or office.
From romantic bouquets to fun and flirty styles, there are a number of options to choose from! Bestsellers include 'a dozen red roses', 'Scarlett Pimpernel', 'Perfect Pinks', two dozen red roses', 'Adore', 'Crimson Kiss', Fairy-tale Love' and 'Recipe for Romance'. Whether you opt for all reds or a mix of pinks, yellows, oranges and ruby reds, there is a style and scent to suit all.
Why send roses on Valentine's Day
Sending roses to a loved one on Valentine's Day is a time-honored tradition. Not all roses, however, are the same! These elegant, yet fragile flowers, require the correct care in order to stand the test of time. This is why sending roses using a service that offers same-day delivery is a great idea! It means the roses will arrive in tip-top condition in the shape of a bouquet that is as fresh as it can be.
Which bouquet to pick?
From the traditional option of a dozen red roses to a mismatch of lilies and roses, to an impressive display containing 100 roses, there are various bouquet styles available. Certain types even come housed in a vase or box, whilst others boast red ribbons and pretty packaging. If you're looking to push the boat out, you can add a bottle of bubbles or luxury handmade chocolates to the mix – your options really are endless.
What message will you send?
Asides from sending the message of love with Valentine's Day roses themselves, why not add a handwritten note? Many online florists will allow you to do this before checkout. Writing a few words, even if it's simply your name or a really cryptic message, will allow you to create a gift that is as personal as it is aesthetically pleasing.