Sending flowers to those who are grieving is a great way to let them know you are thinking about them. Asides from the gift of flowers alone, many will also send a message.
Writing the correct words can prove challenging, especially at such a difficult time. It's therefore important to take the time to consider your wording. What you write has the power to raise a loved one's spirits, whilst also showing them that they are not alone.
With this message, you should try to convey a sense of support and understanding.
Tips on how to compose a message to go with funeral flowers
It is not always easy to write a profound message that voices exactly how you feel, especially at a time of grief.
First things first, you must begin by addressing the card to the individual you wish to comfort. Equally, when signing off your message, include your name so that the receiver knows whom the flowers/message are from. Try to keep messages short and sweet, as a hand written card often accompanies funeral flowers.
Most people have a fear that they are going to upset or offend those who are suffering a loss, when in fact sending a message can work wonders to comfort those who are grieving.
Try to avoid using phrases such as 'I know how you are feeling' – as even if you've experienced similar circumstances, there is never a right time to say these words, as it can come across as diminishing. Instead, choose a message that expresses equal amounts of compassion and love.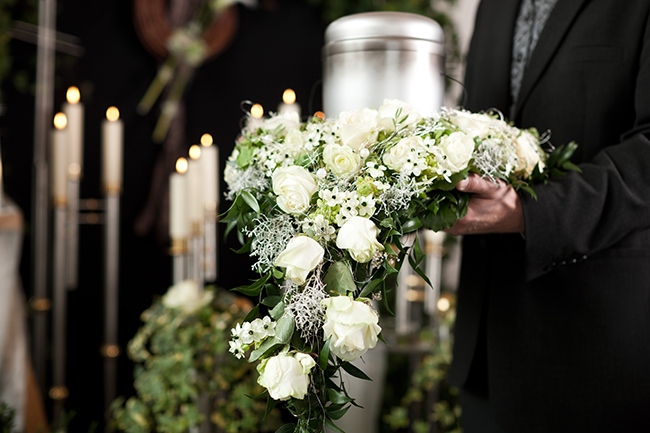 Popular messages to use…
'In loving memory'
'Please acknowledge these flowers and hear the words we are unable to speak'
'With my deepest sympathy'
'You are in my thoughts and prayers'
'In loving memory'
'With heartfelt condolences'
'Please know that we are here for you'
'Thinking of you in these difficult times'
'Sending love to you and your family'
'Please accept our loving thoughts'
'My thoughts are with you at your time of need'
'Sending our deepest sympathies during your time of loss'
'Please know our loving thoughts embrace you'
'I want you to know that I am here for you at this time of grieving'
'I'm so sorry for your loss'
'In loving memory of…'
'Please accept our condolences on the loss of your…'
'He/she will always be in our hearts'
Things to avoid writing on funeral flowers
When it comes to considering what to write on funeral flowers, it's important to know what you can and can't say.
There are many things that you will want to avoid saying, including:
Phrases such as 'I know how you're feeling' or 'it's for the best', as these will likely have a negative effect and upset or anger the recipient. Everyone feels different when they lose someone and it's wise to take this into account when deliberating what to write on funeral flowers.
Avoid messages including 'they lived a full life'. Regardless of whether this is true, it's never the right time to lose someone.
Try not to compare losses, as everyone's is different. Even if you think you're offering comfort by telling them you have felt the same way, they may take it the wrong way.
Other things to avoid…
Avoid sending a message over social media or a text, as this can come across as very impersonal. Instead, send a handwritten note attached to a bouquet of beautiful flowers.
Don't ask for details, the last thing those who have lost someone want is to talk about it in depth.
Don't make false promises, such as saying you will be there for that person whenever they need you – unless you can keep these promises.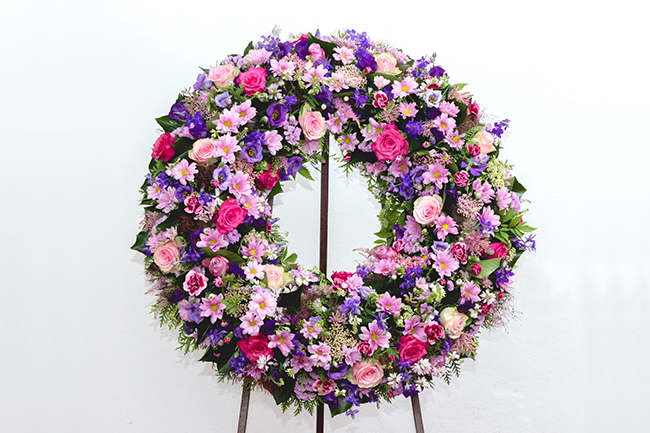 Message examples for the many different recipients
Depending on the family's ethnicity or religion, funeral customs, messages and gifts can vary.
The key is to find the right words. These should be appropriate, sympathetic and caring.  If you don't know the individual well, you may struggle with this, which is when it's wise to write something generic, formal, short and simple.
Always avoid humour! However, if those suffering are close to you, you may allow yourself to write something that is a little more personal.
It is wise to always speak highly of those who have passed, as it will comfort those hurting a great deal more. It will also show those grieving that you care and are thinking of them.
Selecting the appropriate flowers
Conventionally, flowers signify growth, moving forward and a new life. Gifting loved ones with a bouquet of beautiful flowers will bring them a sense of comfort and warmth.
Funeral flowers are generally branded by their meaning; here we have listed a few of the more traditional variants…
Wreaths – These circular floral arrangements signify eternal life.
Sprays – Allow viewing from one side only.
Floral arrangements – These include a variety of floral arrangements, including everything from container arrangements and bouquets, to baskets of flowers and freshly cut blooms.
Casket sprays – These are usually prearranged by the immediate family, and are assembled on top of the casket.
Inside pieces – Small floral sprays placed inside the casket.
With so many factors to consider when it comes to deciding what to write on funeral flowers, it's important not to worry. Although, it can seem unnerving, sending a bouquet of flowers complete with a message is a great way to show those who are grieving that you're there for them. Providing you're genuine in what you say and follow a few tips, you're bound to come up with a sympathetic and caring message that people will appreciate.
Sources: funeralwise.com, sympathymessageideas.com