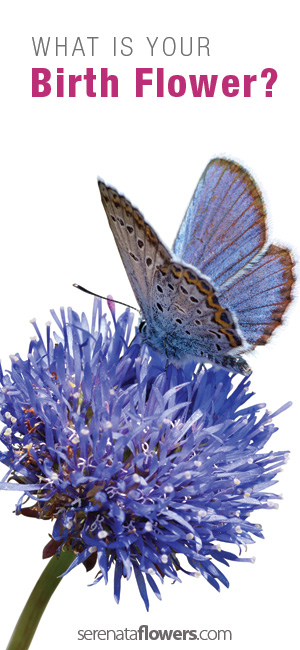 They say that there is a flower for every occasion … and they are certainly not wrong! From anniversaries to celebrations, Christmas parties to birthdays, floral bouquets can be the perfect gift on so many occasions.
As well as matching a number of different events, flowers also represent a great range of different emotions and symbolize different things. Each month of the year even has its own flower and these are popular choices for birthday bouquets.
But just what does each flower mean?
January
Flower: carnation
Meanings: love and fondness
A popular flower choice in many bouquets, carnations are the birth flower for those born in January and are available in a number of different colors. Each color has a slightly different meaning but most tend to focus on the sentiment of love and fondness. Red carnations symbolize love and longing, while pink carnations say that the sender will never forget you and striped carnations suggest a longing to be with someone.
February
Flower: violet
Meanings: truth and loyalty
A vibrant flower with delicate petals, violets symbolize faithfulness, loyalty, and humility. They are most commonly available in purple and white, with the purple variety thought to mean "I'll always be true" while the white flower symbolizes the idea of taking a chance.
March
Flower: daffodil
Meanings: happiness and prosperity
A flower strongly associated with spring and new life, daffodils are the birth flower for March. Lore surrounding the flower gives it a meaning associated with happiness and prosperity but they can also show love and affection when presented as a gift. According to symbolism, daffodils should always be presented in a bunch as a single daffodil can represent misfortune.
April
Flower: sweet pea or daisy
Meanings: remembrance or cheerfulness, happiness and innocence
April's birth flower is typically listed as either the sweet pea or the daisy with both having distinct meanings and delicate appearances. Sweet peas have a fragrant, pastel-colored flower and are thought to symbolize remembrance and thanks while daisies have small, delicate flowers and symbolize anything from cheerfulness and innocence to purity and beauty.
May
Flower: lily
Meanings: sweetness and humility
Large petals and thin stems characterize the lily and make it a big and bold flower choice in any bouquet. The flower itself is bell-shaped with oblong lanceolate leaves and comes in a number of colours – although white is the most common and popular. In terms of symbolism, lilies are associated with many things including beauty, sweetness and humility.
June
Flower: rose
Meanings: love and adoration
The traditional flower of love, roses are the birth flower for June and can come in a range of different colours to help senders deliver the perfect message. Red and pink roses are those most commonly associated with romantic love, whereas yellow roses can be seen as more maternal or show that the sender doesn't think they are worthy of affection. Orange roses symbolize a secret love, while white and red roses placed together in a bouquet are meant that to say that the sender and recipient are inseparable.
July
Flower: Larkspur
Meanings: open-heartedness and attraction
One of the delphinium plants, larkspur has bright flowers with small, delicate buds that look sweet and gentle. The flowers are believed to symbolize the idea of having an open heart but also represent attraction and fond adoration. Again, they're available in different colours with purple one of the more popular choices as it is associated with sweetness. Pink and white are also common varieties.
August
Flower: gladiolus
Meanings: first love and attraction
For those born in August, the gladiolus is their birth flower. A distinctive flower with sword-shaped leaves and funnel-shaped flowers, these are bright and cheerful blooms that represent first love and attraction. The flowers are typically pink.
September
Flower: aster
Meanings: love, faith, and wisdom
A bright and bold flower, asters are the birth flower for September and symbolize many things. Love, faith, and wisdom are some of the flower's most common associations but those giving these flowers as a gift are also said to be telling the recipient to look after themselves. Colour-wise, asters are available in numerous varieties with pink, red, white, mauve and lilac being some of the most popular.
October
Flower: marigold
Meanings: sorrow and sympathy
Although these flowers are commonly associated with sorrow and sympathy, their bright and bold appearance is far more cheerful to look at. The birth flower for October, the deep orange colour of marigolds works really well with the autumnal season.
November
Flower: chrysanthemum
Meanings: cheerfulness and love (maternal)
Associations with mums or maternal love are strong in November's birth flower with the chrysanthemum symbolizing cheerfulness and love. Red, pink, white, yellow, purple and orange are common colors for this flower and when given as a gift it can mean that you think the recipient is a wonderful friend.
December
Flower: poinsettia
Meanings: love and individuality
Claimed to say "you're the only one" when given as a gift, poinsettias represent love and individuality. They have a distinctive appearance with vibrant red and green leaves and are commonly associated with Christmas – making them a great choice of birth flower for December.
---
Serenata Flowers offers a five-star flower delivery service in the UK – take a look at our recent special offers and take advantage of our discount codes to get fresh blooms at unbeatable prices. Free delivery in the UK from Monday to Sunday.
---
Local And International Delivery
Flowers By Occasion And Holiday
Specialized Gift Ideas