A wedding anniversary is always a cause for celebration, regardless of if a couple has been married for as little as one year or as many as 75 years.
Of course there are many other anniversaries to celebrate too, from the date a couple first locked eyes, to when they bought their first home together, or any other momentous occasion they have shared with one another.
But beyond the many additional anniversaries celebrated, each year of marriage also has a material associated with it – and the longer they've been a duo, the more impressive the wedding anniversary names become!
Wedding anniversaries
The association between wedding anniversaries and precious metals was first implemented by the Romans.
Husbands would present their wives with a silver garland on the twenty-fifth wedding anniversary, and a gold one on the fiftieth wedding anniversary.
Since Roman times, numerous other items have been added to the list – including everything from paper to diamonds.
In addition to this, wedding anniversary names also come in the shape of gemstones, colours and flowers.
The most predominant wedding anniversaries 
The most renowned wedding anniversaries include the silver anniversary, which occurs after 25 years of marriage.
The pearl wedding anniversary comes after five years of marriage, the ruby after 40 years, the golden anniversary after 50 years and the diamond after an impressive sixty years of being married to one another.
The seventieth Wedding Anniversary, a rare and very special event, is symbolised by the material 'Platinum'. This is one of rarest metals in existence and is viewed as the idyllic gift to give to celebrate this extraordinary event.
Wedding anniversary names and their meanings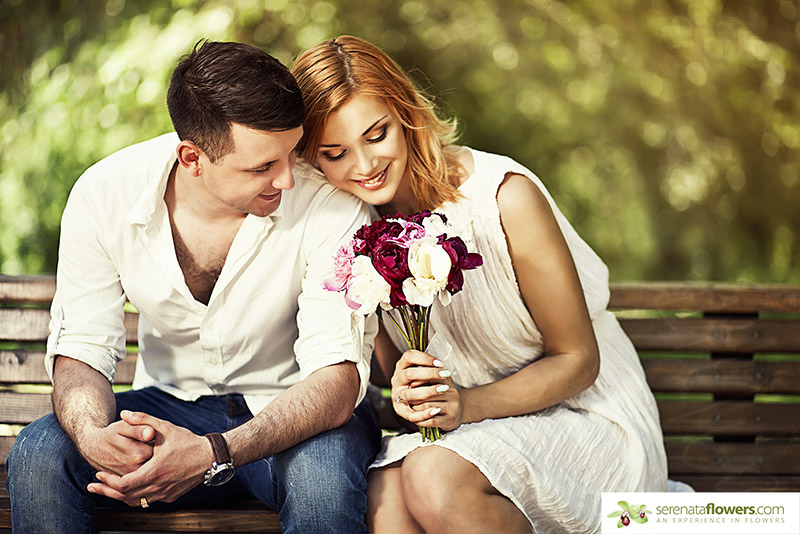 The full list of wedding anniversary names includes an array of metals and materials, all of which have a particular meaning when it comes to married life, as we've detailed here:
First anniversary – paper 
Paper, a blank canvas, represents the story of the marriage which is still yet to be written.
Second anniversary – cotton
In the second year of marriage, partners grow closer. This bond is represented by the interwoven threads of cotton.
Third anniversary – leather 
Traditionally, the material leather was symbolic of protection. When it comes to wedding anniversary names, this material resembles the protection and stability that the couple will provide for each other.
Fourth anniversary – linen
In the Bible, linen is symbolic of Divine truths. This material, when associated with the fourth wedding anniversary, resembles purity and honesty.
Fifth anniversary – wood 
Trees, throughout the ages, have been associated with both strength and wisdom. These are also the qualities associated with five years of marriage.
Sixth anniversary – sweets 
The sixth anniversary is celebrated to remind the couple of their early days together (when they first met) and how sweet their bond was then and still is now.
Seventh anniversary – wool 
Warmth is one of the essential ingredients needed for a happy marriage and wool is symbolic of this feeling.
Eighth anniversary – salt 
Salt was at one time a luxurious item. It is used as an eighth anniversary wedding gift as it shows how the marriage – like the mineral – is an important part of the couple's lives.
Ninth anniversary – copper 
This malleable material shows how a couple can (and must) be accommodating to each other's needs. A relationship is all about compromise and will only work if both parties are willing to make certain sacrifices.
Tenth anniversary – tin 
Just as canned food can be preserved for many years, tin represents how a partnership can last for the long haul.
Eleventh anniversary – steel 
This strong material is symbolic of how strong a relationship bond is, with the material itself noted for its strength and durability.
Twelfth anniversary – silk 
Silk is an elegant yet strong material and shows how a couple can endure year after year together, overcoming challenging times in the process.
Thirteenth anniversary – lace
Lace is used to showcase the gracefulness of two people's intertwined lives.
Fourteenth anniversary – ivory
Although ivory is now frowned upon as a gift (and illegal to source) many still choose to present something that features some sort of elephant theme for their fourteenth wedding anniversary.
These noble animals are celebrated for their stability, strength and honour – qualities that are key after 14 years of marriage.
Fifteenth anniversary – crystal 
The glow of crystal when it is hit by light is said to be similar to that of a happy couple's glow.
There are a wide of gifts associated with crystal wedding anniversaries as a result, from vases and keepsakes to champagne flutes and jewellery.
Wedding anniversary gemstones and flowers
Asides from materials, each year of your wedding anniversary is also symbolised by a flower and a gemstone, meaning there are plenty of options if you're hunting for wedding anniversary gift ideas.
First wedding anniversary: Carnation and Mother of Pearl
Second wedding anniversary: Lily of the Valley and Garnet
Third wedding anniversary: Sunflower and Moonstone
Fourth wedding anniversary: Hydrangea and Blue Topaz
Fifth wedding anniversary: Daisy and Rose Quartz
Sixth wedding anniversary: Calla and Amethyst
Seventh wedding anniversary: Freesia and Onyx
Eighth wedding anniversary: Lilac and Tourmaline
Ninth wedding anniversary: Bird of Paradise and Lapis Lazuli
Tenth wedding anniversary: Daffodil and Crystal or Green Tourmaline
Eleventh wedding anniversary: Tulip and Turquoise
Twelfth wedding anniversary: Peony and Jade
Thirteenth wedding anniversary: Chrysanthemum and Citrine
Fourteenth wedding anniversary: Dahlia and Opal
Fifteenth wedding anniversary: Rose and Rhodolite
Twentieth wedding anniversary: Aster and Emerald
Twenty-fifth wedding anniversary: Iris and Tsavorite
Thirtieth wedding anniversary: Lily and Pearl
Fortieth wedding anniversary: Gladiolus and Ruby
Fiftieth wedding anniversary: Yellow rose and Gold
Who should give wedding anniversary gifts?
Partners will often gift each other on their wedding anniversary, however, this shouldn't stop others from gifting their family members and friends when celebrating such milestones.
From cards with meaningful messages and more exquisite gifts to throwing a surprise party, there are a number of ways you can help your nearest and dearest celebrate their wedding anniversary.