Wedding anniversary is a wonderful occasion to celebrate the love for each other. Whether it's your first or fifteenth anniversary, make sure you get the right gift for the occasion.
Although you can never go wrong with flowers, your better half might also appreciate some old-fashioned or modern gifts, here is the complete list!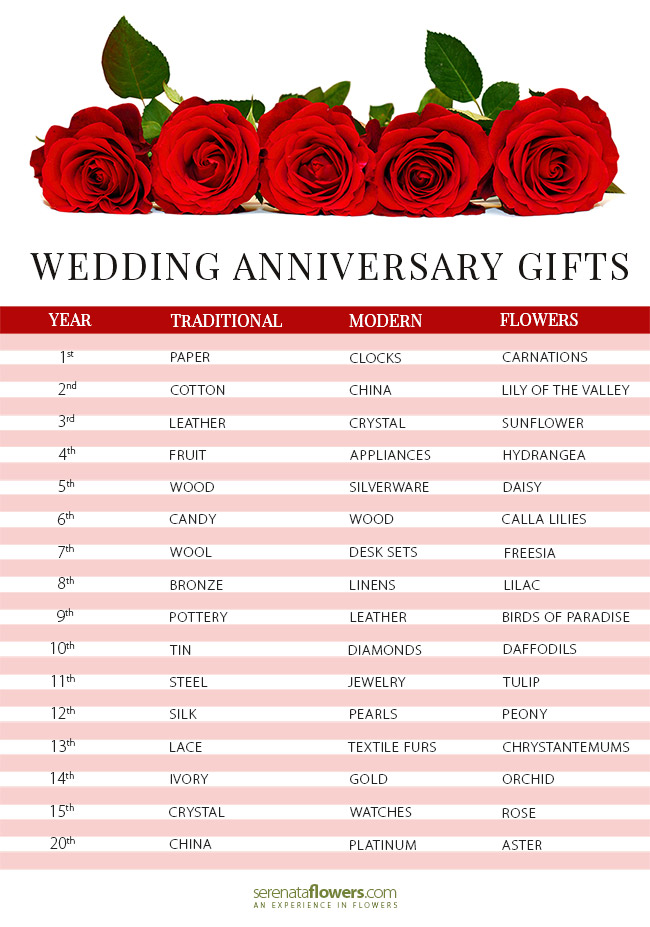 Where does the wedding anniversary celebration originate from?
The origins of wedding anniversaries go back as far as the Holy Roman Empire. Husbands used to crown wives with a silver wreath to celebrate their 25th anniversary, and they used a gold wreath on the 50th anniversary. In the 20th century, this old tradition was commercialized and led to the addition of more anniversaries with a representative gift. 
In the Commonwealth countries, couples could receive a message from the monarch for their 60th, 65th and 70th wedding anniversary, or any after that. To get one, you had to apply to Buckingham Palace in the UK to get one.
This tradition is now popular in other countries, including the US where the president sends the congratulations letter.
Read more about wedding anniversary here:
10 Original Happy Anniversary Cards
Happy Wedding Anniversary Messages
Wedding Anniversary Messages for Him
Wedding Anniversary – What to write on a card?
source: memorablegifts.com