Whether you're throwing a soiree, hosting a dinner party or decorating a wedding marquee, vintage flowers are a great option.
Asides from adding old-world charm to table tops, centrepieces and bouquets, they boast an array of rich, pretty hues. Here we show you the best ways to style such arrangements…
Choosing the correct vessel
When opting for vintage flowers, the vessel plays a key part. Both family heirlooms and antique market finds, including retro milk bottles and urns are great options.
Both partner perfectly with vintage blooms. Adding lux materials to these vessels, such as ribbon, lace and velvet will further enhance this theme.
Warm vintage centrepieces
Team roses in various rich shades with tuberose and vintage candles for a warming effect. Finish the look with snow-white peonies to create a striking contrast. Alternatively, opt for the traditional white rose ensembles, displayed in copper, compote vases.
Simple centrepieces
Ranunculus, privet berry, kumquats, eskimo roses, lisianthus, lilies and camellia leaves work to create an understated vintage flower arrangement and one that will make the ideal centrepiece.
These species of flower are popular options for a winter wedding. Create one large display or several smaller bouquets to line table tops. Finish the look with taper candles.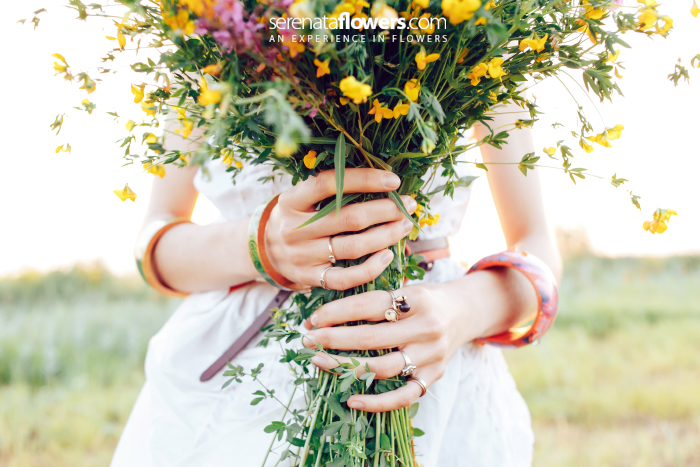 A single rose
Sometimes smaller displays create just as much impact as larger blooms, especially when placed against a low-key, minimalistic backdrop.
A single rose displayed in a wooden vase is both warming and vintage in style – go for peach-hued roses for the best results.
Something with more impact?
If you wish to create a statement vintage floral display, use popcorn viburnum with classic garden roses, hawthorns, clematis vine and olive green foliage. Bigger is better if you wish to create a statement piece – for the best look, display overflowing blooms in small, cement vases.
Colourful centrepieces
If you're throwing a dinner party, adding a centrepiece to the dining room table is a great way to add both colour and interest to the room. Scabiosa, peonies and elematis in soft pastel pinks, deeper magentas and dark greens work well when teamed with peach, silver or sage napkins and gold rimmed wine glasses. Finish the look with rose gold cutlery.
Add a touch of colour
If you're looking to add an injection of colour to an otherwise subtle hallway, arrange an array of amaranthus, tulip, privet berry and eucalyptus blooms in an over-the-top gold urn. Asides from being met with a sweet fragrance every time you open the front door, this eye-catching display will add both warmth and depth to the home.
Sunset-enthused centrepieces
Rustic vases brimming with vintage flowers brandishing colours of the sunset are certain to add a ray of light to an otherwise understated room. Stand tea lights next to each of the vases to give blooms a subtle glow
Old world displays
A rusty orange hue distinguished by deep green foliage, softened with a few pastel vintage flowers, is a great colour combination. Finish this display by scattering dried pomegranates, figs and blueberries at the base of the vase.
A winter wedding
When styling vintage flowers, it's important to keep the season in mind. For example, a winter wedding centrepiece boasting deep reds, chocolate hues, olive greens, burnt oranges and gold's will work to create a cosy feel. Opt for the same vintage flowers for the bouquet, minus the white blooms, and allow the dress to act as a stark contrast.
A low-key affair
Vintage displays don't always have to combine flowers and foliage. For a look that is a little more low-key and perfect for an outdoor event, such as a garden party or alfresco lunch, greenery on its own is an ideal option. Rosemary plants and olive branches styled in wicker vases and garden urns will add both depth and an antique style to a soft blue table runner, creating a relaxed, personal and refined décor. You may even wish to pick the foliage from your very own garden!
Teapot frenzy
Hosting a baby shower or an afternoon tea? Why not display vintage flowers in vintage teapots? These charming vessels, when filled with spring blooms, add character and a feminine style to table tops and mantle pieces. You may even wish to give both teapot and floral arrangements to guests as a gift.
Something different
Whether you are throwing a client dinner or an engagement dinner, adding interest to the table is one way to make your evening a memorable one.
Letterpress blocks brandishing the guest's names or initials in different heights, using different fonts is a unique way to let your guests know where they are sitting. Pair with off-white centerpieces, containing flowers such as white astilbe, privet berries, ferns, rosemary and bay leaves.
Sources: http://www.marthastewartweddings.com/
Read More on Flowers:
---
Local And International Delivery
Flowers By Occasion And Holiday
Specialized Gift Ideas