For a florist, Valentine's Day is most certainly the busiest and often the most profitable day of the year.
To avoid spending more than you should, it's important to follow a few tips and tricks when it comes to buying flowers for a loved one to ensure you get the best deal.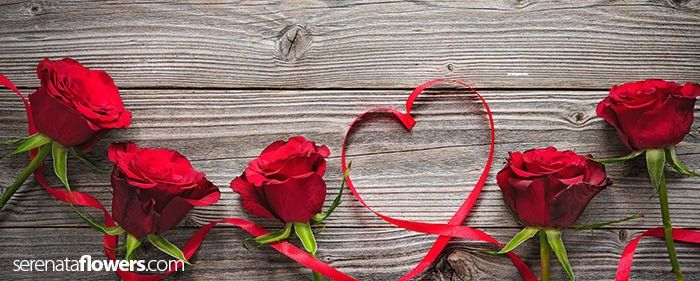 A florist may try to persuade you to buy cheaper flowers
The likes of colored roses are always easier to get hold of than red roses.
For a florist, they're the most cost-effective option. If your florist is trying to persuade you to buy something other than what you came in for, think twice before you make the purchase. This is especially the case if they're charging the same amount for all types of flower species.
They may also try to get you to buy a floral bouquet that is in abundance – if so, it's likely they're trying to get rid of their stock.
Using a different arrangement to that of the one advertised online
To avoid disappointment, always read reviews! Most online florists, including SerenataFlowers.com, feature a number of web-based customer reviews.
Reading past reviews, written by people who made a verified purchase (rather than anonymous reviews left on various websites), is a great way to gauge what's on offer. If not, you may receive something entirely different from that of what is featured in the picture.
Most other online florists will use a network of local flower shops to fulfill their orders. That means that the bouquet ordered will be put together from blooms readily available in the local flower shop. That has a direct effect not only on the freshness of the blooms but also the overall look of the bouquet. At SerenataFlowers.com, we don't use any local florists to fulfill our orders. Each individual bouquet is crafted as displayed on the website so you can be sure every-time you order from us, you will get what you pay for.
Hidden delivery charges
Always check the final amount before placing your order.
If you're unsure, simply call the florist or send them an email. A number of providers will add hidden delivery charges to the cost of the item. If you live overseas or in a difficult area to reach, this could amount to a huge sum.
However, if you're willing to shop around, you'll notice a number of online florists, including SerenataFlowers.com, offer free delivery.
Other hidden costs to watch out for include pricing per size. The price featured on the website is often the price of the smallest bouquet, so if you select the large bouquet at checkout, it's likely the cost will rise a great deal.
Don't be fooled by imagery
Even if the flowers in the picture look fresh, it's important to inquire about the quality of the purchase in question. Not all florists will provide fresh flowers, especially during the busy season. It's therefore important to opt for a stockist who states their flowers are always fresh. SerenataFlowers.com offer a range of fresh flowers, including everything from tropical bouquets to traditional displays to gift sets.
The promise of a quick delivery
It's certainly easier to say 'speedy delivery' than it is to activate it – this is especially the case on busy occasions such as Valentine's Day – when every boyfriend, husband, Father, and Brother is rushing to send their loved ones a beautiful bouquet.
To avoid late delivery, choose a service that offers order tracking. This way, you can follow your bouquet on its journey.
Of course, it's always wise to purchase your flowers in advance and request a later delivery date. This way you'll ensure your local florist doesn't run out of stock before you place your order.
Getting less than you bargained for
Website imagery can be deceiving. Just because the image you've clicked on showcases a grand bouquet of roses, this doesn't mean you'll receive the exact amount showcased in the picture.
Most websites will ask you to select a size before proceeding to the next stage of your order. The same applies to cards and extra gifts, such as chocolates, champagne, and other desirable items. Always check the description of the item you are looking to buy to make sure that you're not deceived by the product picture. If you wish to go the extra mile and add a few additional extras, this is something that can be arranged. The likes of SerenataFlowers.com offer upgrades, free greeting cards, and extras in the shape of vases, sweet treats, cuddly toys and champagne to name but a few options.
Showcasing only high prices
Some florists will use certain dates in the calendar, such as Valentine's Day, to their advantage.
Flowers that are usually half the price will suddenly increase in cost. To avoid paying a premium for the flowers, it's wise to choose a website that offers an array of tier options, including budget, classic and luxury alternatives. Regardless of your budget, if you choose wisely, you guaranteed to choose a bouquet that your loved one will adore.
As you can see there's plenty to consider when it comes to buying flowers for Valentine's Day.
But provided you have your wits about you and aren't in too much of a panic, it's possible to get your hands on some wonderful arrangements – and without the breaking the bank too.