With the most loved-up day of the year just around the corner, it's time to start planning!
From champagne dinner cruises to Valentine's Day adventures, to poetry reading classes and must-see flower festivals, there are a number of London-based activities to choose from…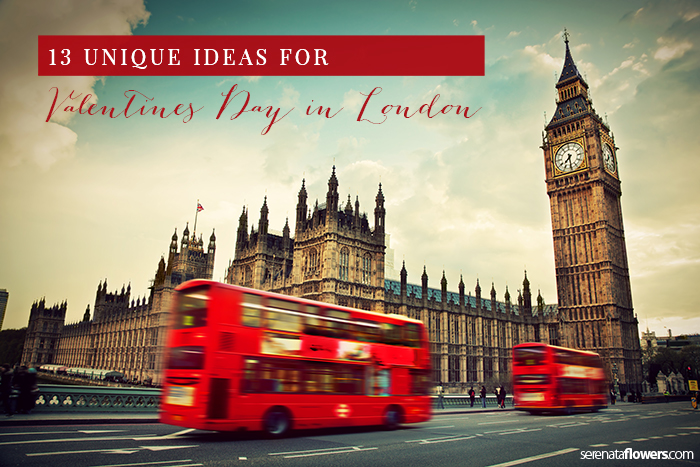 The London Eye Champagne Experience
The Coca-Cola London Eye champagne experience is one way to make your Valentine's date sparkle this season. Whilst admiring the picturesque panoramic views, sit back and enjoy a glass of Pommery Brut Royal champagne. Want to make the day extra special? Avoid the queues and opt for fast track boarding.
Take a trip to the Sky Pod at London's Sky Garden
Perched an astounding 150 metres above the city of London, the Sky Garden is the perfect place to take your Valentine's date. Enjoy cocktails mixed by connoisseurs whilst admiring the beautiful backdrop. It's certainly a great place for a memorable drink.
The view from the Shard
London's Shard is another popular place to visit if you wish to admire the city from a vantage point of 800 feet. This top visitor attraction is said to be one of Western Europe's tallest buildings. Designed by Master Architect Renzo Piano, it's also a great choice for those interested in designer craftsmanship.
Dinner cruise along the Thames
If heights aren't on the agenda, you can still enjoy London's stunning views by embarking on a relaxing dinner cruise along the Thames. Whilst enjoying a romantic meal, you can admire many of the city's picturesque landmarks. Opting for a luxury boat experience is guaranteed to impress your loved one.
A horticultural paradise at Kew Gardens
Experience Kew Gardens in a different light this year by enjoying one of their exhibits after dark. The Orchids Lates' evenings are the perfect option for Valentine's Day date, especially if you're trying to impress a green-fingered connoisseur. It is here you'll get to experience a bloom full of botanical cocktails, live performances, traditional Indian music, and hands-on workshops.
Something a little quirky…
For a first date, choose something a little different yet still laid back. Bart's invites you to travel back in time to the glamorous era of 1920's Chicago. Ring the bell, say the secret password and enjoy a multitude of must-try cocktails to a backdrop of quirky cartoon decor.
Evans & Peel Detective Agency
Fancy yourself a detective? Then the Evans & Peel Detective Agency is a must-visit! This quirky bar sets the scene of a 1930's crime novel in the shape of a concealed compartment, tucked away behind a bookshelf. It's here you can sample an array of diverse cocktails, comprising maple bacon and tobacco-infusions and tequila with smoked oranges. You can even buy your Valentine a gift – the establishment offer bottles of their finest mixes encased in vintage wooden cigar boxes, with instructions on how to concoct your favorite drinks at home.
Columbia Road Flower Market
Lined with 60 independent shops, comprising bakeries, art galleries, Italian delis and numerous pubs, Columbia Road, which is sited in London's East End, close to Spitalfields and Brick Lane is an endearing place to take a date.
Sample artisan cheeses whilst cruising through London
The Thames River Services has joined forces with local deli 'Champagne + Fromage' to produce an unforgettable, romantic experience. Choose either a single or return cruise from Westminster to Greenwich and sample a series of deli-style delights, including freshly cut charcuterie and a variety artisan cheeses. Finish the evening with a glass or two of bubbly.
Magical Lantern Festival at Chiswick House and Gardens
Enjoy a multitude of magical lights with a trip to The Magical Lantern Festival. A series of spectacular light installations and hand-made lanterns have all been created to celebrate the Chinese New Year, and of course, Valentine's Day.
Enjoy a film with a twist
The Electric cinema boasts decadent surroundings and old school glamour. Located just of Portobello Road, it's one of London's oldest cinemas to date. Showing both mainstream and arty films, there is something for everyone. Comfy leather armchairs, footstools, a well stocked bar and an array of moreish dishes are just a few of the delights on offer.
London helicopter tour
Experience uninterrupted views of the capital's impressive skyline with a helicopter tour around the city. Begin your journey at London's central heliport, before being whisked off to enjoy landmarks such as the Shard, Buckingham Palace and Tower Bridge from a height.
One for the daredevil
If you're looking for an action-packed adventure to gift to a loved one, look no further than 'The Slide'. This unique attraction allows guests to slide down one of the UK's tallest pieces of artwork – a hair-raising experience down 178m of the ArcelorMittal Orbit at the Queen Elizabeth Olympic Park.
Sources: Visit London, Thames Services
Read More about St. Valentine's Day:
30+ Feel Good Valentine Messages for Friends
10 Original Valentines Day Poems for Him
20 Original Valentine Messages for Husband
Funny Valentine's Day Card Messages
10 Weird Facts about Valentine's Day