A flower subscription can be a fantastic way to bring bold colours and fresh fragrances into a home or office on a regular basis. This makes them a popular gift for others, or a perfect option for yours truly.
Here's all you need to know about subscriptions, as well as our top picks for some truly stand out bouquets!
How to set up a flower subscription
Setting up a flower subscription is an easy feat and one that takes a matter of minutes. Once set up, it will be in place for as long as you want it to be.
Simply pick the blooms you wish to receive or send, choose a time frame (for example every week, every two weeks or every month) and pop your delivery details (with any direction notes) into the system. Voila! You're all set. Your blooms will arrive at your door, an instant way to put a smile on your face or the face of loved ones.
You can update the details at any time and can even add a greeting card to your order. It only takes a few clicks to make amends and all can be achieved online via your account. Your flowers will arrive beautifully arranged, in a secure package, safely delivered directly to your chosen address.
All blooms come in signature packaging, complete with care instructions and a card with a message inside.
Which subscription should I choose?
There are three different subscriptions to choose from. These include Happiness, Delight and Euphoria Flower subscriptions. Each option is great value for money and all feature a stunning display of seasonal blooms. These will be delivered to you at a frequency of your choice and each bouquet will be as unique as the last.
You'll even get a free vase with your first delivery so you'll have somewhere to show off your blooms each and every time.
What blooms do I get in my subscription?
The blooms packed are seasonal, meaning they will vary each week, every two weeks or month. The amount and style of bloom will depend on the value of your selected flower subscription. All flowers are freshly cut, and hand-picked by experts in-house.
They'll arrive in a stylish box, which again varies in style depending on the value of your subscription. Inside the box, you'll discover flower food and instructions on how to care for your flowers.
Our picks to watch
The Happiness subscription could include the bold theme Floral Ratatouille, a delightful mix of asters, stocks, solidago, lilies and roses – perfect for adding an instant injection of colour to any room in the house!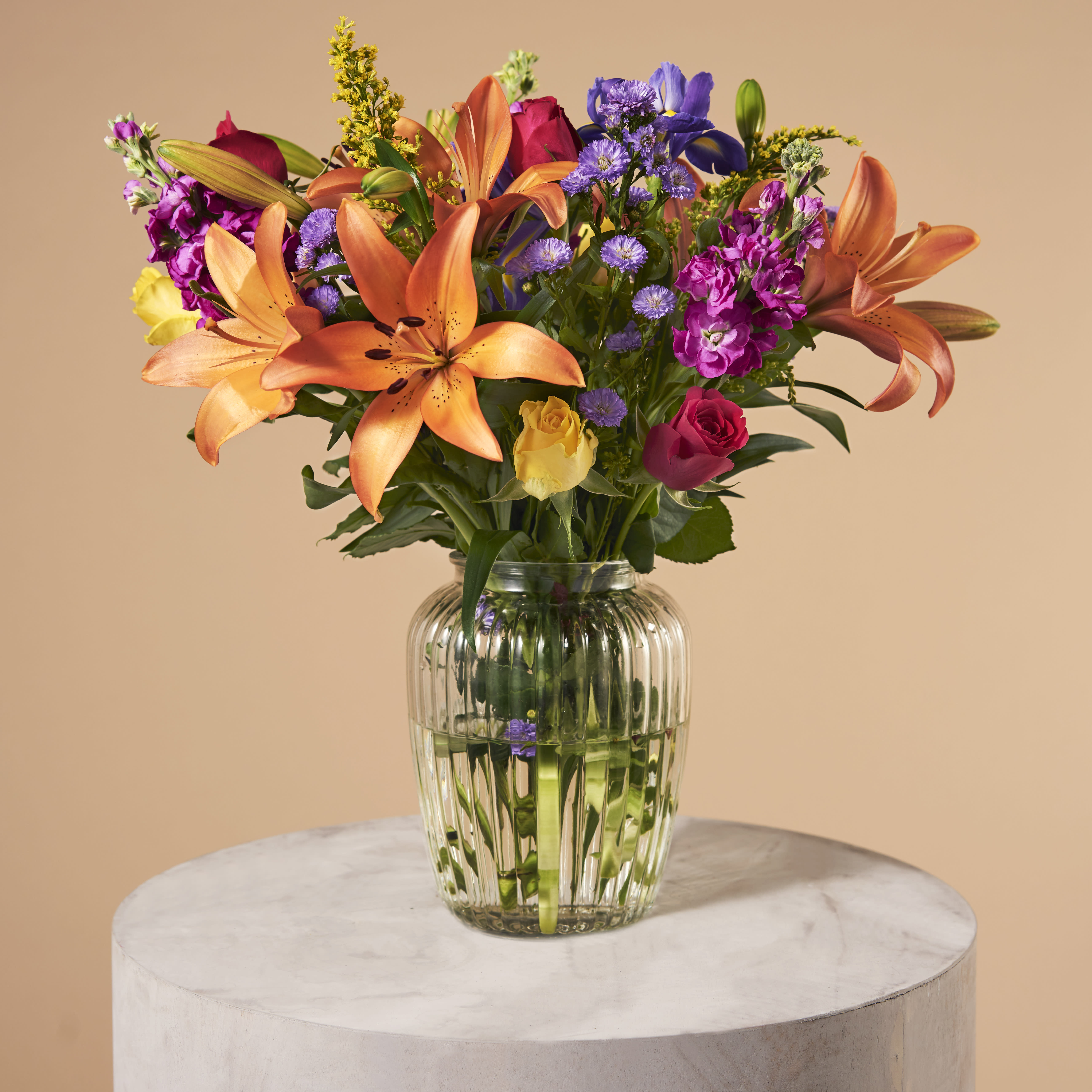 Alternatively, you might get to see the cerise and red roses, orange lilies and yellow solidago that comprise Changing Seasons, a stunning option that makes for a great centrepiece.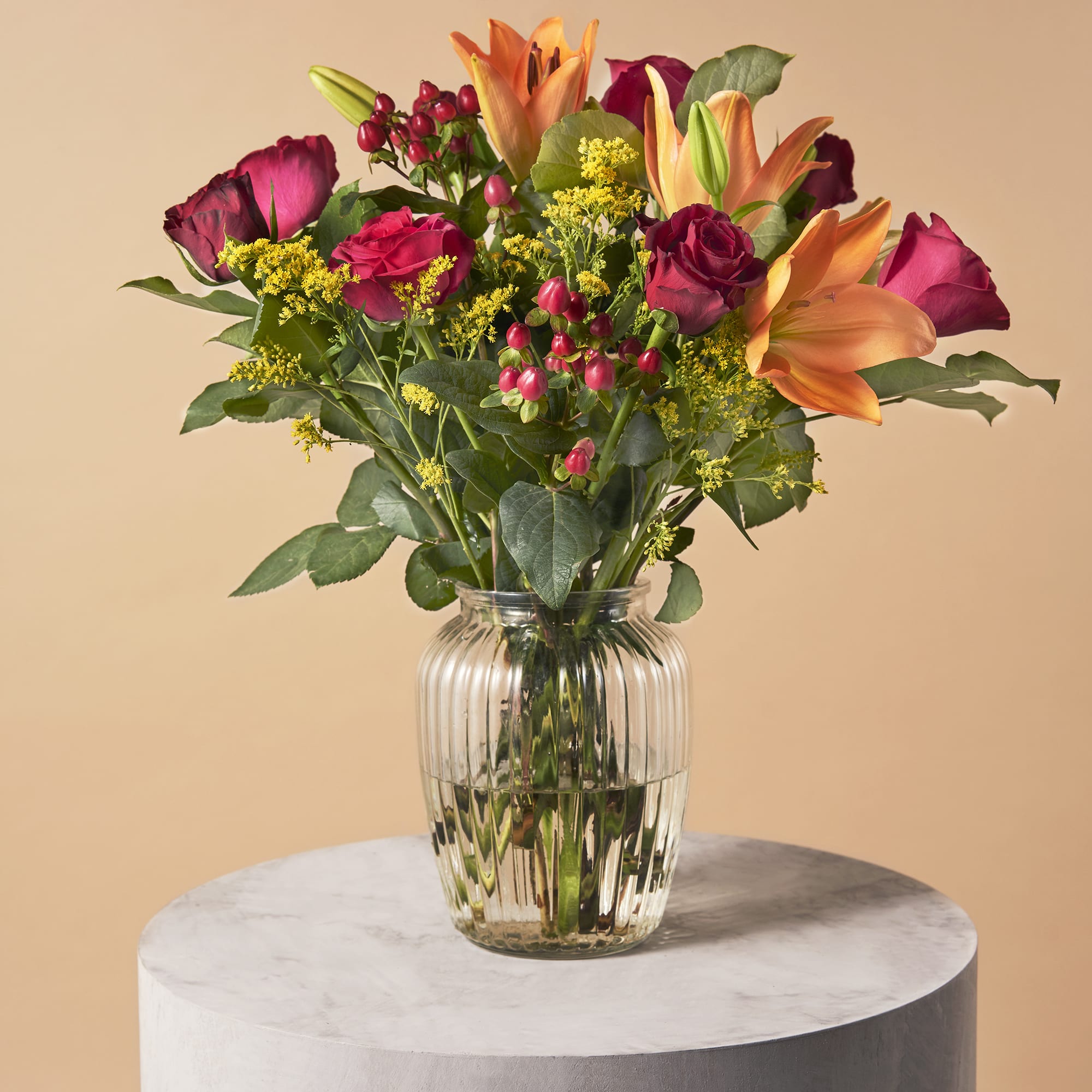 Opt for the Delight subscription and you may be greeted by Ivory Embrace, a tender collection of fragrant oriental lily, capturing the gracefulness of white avalanche roses entwined with white lisianthus, waxflowers and chrysanthemums.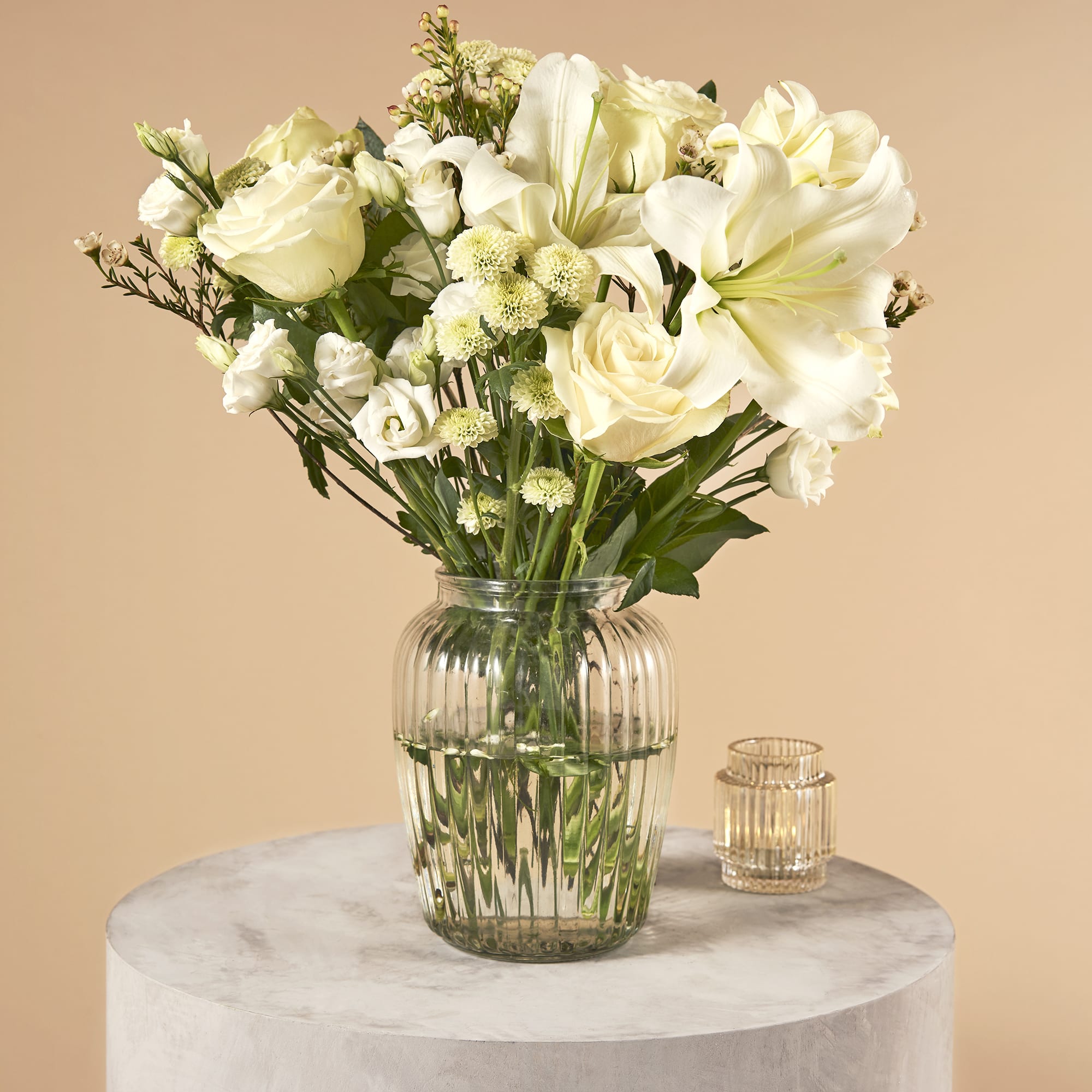 The bold theme might continue Divine Garden, a delightful mix of brandy orange roses, alstroemeria, purple lisianthus, stocks, and a sprinkle of pink statice and Antirrhinum.
Or your delivery could include the fabulous Winter Skies, the scents of lily and freesia on the breeze.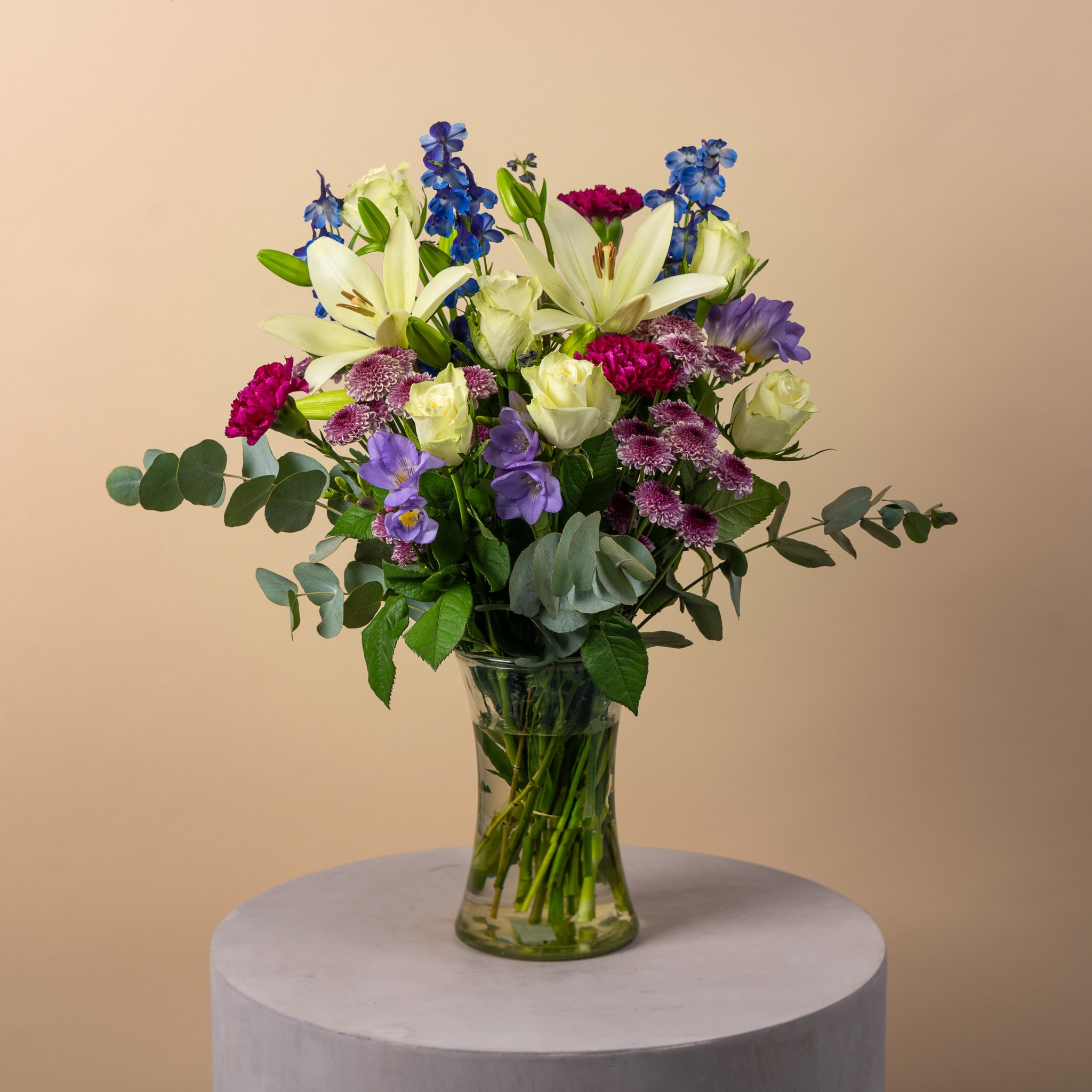 The high-end Euphoria subscription offers the very best on offer each month. Bouquets such as Amber Vixen, the mix of fiery orange roses, radiant sunflowers and sun-kissed Chrysanthemums show the sorts of spectacular blooms you can expect to receive and enjoy for days and weeks on end!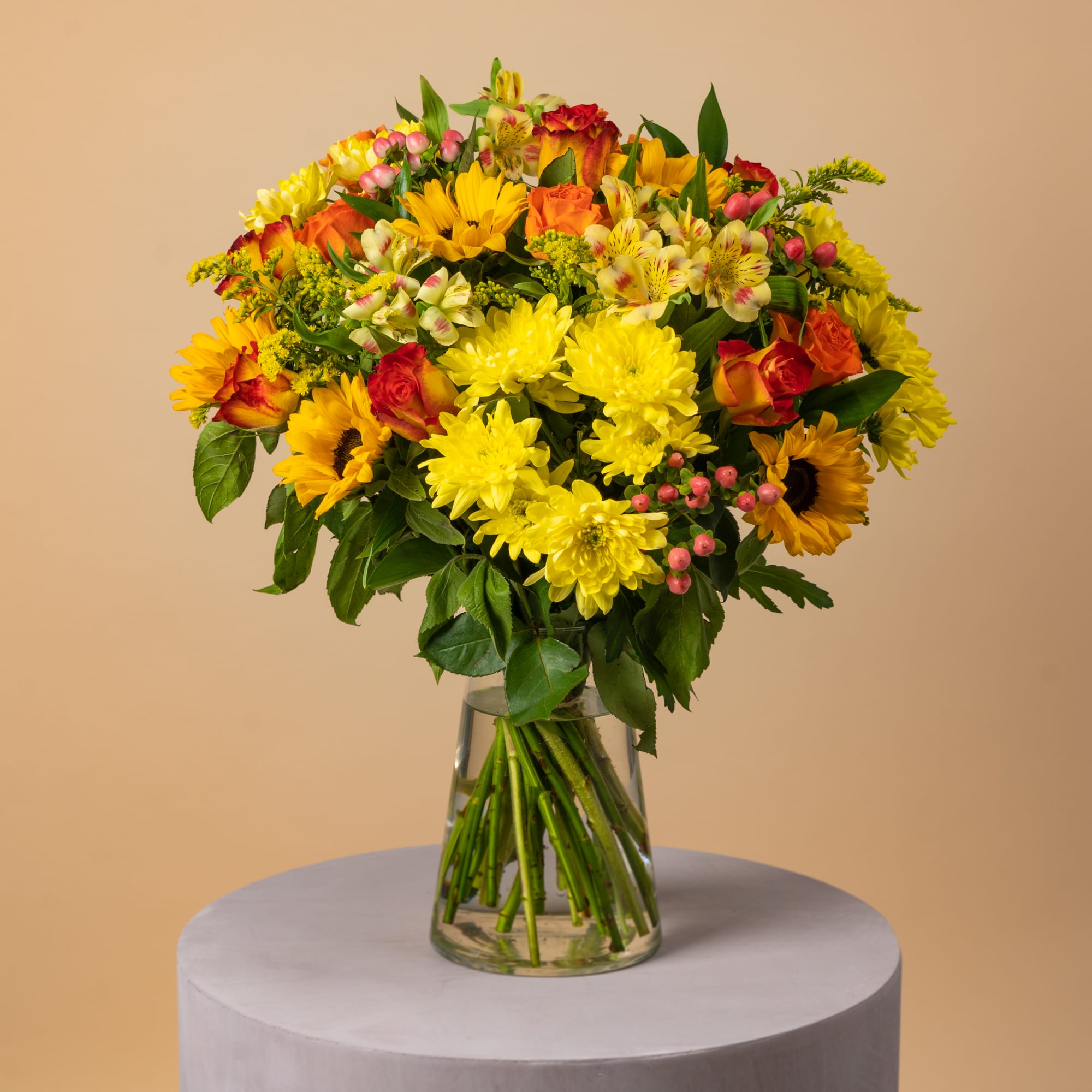 Look forward to striking flowers in all sorts of colours, many of which will reflect the seasons.
What is the cost of a flower subscription?
A flower subscription will vary depending on the size and type you choose, ranging from between £29.99 and £49.99 per delivery. All offer great value for money and all bouquets come with free standard delivery, which applies to delivery anywhere in the United Kingdom.
Blooms are delivered automatically on the day of your chosen first delivery each week or month. If you would like to opt for a different date, simply visit your account and edit this there.
Flower subscription is charged on an ongoing basis from when you sign up. This can of course is amended as necessary via your online account.
Why invest in a floral subscription?
There are many benefits to investing in a flower subscription, from brightening up your home or office space regularly to adding a little joy to a loved one's day. This is also a great option for busy individuals who enjoy having fresh flowers in their home, yet who may not have the time to pick them up from a florist.
A floral subscription allows you to make a one-off rolling order, all at the click of a button, giving the joy of flowers for as long as you want!