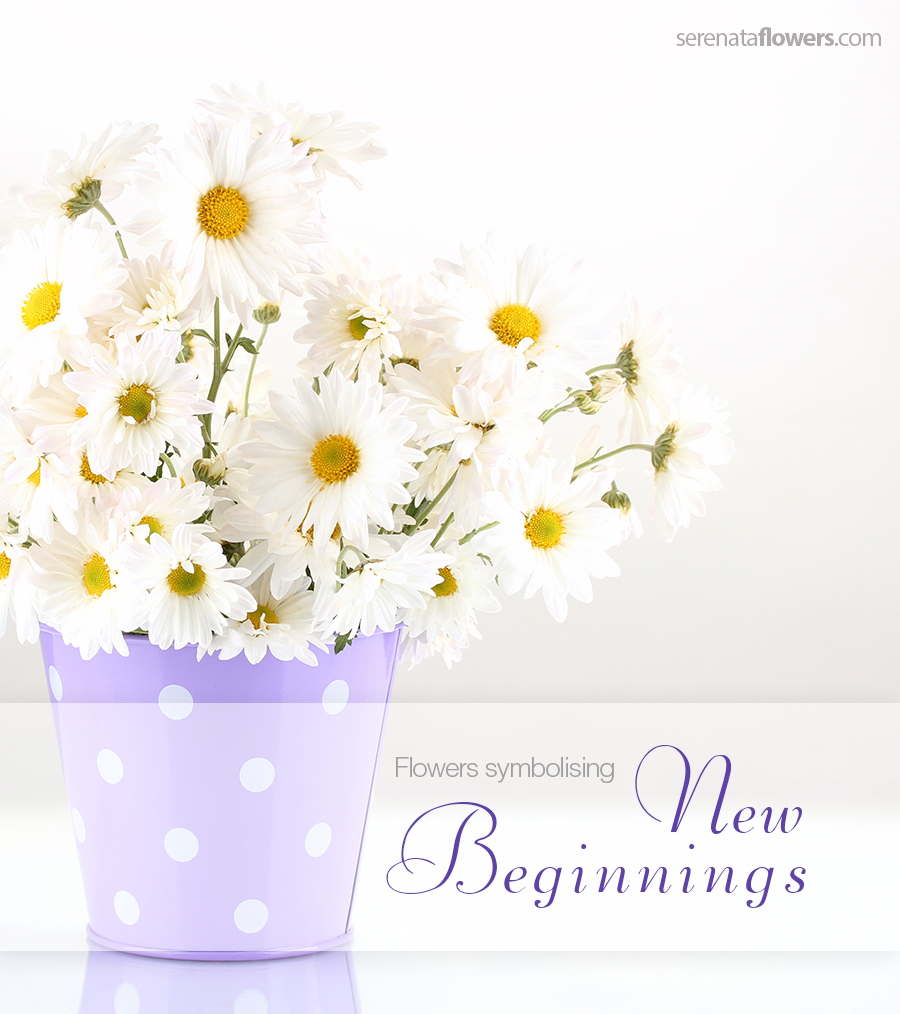 The beginning of a new year always evokes the feeling of a new beginning and a fresh start.
It is a time when we each revaluate our lives and decide on what we would like to change and improve. As a result, many of us decide to send flowers to family and close friends in order to celebrate the prospect of a new beginning.
However, choosing the right flowers in order to symbolize this message can be difficult at times.
In order to choose the right flowers to send your message of a new beginning, it is important to focus on the meanings of the flower.
The first widely accepted book describing the meanings of flowers was named: 'Le langage des fleurs' and published in 1819 by Charlotte de Latou. In this book, the meanings of flowers which originally came from the Victorian era to communicate a secret message to another were described and elaborated on. The Victorians had a huge interest in the meaning of flowers and as a result, used the meanings in order to tell others how they felt.
Many writers over the years have also used the language of flowers in order to convey messages and metaphors throughout their writing. Shakespeare is the most well-known writer to use the term 'flower' over 100 times in his plays and sonnets. Jane Austen and Charlotte Bronte were of no exception.
Whilst the meanings of significant flowers have varied over the past years in Western culture there is a common consensus on several flowers which are still used today.
The most well-known flower to symbolize that of a new beginning is the daffodil.
The daffodil
The daffodil flower is known for its symbolism of new beginnings and rebirth and is, therefore, the perfect flower to give someone this New Year. Whilst it has often been associated with spring, it is more commonly given as a gift during the beginning of a new year.
The flower also means; love me, sympathy, desire, and affection returned.
The ancient Greeks believed that the daffodil originated from egotistical Greek god: Narcissus.  The flower , in general, is thought to reassure happiness and friendship, however, a single bloom is thought to represent a misfortune – so be sure to give more than one.
Yellow flowers , in general, are known to bring joy, happiness and new beginnings and are therefore an essential part of the New Year celebrations. These flowers also symbolize the beginning of a brand new friendship.
The calla lily
The calla lily has deep-rooted traditions and historical importance and is of huge popularity in wedding bouquets due to their beautiful simplicity.
These flowers have been sought after for years due to their white, silk petals and elegant nature.
The name of the calla lily came from the Greek word for beauty – which is of little surprise. However, this was not the only reason they were so popular.
As mentioned, during the Victorian era there was a boom in choosing flowers due to their symbolic meaning – during this time there was no need for words, the flowers would do all the talking. It was during the Victorian time that the calla lily depicted that of the Virgin Mary and the resurrection of Jesus and as a result was often given as a gift during the Easter period. For this reason, the flower was associated with that of youth and purity.
Whilst the calla lily is often white, there are a variety of colours available from Serenata Flowers including yellow, pink, purple and black. Each colour comes with a different meaning; yellow meaning friendship, black meaning that of a mystery and purple being associated with royalty.
Whilst calla lilies are particularly favorable during weddings as they can mean marital bliss – they are commonly now being used to say 'new beginning' and to celebrate a new birth or a new year.
Daisies
Daisies originated from North and central Europe and have fast become a favorite in the UK. Whilst there are many types of daisies available around the world, they each have one thing in common – they symbolize that of a new beginning. In general, the daisy means purity, innocence and loyal love.
They are ideal for that of a new beginning, especially if the new beginning involves that of a new baby being born. They evoke happiness, joy, and prosperity.
The language of the flower is important when using them to send a message to a friend or loved one and therefore it is important to do some research into their meaning. The New Year is approaching – send your loved ones a beautiful gift of yellow flowers to wish them good luck in their new beginnings.
2015 is set to be a fantastic year full of exciting opportunities and fresh beginnings.
---
Serenata Flowers offers a five-star flower delivery service in the UK – take a look at our recent special offers and take advantage of our discount codes to get fresh blooms at unbeatable prices. Free delivery in the UK from Monday to Sunday.
---
Local And International Delivery
Flowers By Occasion And Holiday
Specialized Gift Ideas