Every avid gardener dreams of a space brimming with a sea of spring flowers. However, this isn't always possible, especially for those who live in cooler climates or apartments without any outdoor space. This is when spring bouquets come into play, adding an instant injection of colour to our homes at a time when the outdoors bursts into life.
There are a wide variety of spring blooms to choose from, with one of the most popular seasonal flowers being the daffodil. The earliest narcissi arrive in the preliminary months of spring, with a common variant being the Tête-a-Tête.
Another popular spring bloom comes in the shape of the Iris, an early spring gem! Scilla, anemones, tulips, freesia, gerbera and forsythia are other prevalent options for both the garden and bouquets.
The symbolism of spring
Spring is one season brimming with symbolism. It's a transitional period and a time where many starts to look forward to lighter nights, sunnier skies, newborn animals, fresh blooms and new beginnings. Symbolically, it's the period of rebirth.
At this point in the year, everything seems to be renewing itself. In terms of our mental wellbeing, spring is when we often begin to plan new adventures, consider fresh ideas and try out new projects – whether that's a new job, a holiday or even a business venture.
Why send flowers in spring?
Spring is the perfect season to gift your loved ones or yours truly with a beautiful bouquet of blooms. Why? It's a time for new beginnings, fresh starts and it's also when a number of our preferred flowers begin to flourish. It can also be a somewhat rainy month, so if you need to brighten up a dismal day, flowers could be the answer. Opt for a vase brimming with bright, freshly cut flowers to add colour, fragrance and vibrancy to any room in the household, while also putting an instant smile on the recipient's face.
The latest spring blooms from Serenata Flowers
Serenata boasts an array of blooms perfectly suited to the spring months. The best spring bouquets showcase a display of daisies, sunflowers, roses, tulips and more, at a time when many of the flowers are just starting to bloom. With so many options out there to pick from, choosing a spring bouquet becomes an easier task, as there are a style and variant to suit all! Here we've picked out a handful of our favourites if you're in need of a little floral inspiration…
Rainbow Tulips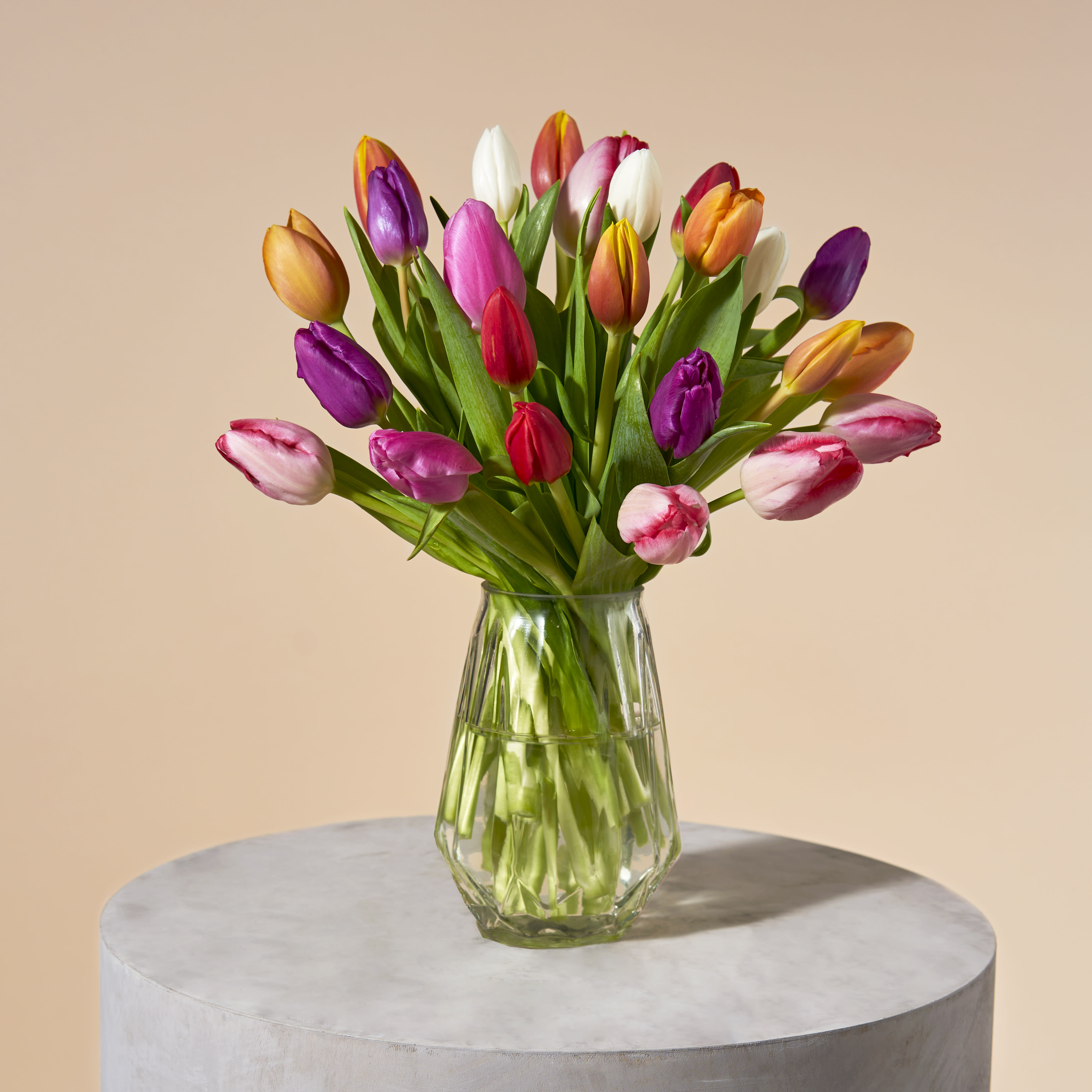 If you wish to send an injection of spring colour to a special someone, the Rainbow Tulips bouquet is a great option. Boasting a beautiful display of vibrant, hot-hued tulips, featuring a total of four colours, including orange, purple, yellow and green, it is guaranteed to brighten up a special someone's day. These joyful blooms are available as letterbox flowers too, meaning the recipient need not be home to receive them.
Vibrant Sorbet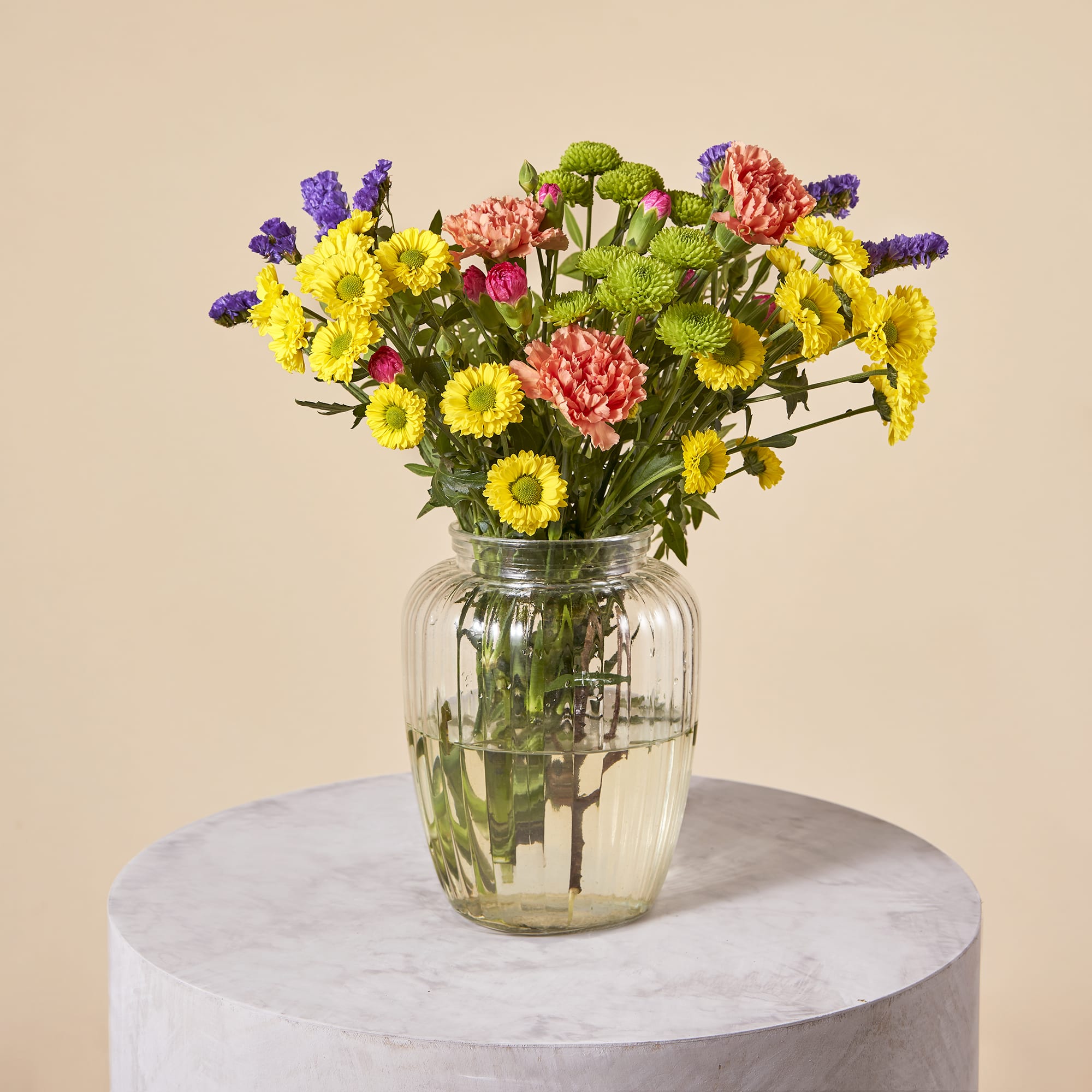 Arriving in bud form, ready to burst into bloom, the Vibrant Sorbet bouquet is guaranteed to add an instant injection of colour to your home. Whether buying for a friend, family member, or yours truly, this striking composition of blooms is the epitome of spring.
Freya
Purples, oranges, reds, pinks…you name it, the Freya bouquet has every hue imaginable. It's a perfect option to send this spring, as it is a welcome reminder of new beginnings and that a new season is just around the corner. Inside, you'll discover dark purple lisianthus, red freesia, salal foliage, rosa atomic and a handful of pink wax flowers.
Felicity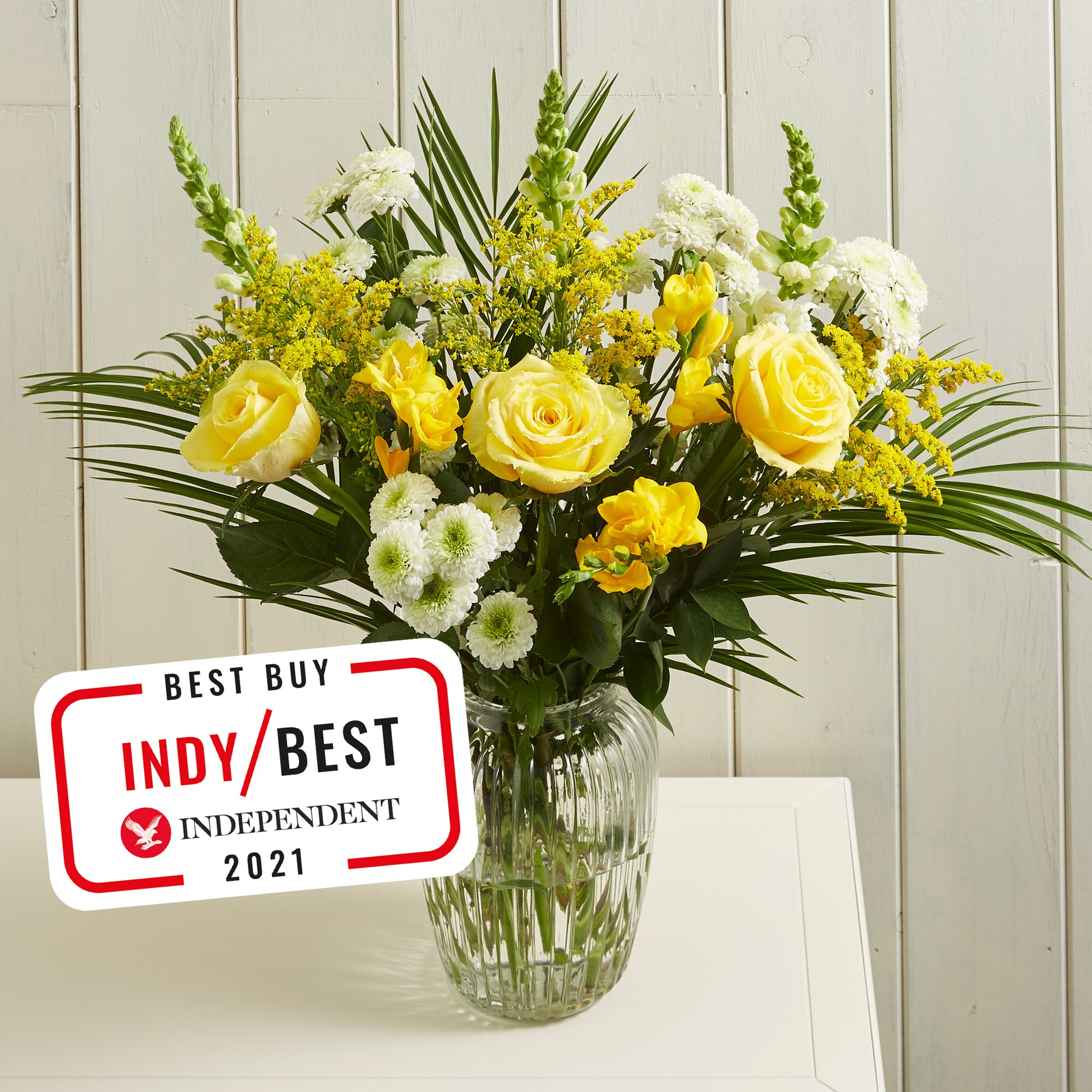 It's time to celebrate the sunshine, new blooms, fresh starts and an array of other, small yet significant fleeting moments. The Felicity bouquet is the bouquet that promises to put an instant smile on the recipient's face. Encased in the packaging, you'll discover a joyous blend of sunny yellow roses, freesia and solitago, all set upon a backdrop of wispy white Santini. These blooms will add instant cheer to any room in the household come rain or shine!
Care for your spring blooms
In order to help your bouquet flourish, add plant food to a vase of fresh water and place your flowers within it. Simply place the water every three or four days. You may also want to trim the stems to help them absorb more water – cut at an angle using a set of clean scissors or with a knife. Most of the bouquets are sent in the bud form too, helping to maximise the time they can be enjoyed, as they'll arrive ready to bloom.
By taking these steps, you should be able to enjoy your spring blooms for that little bit longer, enabling you to fill your home with fresh life. Just what you need to celebrate spring in 2021!
Sources: lovetoknow.com, housebeautiful.com, sunsigns.org