Whether you're thanking a family member for helping you learn to drive or a friend for always being there when you need them, thank you gifts are a great way to show your appreciation.
If you're unsure of how to say thank you and you're looking for a cheap and cheerful way to do so, here you'll find inspiration for everything from thank you gifts to thank you flowers, to thank you hampers and much more – ideal for volunteers, teachers, neighbors, coaches, friends, family, and anyone else you can think of…
Here are some of our tips for affordable gifts for anyone:
1. Thank you flowers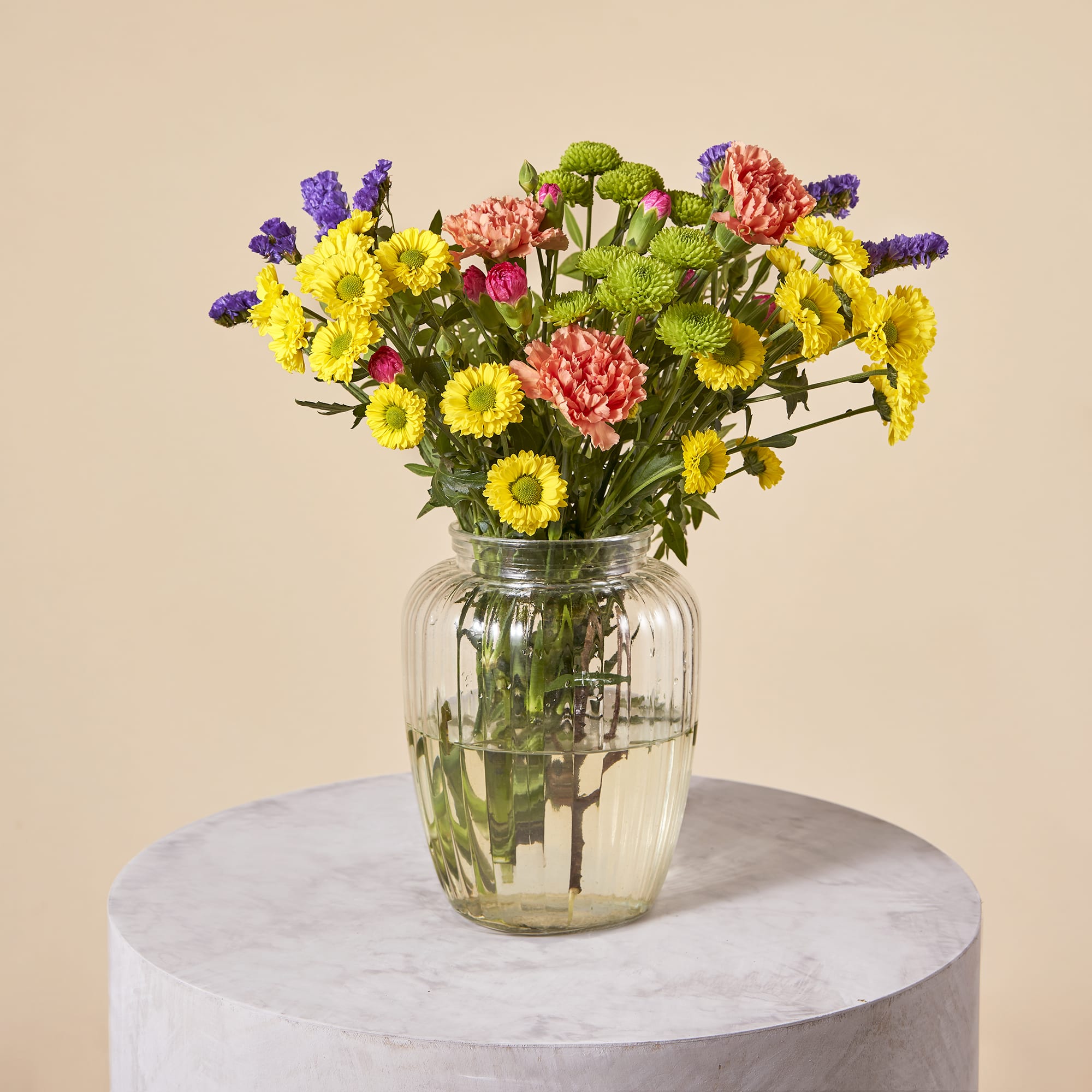 Thank you flowers are a colorful way to show your appreciation.
When sending thank you flowers, it's important to choose the right ones. If you have an idea of the individuals' style and taste in mind, you're already one step ahead.
If you don't, opting for a generic choice is a good option. Asking yourself a few questions before you begin is a good idea. These could include:
'Do they have a favorite flower?'
'Do they dislike any flowers?'
'Do they have desired colour?'
The answers to these questions are extremely helpful when it comes to designing a floral-inspired gift and are certainly something to consider when choosing the perfect bouquet or plant.
The design of the thank you flowers should suit both the relationship between the sender and those who are being gifted, as well as the occasion.
For example, if you're sending thank you flowers to your manager, the design is likely to differ greatly from those you would send to your mum. It is important to take this factor into consideration when choosing any thank you gift.
Another tip to remember when choosing thank you flowers is that they are symbolic in nature. Most will have some basic knowledge of flowers and how they convey symbolism. For example, roses are associated with love, which makes them appropriate for someone who is close, but not as suitable for an acquaintance.
Asides from the type of flower, colors are also an important consideration. Whether you opt for a bouquet of tropical hues or choose the individual's favorite shade, this is another point to factor in when designing thank you flowers.
2. Thank you hampers
A thank you hamper is an ideal thank you gift and one that is suitable for nearly any occasion.
Whether you opt for a complete foodie hamper or one containing a selection of ales and cheeses, this particular gift is easily tailored to the recipient.
If you're designing a hamper for your best friend, you're guaranteed to have a list of all their favourite things at hand. Whether you fill it with spa-inspired gifts, chocolates, champagne or health foods, she's guaranteed to enjoy every offering.
If you're choosing a hamper for an acquaintance, opting for something more generic is a safe bet. Many companies, including SerenataFlowers.com, have a huge selection of pre-made hampers to choose from. They feature everything from fine wine to non-alcoholic options, to healthy goods, teatime treats and decadent chocolate gifts.
If you're looking to keep costs down, you'll also find a selection of smaller hampers to choose from. Alternatively, you can opt to purchase an empty hamper and fill it with the likes of cosmetic goods (perfect for a beauty queen), gym essentials (ideal for a friend that loves to work out) or art materials (a must for someone who enjoys being creative).
What you opt to fill your hamper with is entirely down to you, meaning you can show that you've put a great deal of thought into your thank you hamper.
3. Thank you chocolates
Almost everyone has a soft spot for chocolate!
What better way to say thanks than with a sweet treat? From handmade salted caramel truffles to strawberries enrobed in gooey goodness, there are arrays of chocolate gifts to choose from, boasting white and milk chocolate as well as darker variants.
If you're unsure of what to pick, opt for a decadent selection encasing all three, which is guaranteed to entice even the sweetest tooth.
If you're looking for something a little healthier in style, choose chocolate boxes with cocoa nibs, 100% cocoa and fruit covered treats. Raw chocolate is certainly trending today and even the most health-conscious connoisseurs tend to allow themselves a square or two of cold pressed cocoa.
4. Thank you cupcakes
Another sweet treat – cupcakes are a cost-effective, yet well-received gift. From choosing the flavor, right down to the color of the icing, you can make this gift as personalized as you like. You can even opt to write the words 'thank you' for each cake with edible jewels, chocolate buttons or glitter. Most cupcake companies and caterers will hand deliver cupcakes to offices and homes.
If you're looking for an even cheaper option, why not make your own? You'll find a number of recipes online, as well as handy cake making kits in supermarkets. Asides from improving your baking skills, taking the time to make your own cupcakes really shows how much you appreciate those you are giving them too.
5. Thank you notes
Despite the tech-savvy world we live in, where e-cards and electronic messages are now the norm, people still appreciate getting "thanks" in writing. Handwritten notes are a warm, special way to say Thank you. You can write as little or as much as you desire and a note encased in a pretty card is always received with appreciation.
If you wish to make your gift even more personalized, you can opt to make your own card.
6. Thank you quotes
With thank you notes come thank you quotes.
Here are a few you may consider using when gifting a certain somebody with a thank you note:
The only people with whom you should try to get even are those who have helped you. 
John E. Southard
Silent gratitude isn't much use to anyone. 
B. Stern
Saying "thank you" creates love. 
Daphne Rose Kingma
Saying thank you is more than good manners. It is good spirituality. 
Alfred Painter
Thank you gifts are a great way to express gratitude for a specific act of kindness. In order to make this clear, a handwritten note on a card is always a good idea and will add a sense of personalization to your gift.
In order to make this clear, a handwritten note on a card is always a good idea and will add a sense of personalization to your gift.
More Articles: