Are you celebrating Sibling's Day on 10 April 2016? No?
Then you should consider doing so, here are few things you should know:
When is national Sibling's Day?
It is celebrated on 10 April every year. This date was chose by Claudia Evart, who wanted to honour the birthday of her late sister, Lisette.
It is still not officially recognised, but many countries around the world have joined in celebrations.
When is Brothers and Sisters Day?
This is the same day as the National Sibling's Day. Every year on 10 April it is time to put your differences aside and remember why brothers and sisters are so special.
Celebrate Siblings Day with Serenata
Competition start: 3rd April 9am on Twitter
Competition end: 12 April 9pm
Prize: Box of our Luxury Belgian Chocolates (small) for you and your sibling!
Rules: Follow Serenata Flowers on Twitter, and re-tweet the competition tweet below.
"Celebrate Siblings Day and win chocolate for you and your sibling! Follow @serenataflowers and re-tweet to enter."
The prize is available for delivery to UK residential address only, but entries from other countries will be accepted, as long as the prize can be delivered within UK. The winner will be picked by random and will be asked to provide address for himself and one sibling, to which we will send the additional box of chocolates. No prize or cash alternatives. We reserve the right to replace the prize with other alternative of same value, if the particular product is out of stock at the end of our competition. There are unlimited entries for this competition and the winner will be picked on 12 April after 9pm and announced on our Twitter account.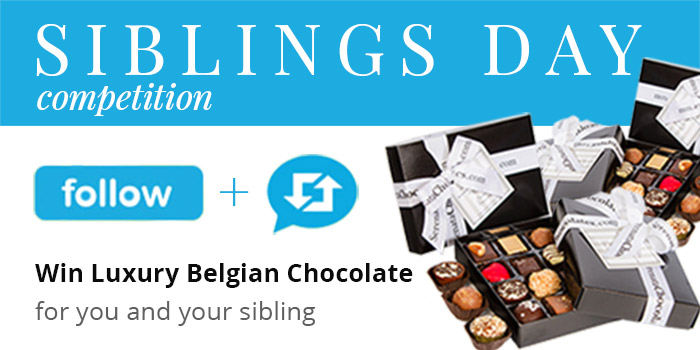 Related articles: