Valentine's Day, also known as St. Valentine's Day, is celebrated every year on 14 February. To show affection for another person (this could be a longstanding partner, your husband or wife, or alternatively, someone you wish to date), many will send cards, flowers or chocolates, all containing messages of love. But what if you don't want the recipient to know who you are? Here we've detailed how you can send flowers anonymously this Valentine's Day, alongside a little history behind the day itself.
Who was St. Valentine?
The day and its name resonate from a famous saint, but several stories surround this saint. One of the more renowned stories talks of a Roman priest, who resided in the third century AD and who went by the name of Valentine. Emperor Claudius II was said to have banned marriage because he believed married men to be bad soldiers. Valentine felt this was very unfair, and as such, arranged marriages in secret. When Claudius discovered what Valentine was doing, he threw him in jail and sentenced him to death. Whilst behind, bars, he fell in love with the jailer's daughter and when he was taken to be slew on 14 February, he sent her a love letter signed "from your Valentine".
How did Valentine's Day start?
The first Valentine's Day took place in the year 496 and was believed to have originated from the Roman festival Lupercalia, which was held mid-February and marked the official start of springtime. One of the tales connected to the celebration included boys drawing names of girls from a box. They'd then befriend the girl during the festival, which often resulted in marriage. Some years later, the church decided to turn this festival into a Christian celebration as a remembrance to St Valentine. Progressively, St Valentine's name started to be used by people to express feelings of love to others.
Why send an anonymous gift or card?
Whether you adore it or hate it, Valentine's Day is fast approaching, which means you don't have much time to find the perfect present. If you're single, Valentine's Day tradition suggests you to anonymously let the person you like know they have a love interest! A bouquet of beautiful blooms is the perfect gift to give namelessly on Valentine's Day. Who doesn't enjoy opening the door to a bright and fragrant flower show, especially one brandishing a card signed with only a question mark?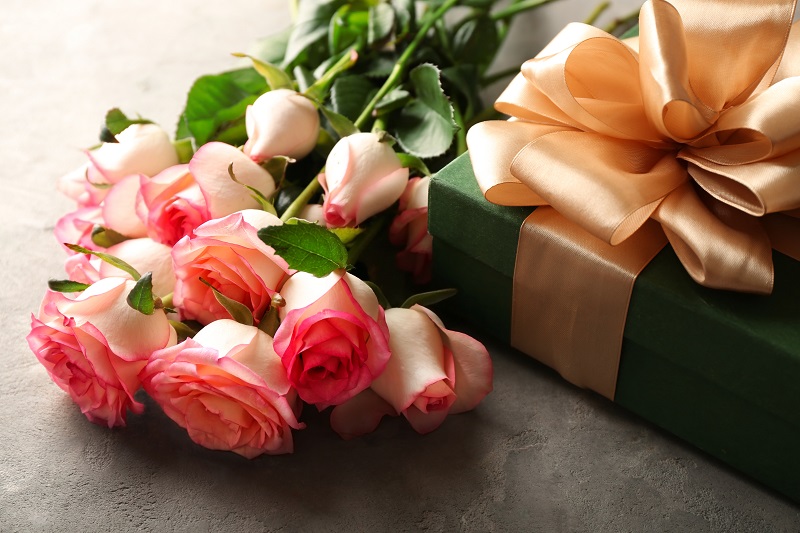 Which blooms to choose
If you're thinking conservatively, a bouquet of long-stemmed roses is the go-to option and a classic way to say 'I love you'. However, if you'd like to think outside the box, take inspiration from your florist and create something a little more original. If you really wish to go the extra mile, team the flowers with a box of delicious chocolates or a bottle of bubbly.
How to send a bouquet and card anonymously
With the advent of online florists, it's easier than ever to send an anonymous Valentine's Day gift. Simply select the bouquet you wish to send, fill in your details (including the recipient's details), and finally, you will need to decide whether or not to include a message to go with the flowers. This could be as simple as a question mark, alternatively, you may like to give a clue.
If you send your bouquet using Serenata Flowers, the information box will not contain any information from the sender if you do not include it, and the florist will not reveal the sender's details unless they have been given permission to do so. Whether you include your name in the message is therefore up to you.
Anonymous flowers are a great gift to give and have the ability to instantly brighten someone's day. Asides from considering all the people the flowers could be from, it's a reminder that people are thinking of them, even if this person is someone from the office, or alternatively, a long lost connection. The best thing about using an online florist is the fact that they're able to sort out delivery on your behalf, which only adds to the element of surprise. You may wish to have these delivered to the recipient's home address, or alternatively, to their place of work.
Why do people enjoy sending Valentine's Day gifts anonymously?
Apart from seeing the look on a loved ones face when they receive the bouquet, there are a number of reasons why people choose to send Valentine's gifts anonymously. One reason may be that they're shy, yet would still like to show a special someone they have feelings for them! Another is to showcase an air of mystery – it's exciting to receive a gift from an anonymous admirer and even more exciting to try and find out who they are!