"Send someone a bunch of long-distance kisses; It's a gesture that's quaintly old fashioned,

But you'll weaken the knees of the trendiest lover With sweet petals that whisper of passion."
There's this girl, you see (it always starts like that, doesn't it?). And you've got your eye on her (or your arm round her, or your heart in her pocket). And you'd like to send her some nice flowers. And you've got absolutely no clue how to choose the right ones. Well, sigh no more, gentlemen, sigh no more. If romance and flowers are on the agenda, we'll show you how to ensure you make the perfect presentation.
When it comes to flower delivery for a romantic occasion, there's no easy one-size-fits-all approach. The blossoms must suit the stage of seduction. But fear not, this guide to sending romantic flowers by post from top-notch florist Serenata Flowers will see you crowned Prince Charming of the petal world in no time.
From a distance
"From a distance, the world looks blue and green, and the snow capped mountains white…"
It's a shocking song, but it holds some pretty good advice for the fellow who says been admiring someone from afar. Blue, green, white… no mention of red, now, is there?
That's right: first-time flowers are not about laying on the romance thick if you've not even shared a cup of coffee with your cutie. Keep it friendly and light at first; you've got to save the fireworks for later.
What's more, the first bunch of flowers you send to the nubile nymph that you'd like to see more of (or 'more often', should we say, as this piquing-of-interests period is all about chivalry and decorum), will set the tone of any togetherness that may ensure, so choose wisely, dear Romeo.
This bunch is also about letting her know a bit more about you – and there are more ways of doing that than spelling it out in the accompanying note. Are you a practical, happy-go-lucky fellow? Gerberas in yellows or oranges are a good bet. A little bit of a dark horse? Try a single green orchid stem for far-eastern mystique. Roses? Hold ya horses, mister. As a general rule, steer clear of roses, and any flowers that are red, pink or white. Something seasonal and bright will get her heart racing without making her want to run away.
Prelude to a kiss
When they say 'timing is everything', they don't just mean you mustn't be late to your rendezvous. They mean you'll do yourself a lot of favors by sending her a bunch of flowers the morning of the big date.
Romance is in the air, and if you give her an opportunity to inhale it – by sending some lush scented flowers, for example – it'll be firmly in her head by the time you meet for dinner.
Our recommendation: pink lilies hint of romance without being too pushy, and mixed or all-white freesias are a glamorous yet girly treat – and they all smell fabulous!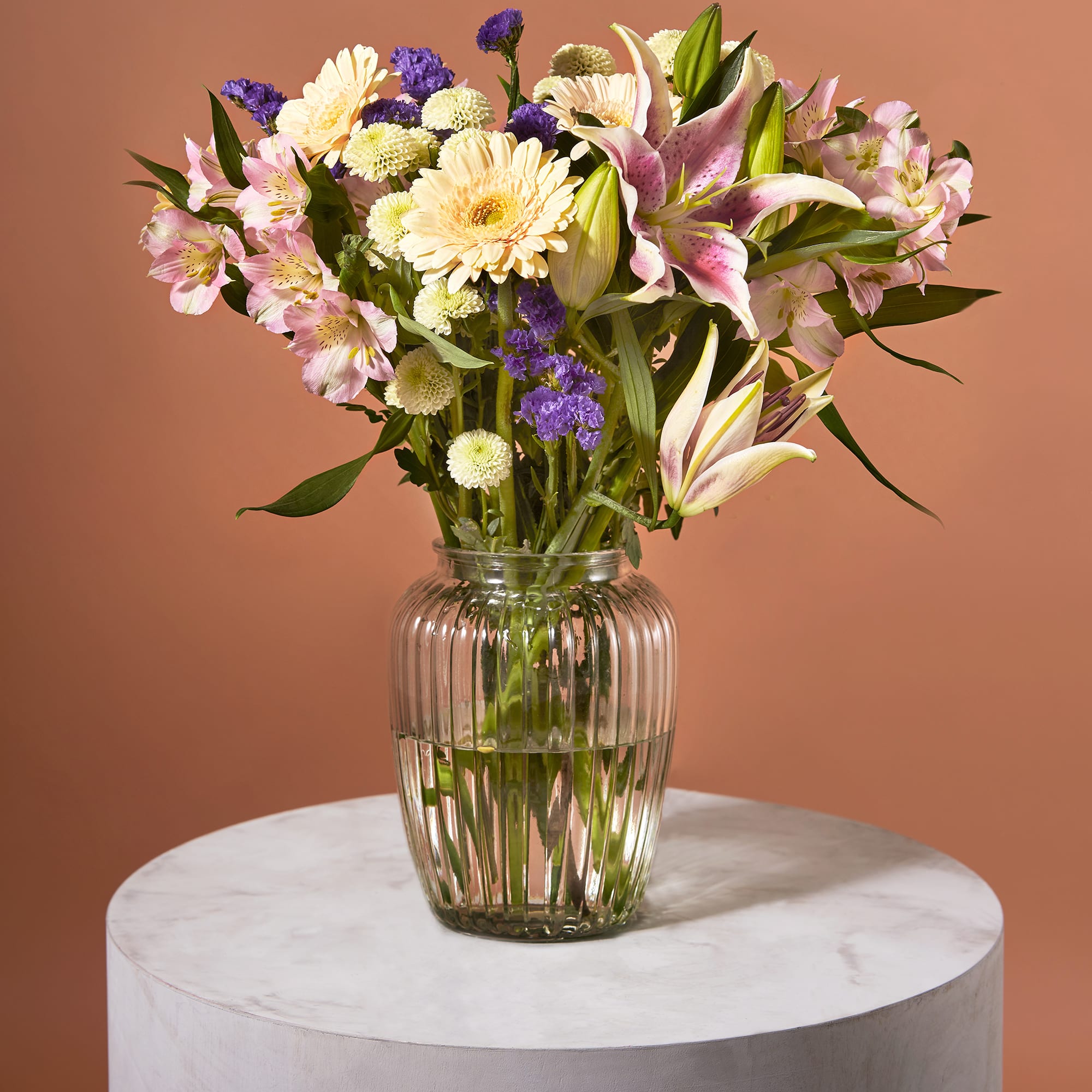 The morning after Hot diggity, Don Juan. That was some date! Now you can get bring out the roses, oh yes. But not the red ones, just yet, mind you. You might be feeling like the king of the world, but she might only fancy being your princess for a bit. So stick to pinks or whites.
Send yellow roses at your peril – they signify friendship (and, some say, infidelity). Don't say we didn't warn you…
Random acts of romance
Girls are big on important dates. Unfortunately, guys don't always know when those are. She'll never forgive you for missing the big ones (Valentine's, birthdays, annual anniversaries), of course. But there's a flipside to that: she'll favor you forever if you remember the little ones… especially if she's forgotten (or doesn't know them herself).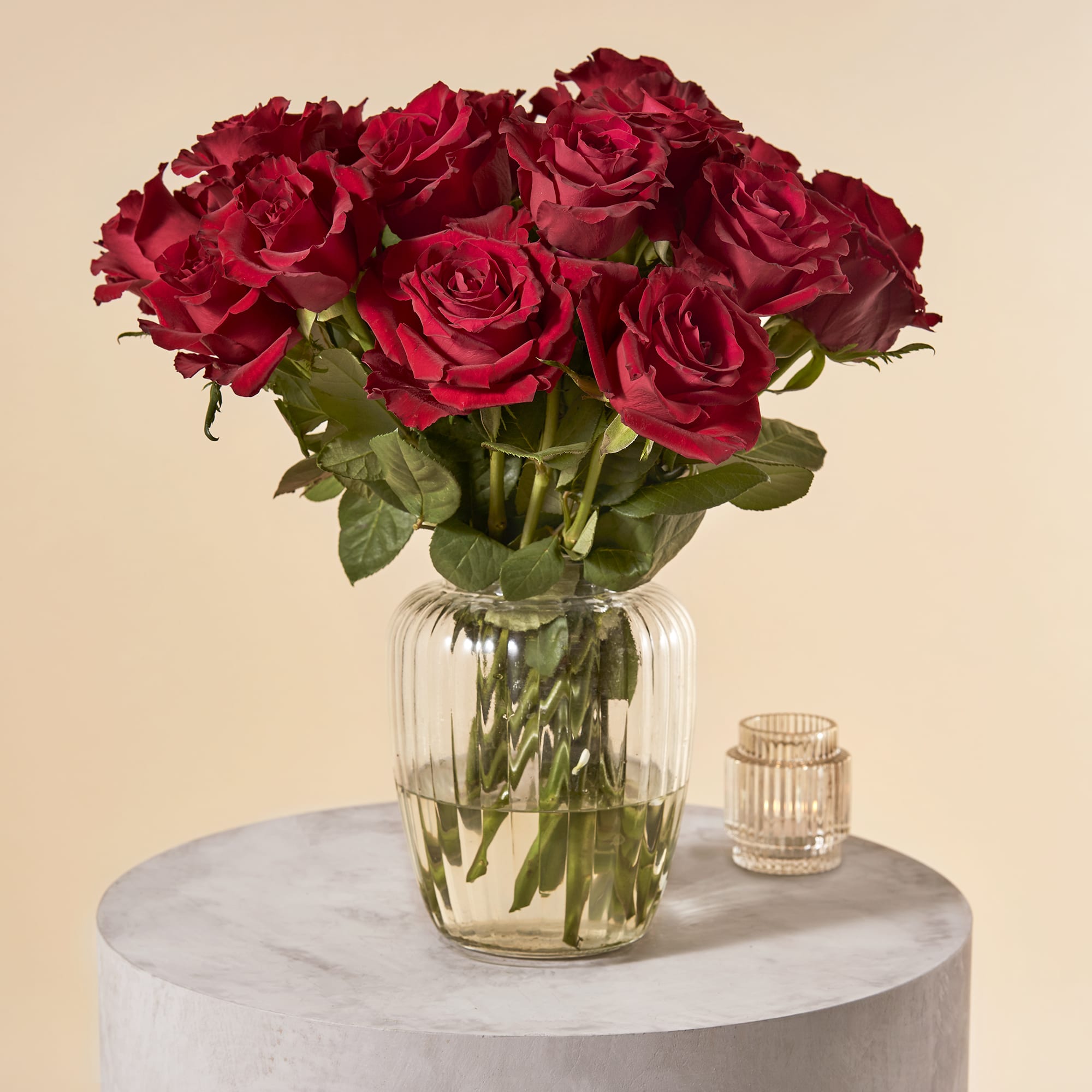 Try a dozen red roses for "xxx days since you first made my heart skip a beat", or a Pink-A-Boo gift wrap a month after that flirtatious dance you shared – perhaps some crimson gerberas for that one-month milestone? Makeup occasions as you go along, and you'll always be one step and a hundred bonus points ahead.
Rekindling the flame
You've got your favorite bars, your favorite restaurants, your favorite TV shows, and your favorite ready meals. And this spells real trouble for romance. But you can stop the ennui. You shall never be scolded for sending a bunch of red roses, but there are other tricks you can try, too: a single rose to her desk, a bunch of sunflowers for a Saturday morning delivery… or, for the ultimate in romance rekindling, a bunch of flowers just like the ones you sent her the very first time.
So when it comes to flower delivery London or flowers in the UK for your friskiest flirt or your old favorite flame, turn your mind to her for inspiration… and then turn your browser to serenataflowers.com for the finest and fanciest fulfillment.
---
Serenata Flowers offers a five-star flower delivery service in the UK – take a look at our recent special offers and take advantage of our discount codes to get fresh blooms at unbeatable prices. Free delivery in the UK from Monday to Sunday.