Whether it's a colleague, a friend or a family member, flowers are a great gift to give those who are about to retire or those who have already retired. Both floral arrangements and gift baskets are ideal presents to gift those you wish to congratulate on a long and happy career. Sending them a little something is the perfect way to acknowledge their hard work and dedication. There are a number of options to choose from, many of which are both affordable and available for same or next-day delivery.
What type of flowers is appropriate as congratulations on retirement?
There isn't a definitive rule when it comes to retirement flowers and you'll probably want to opt for the recipient's favourite colour or favourite bloom. Toasting the occasion with fresh bright blooms delivered directly to the individual's door is another great way to congratulate them on their retirement.
Serenata Flowers have a huge range of congratulatory bouquets that are perfect for just this occasion, including:
Aztec Sun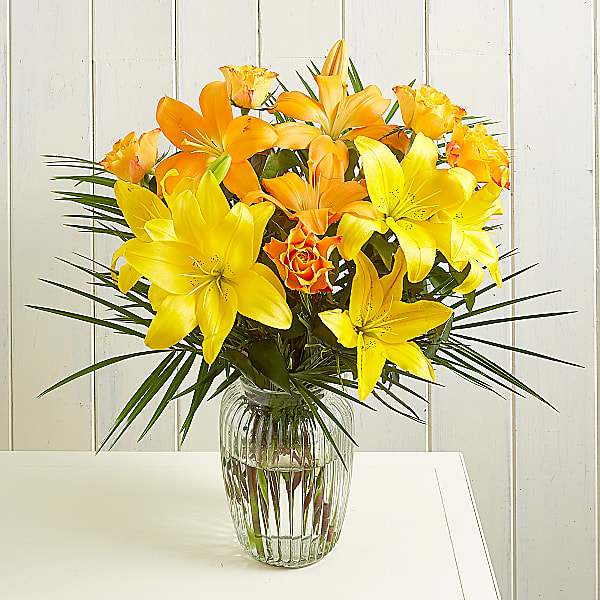 This bold and bright bouquet features an array of Golden sunset hues that create a stunningly cheerful display. Orange and yellow lilies perfectly complement the orange rose Marie Claire and the rich green chico leaf.
Spring Skies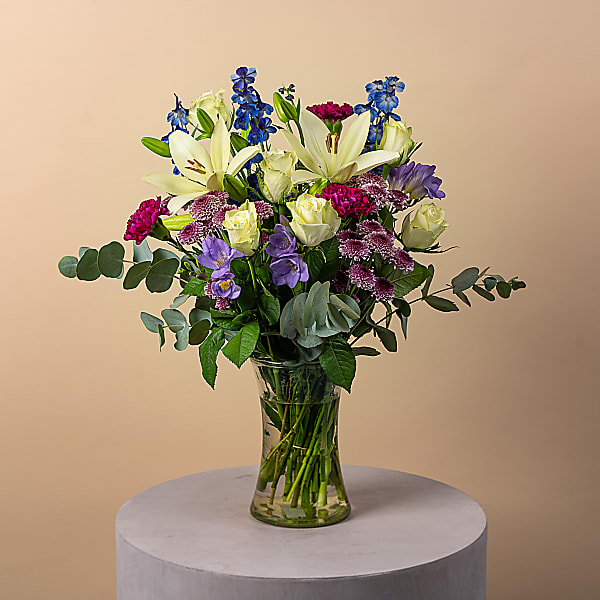 For a more subtle option, choose summer skies; a bouquet of moody hues and fluffy white clouds, brandishing a fresh fragrance. This bouquet certainly captures the essence of spring with its blue delphiniums, blue Freesia blooms, white lilies and white large-headed roses, all set upon a backdrop of eucalyptus cinerea.
Peace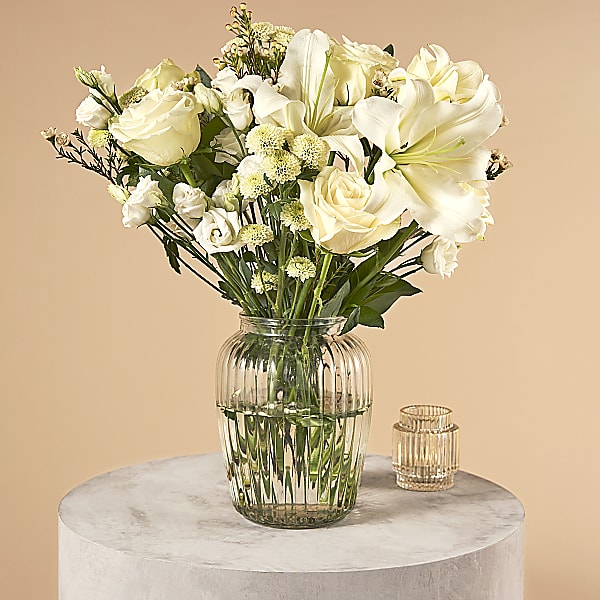 If you're looking for a more masculine option, choose the Peace bouquet – a relaxing serenity of untainted white blooms in the shape of delicate freesia fragrances, luxury roses, lisianthus, oriental lily and waxflower.
When to send them?
If sending to a colleague, send them to their office on their last day. Alternatively, send them to their home address once they have retired, wishing them well on their future adventures.
Basic etiquette
Try to steer clear of any overly romantic overtones by avoiding red roses, red carnations and long-stemmed roses of any hue. If you're unsure of what blooms to pick, play it safe with a mixed bouquet. If you wish to really push the boat out, you could add a vase to the mix or send the flowers accompanied by a bottle of fine wine or delightful sparkling champagne.
Other gift ideas
Asides from bouquets, plants are a great gift to send those who have just retired. It's likely they'll be spending a little more time enjoying the finer things in life, such as nature and the great outdoors. If they're a keen gardener, a potted plant is guaranteed to be well received. Otherwise, buy them an indoor houseplant, such as an orchid. These exotic plants are both versatile and elegant gifts and come with the added bonus of longevity. Choose from the likes of Dendrobium or Phalaenopsis orchid, all of which come in a range of hues, meaning there is something to suit every taste.
The pink pot rose is another great houseplant to choose, and one that boasts an array of delightful pink rose blooms, set upon a backdrop of lush green foliage. Without the need to rush to the office every morning, the recipient will have a lot more time to spruce up the home. Adding plants to a number of the rooms in the household is certainly one way to do this.
Another great gift idea is the pink blooms basket; a vintage grey posy basket overflowing with an assortment of bright bold pink blooms, including roses, kalanchoe, peace lily and white Fittonia foliage.
Whatever gift you choose to give those who are retiring, flowers and plants are a great idea, especially now that the recipient has more time to enjoy them.
***
Choose our Flower Subscription to regularly make your dearest one happy!