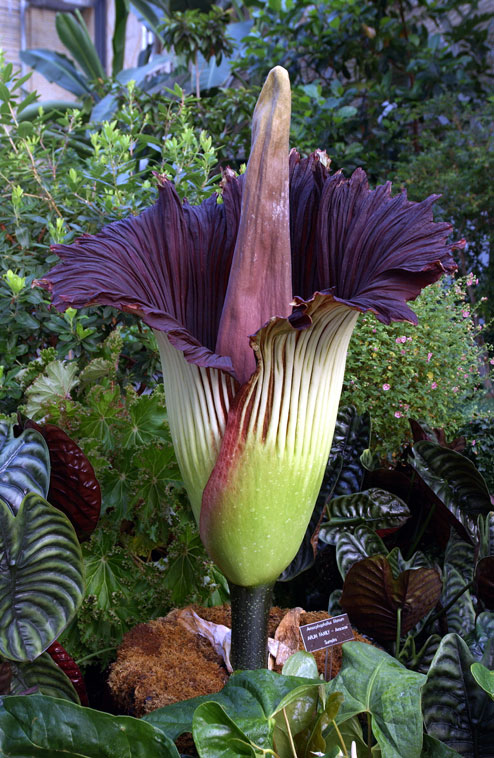 It has been announced that in a matter of days the rare Corpse Flower will bloom in New York.  The plant is predicted to let off a huge stink thought to be like rotting flesh.
The Corpse Flower has been nicknamed 'Wee Stinky' and currently lives in a greenhouse in Cornell University, New York. Horticulturists from the university have been preparing for weeks for the plant to bloom and believe it could be any day now. The school will also be catching the entire floorshow on video for those curious spectators to watch online without having to withstand the smell.
The Corpse Flower is also known as the Titan Arum which is known as a giant amongst the plants and has a huge flowering structure which rises some three feet from the ground. Due to its flowering being extremely rare, it often grabs the headlines.
Whilst there is no official use for this flower, it is often used as a display piece and attracts much attention from visitors.
Its species originates from the rainforests in Central Sumatra. Its flowering lasts as long as its smell – between 24 and 48 hours which makes the bloom time so precious.
The Cornell Corpse Flower has now been dormant for just over two years. However, a month ago it became apparent to professionals that it was ready to bloom once again – this was observed by its rapid rate of growth.
Whilst the specialists at the university believe it is difficult to tell exactly when the flower will bloom, its growth has slowed down and it will start to peel immediately before it opens. In order to keep everyone involved, the university has created a time lapse video.
The structure of the flower
Whilst to look at, the bloom may look like a single huge flower – this is not the case. Rather the purple petals actually make up the outer skirt known as the spathe. The tube-like spike at its center or core is known as the spadix. The spikes contain thousands of tiny flowers within.
Believe it or not, the smell of death – or rotting flesh actually helps the flowers to survive for so long. The stench attracts pollinators needed such as; beetles and flies that are known for eating flesh. In order to do this, the spadix will heat up to the same temperature as the human body to in order to spread the smell.
Scientists from Cornell University are planning to use this bloom as research for future projects.
---
Local And International Delivery
Flowers By Occasion And Holiday
Specialized Gift Ideas