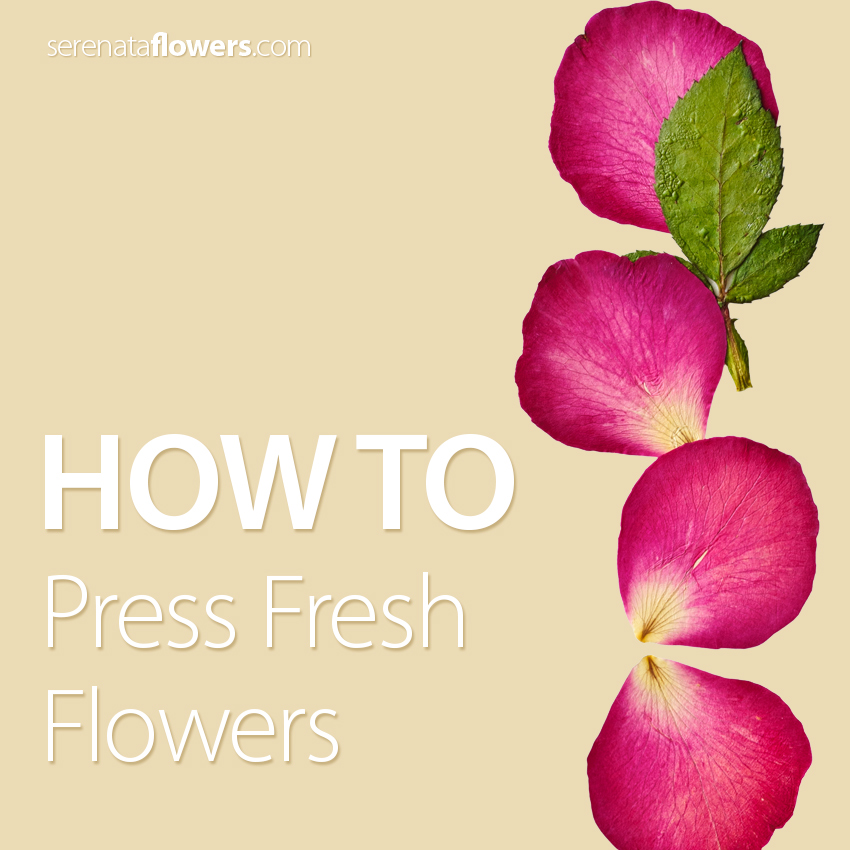 If you want to preserve your flowers for longer, the best way to achieve this is to use a technique called pressing.  It flattens the flowers and allows them to dry.
Pressed flowers are brilliant as a decorative addition to cards, jewelry or just as a simple framed wall art.
There are 4 basic methods for pressing fresh flowers.
Before proceeding with any of these techniques, there are few things you need to keep in mind:
Choose flowers that are in full bloom
Avoid using flowers with damaged leaves or petals
If possible, choose flowers that are naturally flat for better results
Allow the flowers to completely dry by placing them on a piece of paper
Avoid leaving the flowers to dry in direct sunlight
1. Flower Press
Simple flower press is made from pieces of wood that attach together with some screws, you can find these in your local craft shop.
Place two pieces of cardboard between the flower press
Cut rectangular pieces of parchment or freezer paper to use in your flower press.
When you're ready to press the flowers, place one piece of cardboard on the bottom of the press, plus two sheets of flower press paper, the bottommost of which will serve as a "blotter."
Arrange flowers on the piece of flower press paper, lay the flowers flat on the top sheet of paper, leaving space between them so they are able to thoroughly dry.
Add the remaining paper and cardboard.
Press the flowers – remember to change the blotter sheets after every few days
After a few weeks, the flowers should be completely flat and dry
2. Use a book
Find a heavy book to use
Lay it flat open and line with paper, place two sheets of paper on each side of the open book
Arrange flowers on the paper and close the book carefully
Pile more heavy books on the top
Change the sheets every few days
After a few weeks, your flowers will be completely dry and ready to be taken out
3. Use a microwave
You will need to buy a special microwave press
Press the flowers between two ceramic tiles held together with rubber bands, don't place a regular flower press in the microwave. This could start a fire. You may microwave a book flower press, but only if you're sure the book does not have metal parts.
Line one tile with a piece of cardboard and one piece of paper
Line up your flowers and put the tiles together
Microwave the flower press, start with 1 minute and then check for results, continue until the flowers are completely dry
4. Hanging Press
You will need cardboard for this method
Place your flowers into the cardboard and seal it with a tape from all sides
Make a couple of holes using the hole-puncher at the top of the cardboard box
Put a string through the holes and hang in a dry cool place
Check the progress after a few weeks, if the flowers are not dry yet, place back and seal the cardboard again
Article adapted from wikihow.com
---
Serenata Flowers offers a five-star flower delivery service in the UK – take a look at our recent special offers and take advantage of our discount codes to get fresh blooms at unbeatable prices. Free delivery in the UK from Monday to Sunday.
---
Local And International Delivery
Flowers By Occasion And Holiday
Specialized Gift Ideas