Most people have heard of birthstones, but have you heard of birth flowers? As well as a birthstone, all of us have a bloom associated with our birthday. Read on to learn more about the flowers associated with birth in October.
Marigolds
October's birth flower is a bold and beautiful marigold, a plant native to the Mediterranean. It's celebrated for both its beauty and versatility, which makes it a popular option for those looking for low maintenance, high impact shrub.
Marigolds were initially symbolic of grief and despair over a loved one. This comes as a huge surprise to many as the flower has such a joyous appearance. For a number of cultures, marigold's picture-perfect, bold, neon, orange and yellow hues represent the light paths or sun rays that guide the departed to their new destination.
In addition to this symbolic meaning, certain cultures associate the bright orange and yellow blooms with the rising sun and the power to resurrect.
Today, these flowers are less symbolic of death and more with prosperity and optimism.
Other symbolism associated with the marigold
This particular flower symbolises love, wisdom, faith and colour. In addition to the marigold, the cosmos is also an October bloom. Both of these October birth flowers come in the shape of hot-hued annuals that thrive in full sunlight.
Types of Marigold
These blooms come in a range of hues, including everything from crisp white, to energetic gold shades and vibrant yellows. The most prevalent colour, however, is bright orange. There are various types available, including tagetes, cosmos and calendula.
Calendula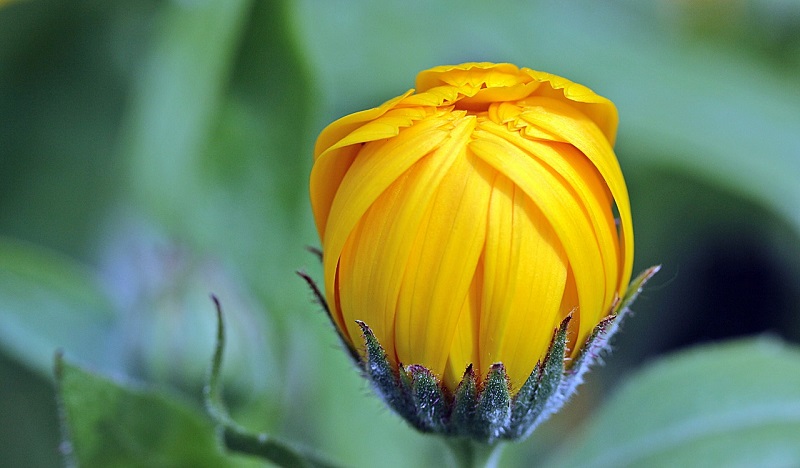 Calendula officinalis, the traditional garden or pot marigold, is a prevalent annual plant brandishing bright yellow and bold orange daisy or chrysanthemum-like blooms. Its Latin name comes from the calendar, which means calends – the first day of the month. The second part of its name derives from Oficina, the area of a monastery where medicines and other items are stored. In the past, the marigold was believed to have healing properties. Even today, the common marigold is widely used around the globe to treat cuts and bruises.
In addition to its healing properties, its flowers and leaves are edible and are often used to embellish various dishes in modern-day cuisine, including soups and salads. Asides from tasting great, they add a spectacularly eye-catching touch to a variety of dishes.
Tagetes genus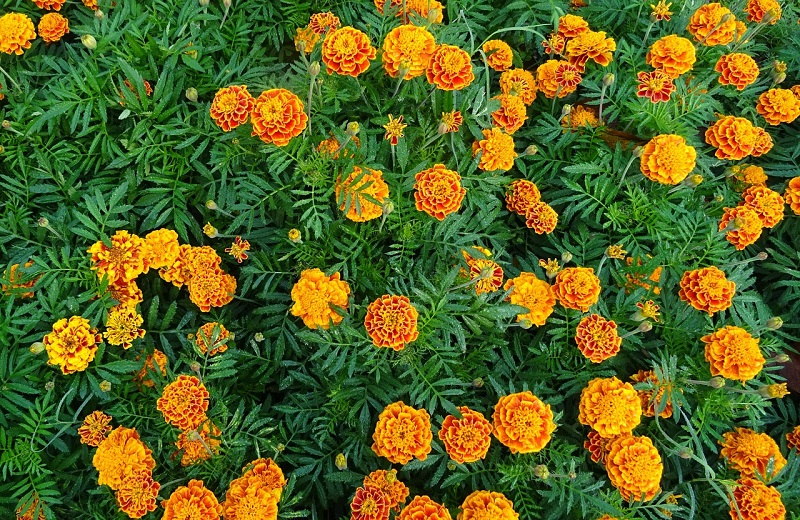 Calendula is a completely different species to that of the African and French marigolds, which are members of the Tagetes genus. Both variants are great options to choose when gifting a loved one born in the month of October, mainly because of its resemblance to the sun. This bloom is symbolic of warmth, love, and creativity.
The cosmos
These blooms are symbolic of serenity, order and peace. The name cosmos derives from the Greek word kosmos, which means harmony, order or the world. It was in Mexico that Spanish missionary priests cultivated cosmos in the mission gardens. They called this bloom the cosmos because of its evenly placed petals. The flower's perfect symmetry expresses feelings of both harmony and order, as well as grace and simplicity. The plant is also very symmetrically balanced and boasts a regular doubled production of leaves and blossom stems.
The cosmos belongs to the sunflower family. It comes in the shape of a herbaceous perennial or annual, which can grow between one and six feet in height. It boasts beautiful flowers in a huge range of colours.
One member of the genus comes in the form of Cosmos atrosanguineus. It has red blooms, which are sometimes so dark, they appear black. The flowers are a great conversation starter as they are stunning in style and add an instant touch of glamour to any room in the household. It also gives off a sweet fragrance, a little like chocolate, hence its nickname chocolate cosmos.
It was first discovered by William Hooker, who searched the globe for plants and later became the director of Kew Gardens in 1841. Although common in cultivation, it has not been seen in the wild since 1878. As a birth flower for October, the cosmos is symbolic of balance, order and tranquillity.
Source: almanac.com