If you're looking for a gift for one of the main men in your life, flowers are a great option. However, many are a little unsure of the etiquette when it comes to sending bouquets to men. Thankfully times have changed and flowers really are the perfect present to gift the men in your life. From masculine arrangements to contemporary displays, there is something to suit all tastes.
When to send flowers to a man
For every man, there is a flower, or alternatively, a plant if you'd prefer!
Birthday blooms
Say Happy Birthday to your loved one with a bouquet of beautiful blooms, guaranteed to make their special day last long past sunset. Serenata Flowers offers an array of modern floral displays in the shape of bold-colored roses, lilies, gerberas, freesia, and sunflowers. All are great options for the men in your life.
Anniversary flowers
Rejoice your special day with an equally special gift. Choose blooms traditionally associated with the month of your union, or alternatively, a bouquet that mirrors your emotions. Red roses, lilies, and dendrobiums are all popular options for anniversary bouquets.
A romantic gesture
Send a special someone a bunch of long-distance kisses in the shape of a beautiful bouquet or plant. You can even opt for next day delivery and have the flowers delivered directly to the door of the recipient. From simple, elegant white roses to bouquets brandishing an array of traditional red roses, there is an abundance of blooms to choose from. If you're looking to send a bunch of flowers that are a little less traditional in style, opt for orange and yellow lilies in golden tones and sunset shades, such as the Aztec Sun arrangement from Serenata Flowers.
Congratulations
If your brother, son or best friend have just announced the arrival of a new baby into the world, a bouquet of flowers is the perfect way to say congratulations. Fresh flowers symbolize fresh beginnings and work well to welcome a new life into the world. An interesting fact – in the early 20th century, pink was the favored color for boys, so don't be controlled by modern stereotypes and send whichever hues you desire! The Summer Meadow bouquet from Serenata Flowers is a popular option, as its pink and white blooms conjure up feelings of lazy sunny days spent with loved ones.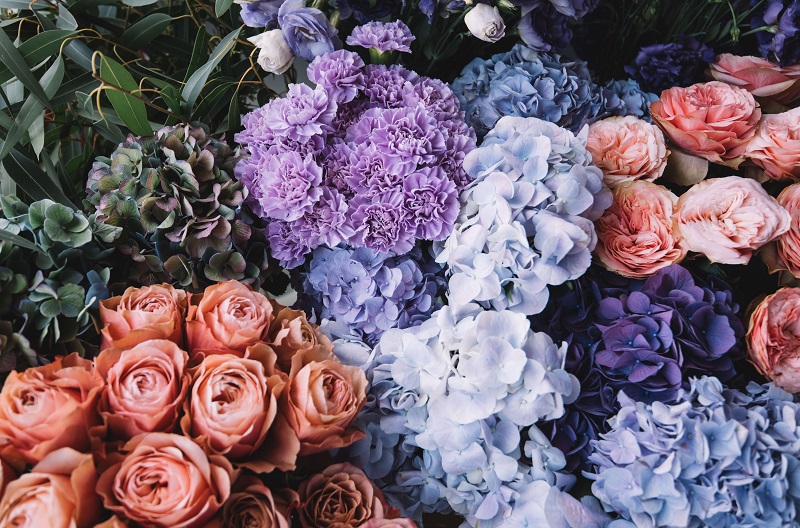 What colors and arrangements are most appropriate to send to men?
Based on the opinions of many guys, if sending birthday blooms or bouquets that congratulate the individual on a new promotion or new house, it's probably best to avoid pastel hues or arrangements that are too embellished. Masculine monochromatic arrangements comprising dendrobiums in shades of white and purple, or full-bodied sunflower arrangements are ideal. Tropical arrangements that boast a strong appearance and personality are also a great idea, such as birds of paradise. Another good tip to follow when choosing flowers for men is to stick to contemporary floral arrangements with strong clean lines and natural hues.
Make it personal
If the man you are gifting has a favorite hobby, use this to your advantage and add a personal touch. For those who enjoy the great outdoors, choose a bouquet that is a little more rustic in style. If the man is very masculine, a plant may be more appropriate. Indoor plants are a great way to add an injection of color and fragrance to any room in the household. And a well-nurtured plant is a gift that keeps on giving. From white orchids to orange pot roses to white kalanchoe plants, Serenata Flowers has a number of options to choose from.
Flowers and their meanings
Before choosing a bouquet, it's a good idea to keep in mind the symbolic meanings of certain flowers:
Daisies — loyalty
Alstroemeria — devotion
Red roses — romantic love
Yellow roses — friendship
Chrysanthemums — friendship
Bamboo — good luck
Knowing what certain flowers mean will ensure you choose the correct bouquet for the occasion.
What occasions are best to send flowers to a man?
Flowers can be given to men on any occasion, and men enjoy receiving flowers for exactly the same reasons they choose to send them. Birthdays, anniversaries, celebratory moments and simply 'just because' are all ideal occasions to send a bouquet of beautiful blooms to the loved ones in your life.
If sending the flowers to an individual's place of work, think about where he works. If he works in an office, then sending blooms is entirely acceptable, however, he may be less pleased to receive a bouquet of roses if he works on a construction site. With this in mind, surprise him with flowers when he gets home by opting to send a bouquet directly to his door.
If attending a BBQ or housewarming, this is another great opportunity to gift flowers to a guy, as they're a great way to say thank you for the invite and will add an instant injection of color to the venue.