A couple's lives will instantly change once a new baby enters their world! Aside from the responsibility of caring for a new life, there's the room to prepare, the clothes and baby gear to buy, the christening to arrange and the list goes on…
It is an exciting and overwhelming time for all involved. During this transitional time, parents certainly appreciate the support from their nearest and dearest, which is when sending congratulatory new baby flowers is a great idea! A bouquet of beautiful blooms serves as a wonderful encouragement gift.
Their refreshing fragrance and beauty can bring instant joy and happiness to parents of a newborn! Below we've listed everything you need to know about sending new baby flowers and the etiquette you'll want to follow.
When should I send flowers to a new mother?
Since no one knows the exact date of delivery, many will choose to wait until the parents have announced the news of their newborn before sending flowers. If you're extremely close to mum, you may be notified of when she is going into labor. If this is the case, you can opt for the same or next day delivery and send the blooms directly to the hospital, or alternatively, directly to the new parent's door. That way, they'll get a great surprise when they return home with their newborn. If ordering online, be sure to pick an arrangement that offers the next or same day flower delivery, and place your order before the cut off time.
Why send flowers to the home of the new parents?
Many people suggest sending new baby flowers to the home of the new mother, as that way they'll have less to carry home from the hospital. In addition to this, it's important to remember that certain wards won't accept gifts of flowers due to allergies. Finally, opting to have the flowers delivered to the home of the new parents will give you the option of ordering the flowers in advance.
What type of flowers should I choose?
Firstly, it's a good idea to find out if the new baby is a boy or a girl. Knowing the baby's gender will certainly help with your selection, especially when it comes to deciding on the colour of the blooms in question. If you're unsure of the gender and wish to send the baby birthday flowers in advance, opt for a gender-neutral hue, such as a sophisticated cream or white shade or alternatively, a bold pop of colour, such as orange, red or green.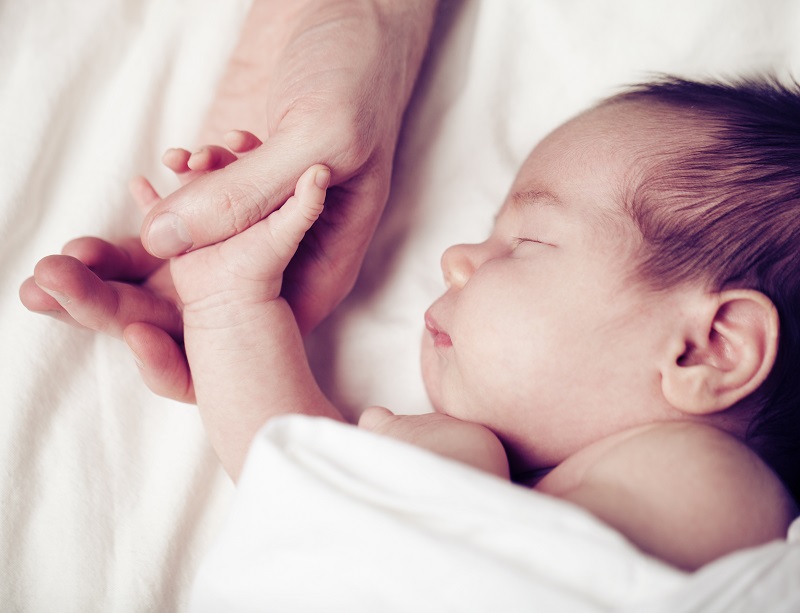 Flowers for a baby girl
Hues of purple, pink and pastel shades are always a great option to choose when it comes to welcoming a new baby girl into the world. When selecting a type of flower, the likes of lilies, roses, tulips, and carnations are all prevalent new baby blooms, and all are available in feminine shades.
Flowers for a baby boy
For a baby boy, opt for blue and yellow blooms. Flowers such as freesia, delphinium, iris, and statice are all great choices for a boy. If you want to go the extra mile, you may also wish to add a coloured pot or vase to the equation that matches the hue of the blooms you've picked.
Can I still send flowers even after the baby has been born?
Sending flowers after the baby has been born is of course acceptable! After all, who doesn't love to receive a stunning bouquet of blooms, even a few weeks after the baby is born? In fact, this is quite often when the parents are going to be in need of a little encouragement. They've likely not had much sleep, and if they're first time parents, they're probably feeling a little anxious. This kind gesture will show the new parents that you're willing to help out where you can and that you're thinking of them.
What is an appropriate card message?
When writing a message to go with baby blooms, it's important to remember that the parents require support and love. There are no limits on what you can say in the card, but some examples of messages include:
You deserve all the happiness that this new baby will bring!
I'm super excited for you to embark on this new adventure. I'll be here for babysitting duties when needed!
Congratulations! I can't wait to meet him/her!
Welcome to the world, little one!
Choosing the right bouquet
If you're stuck for inspiration, there are a number of online florists you can look to, many of which have a pre-prepared section of baby blooms to choose from. Consider the likes of Darling Delight, Bella, Strawberry Sundae, and many more fragrant bouquets, all of which are perfectly suited to welcome a new baby into the world.
Source: flowershopnetwork.com