Morning Glory Plant, one of September's birth flowers, boast slender stems, trumpet-shaped flowers and heart-shaped leaves. They're annual climbers and come in a range of beautiful colours, including magenta, pink, white and purple-blue. They're often described as romantic flowers because of their old-fashioned charm, pretty shape and sweeping tendrils that unfold in the sunshine.
There's certainly something magical about these plants, which hold their name bplantsecause they bloom early in the morning before closing as the light fades. This picture-perfect plant is an asset to any garden or home, however in order for it to flourish, you must care for it in the correct manner.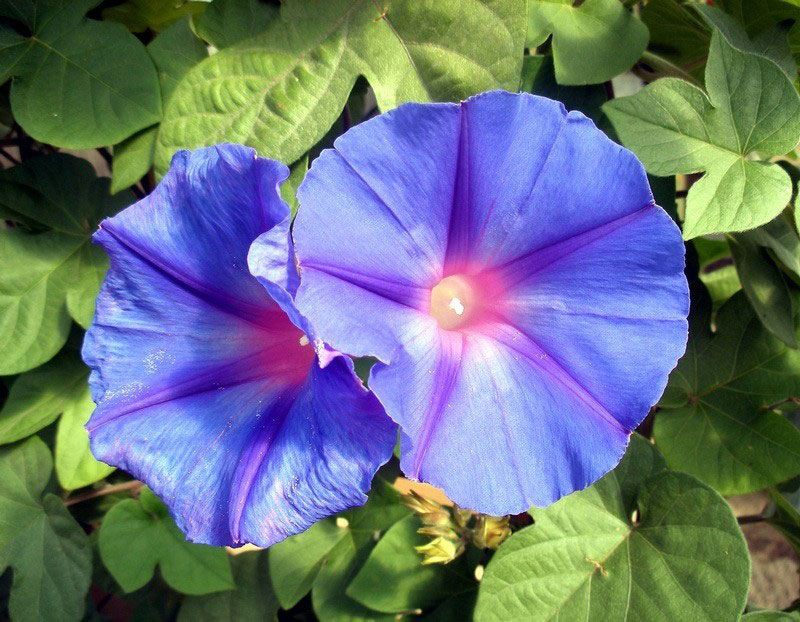 Where to grow the Morning Glory Plant
In warmer climates, it's a good idea to train your climbers over an arch or pergola.
Alternatively, you can use the plant as dense groundcover. The vine grows extremely quickly and can reach an incredible 15 feet in just one season.
When to plant
The plant's huge fragrant flowers bloom from early summer until the first sign of frost, attracting an array of wildlife including butterflies and hummingbirds. Regardless of the specie you choose, the best time to plant these flowers is in the spring.
Planting and Watering
When planting the Morning Glory Plant, it's important to choose a sheltered but sunny site as they thrive in warm weather. It's also a good idea to ensure the soil is well drained, fertile and sheltered from cold winds.
Sowing the seeds should be done early in the season and before doing so, you should soak them in water. Once in the ground, space the seeds six inches apart and cover lightly with a quarter of an inch of soil then water thoroughly.
How to care for your plant
Asides from applying a liquid fertilizer every month, Morning Glory plants are extremely low maintenance and only need to be watered during dry periods. When planting these species, try to avoid planting them next to weeds.
Like all plants, they are prey to certain pests, including spider mites, Aphids, caterpillars, deer and leaf miners. Other diseases to watch out for include fungal leaf spots, rust and Fusarium Wilt. All can be treated if caught in time.
Recommended varieties
There are a number of varieties to choose from when it comes to Morning Glory Plant. The recommended types include 'Scarlett O'Hara', which boasts vibrant red hued flowers with white centres that can grow up to 15 feet high. Heavenly Blue is also a popular choice and boasts a rich azure blue shade, again with white.
Morning glory species belong to many genera, some of which include:
• Calystegia
• Ipomoea
• Convolvulus
• Astripomoea
• Merremia
• Operculina
• Rivea, and
• Stictocardia
The different types of Morning Glory
Morning glories belong to the Convolvulaceae family, which takes on a variety of forms, depending where in the world they originate from. All in all, there are 1,000 species of morning glory flowers in existence, including everything from superbly coloured climbers to understated ground covers. We've listed some of the more classic morning glory varieties.
Moonflowers: These species are a distant cousin of the Morning Glory Flower. With their large, spectacular white flowers, they're an excellent addition to the garden.
Morning Glory Vine: The Morning Glory Vine boasts shiny heart-shaped leaves and a dark, rich hue. It's probably the most popular specie in existence and offers a variety of colourful blooms, varying in shade from purple to pink.
Sweet Potato: Perhaps the most surprising of all Morning Glory species is the Sweet Potato, which is a popular edible vegetable. This particular plant is grown in many places around the world.
Bindweed: One of Morning Glory's relatives, this particular specie boasts woody stems, which can, if placed in the wrong area, twine themselves amongst other plants. It looks a little like the domestic version of the morning glory flower, with one very big difference – one single root system can spread almost half a mile!
Water Spinach: Another relative of the Morning Glory is Water Spinach, which instead of flowering in the garden, is sold in many Asia food stores as a popular and tasty vegetable. The long thin stems house leaves shaped like arrows, which are often used in stir-fry dishes.
Other uses
Native Americans select rare species of Morning Glory seeds and use them in spiritual medicines as a hallucinogenic. However, only those experienced in using this medicine are able to administer the correct dose. There is a dangerous difference between a harmful dose and one designed to send somebody to the spirit world – therefore it is a practice that should not be undertaken by anyone without considerable experience.
---
Local And International Delivery
Flowers By Occasion And Holiday
Specialized Gift Ideas