Do you hear the wedding bells?
Say congratulations with a beautiful message and some flowers to celebrate! Writing messages for wedding cards doesn't have to be difficult! We collected over 40+ best example from a variety of messages – formal, informal, funny and much more.
Choose the one that suits your relationship with the couple the best and send it on a pretty wedding card.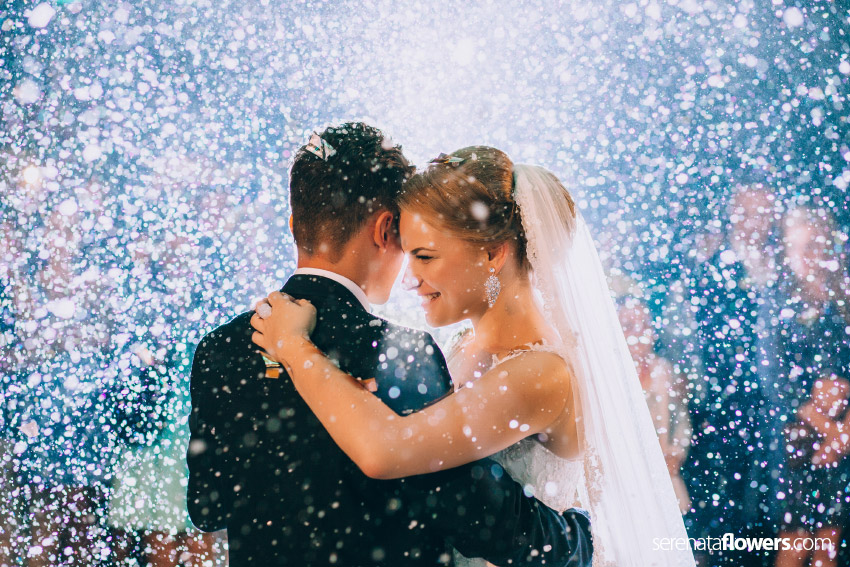 40+ Messages for Wedding Cards
Wishing you a lifetime of love and happiness.
On your rollercoaster ride through life together, may you high five at all the right places and support each other through every twist and turn.
With warmest wishes on your wedding day and always.
Your wedding day will come and go, but may your love forever grow.
Best wishes on this wonderful journey, as you build your new lives together.
We are so happy to celebrate your special day with you, what a wonderful addition to the family!
You have shared so much love and laughter over your years together, and I know there will be many more joyful moments to come. I wish you all the happiness that you deserve for your married life together.
May the years ahead be filled with lasting joy.
May the love you feel for each other today grow ever stronger and more fulfilling as the years go by.
May the love you share today grow stronger as you grow old together.
There is no couple more deserving of a joyful and loving wedding day as you two.
Congratulations on your wedding day and welcome to the family!
All love stories are special, but yours is one of the most beautiful I've had the fortune to witness. I wish you love, laughter , and happiness for all your years ahead.
May your joining together bring you more joy than you can imagine.
May today be the beginning of a long, happy life together.
May you look back on today with fond memories of the start of a life filled with love and happiness.
Thank you for letting us/me share in this joyful day. We/I wish you all the best as you embark on this wonderful union.
Today, we add one more member to our family and we couldn't be happier. Congrats!
Thanks for inviting us to eat and drink while you get married. Congrats!
As I enjoy the free bubbly on your wedding day, I'll raise a toast to two of the nicest people I've had the pleasure of meeting.
Our marriage advice: Love, honor and… scrub the toilet. (Or fill in any other funny advice you have.)
I can't believe my best friend is getting married! I can't think of anyone who deserves an awesome day more than you.
The two of you literally shine with the love you share for each other. May that light gets ever brighter as the years go by.
Love is all you need… stick with that crap and you'll do great! (If this is appropriate given your relationship with the couple.)
Treat marriage like a hockey game. No roughing!
You're an old ball and chain now! So happy for you two, I know you will have the best life together.
Thanks for the free booze. Best wishes on a long, happy marriage!
Getting married is like going to drama school. May there be more comedy than melodrama.
We love you, you beautiful people, congrats!
Congratulations on your marriage, and welcome to the family!
On your wedding day, you two became one. Does that mean I get two birthday presents from you every year?
Congratulations! You bring my brother/sister so much happiness and I'm so happy to celebrate with you today.
Wishing you joy, love, and happiness on your wedding day and as you begin your new life together
We are/I am so happy to welcome a new family member. Best wishes to you both!
I've always dreamt of having a sister and now I have one, I couldn't be happier for both of us.
We're/I'm so happy [name] has found 'the one.' Welcome to the family!
We could not be prouder of you now that you have embarked on a new journey with your beautiful wife/husband. May the future be bright!
We're delighted to share this day with you both.
What a wonderful day for our family, and especially you two. May the joy you feel today last a lifetime.
Congratulations, you two weirdos were made for each other!
Today, we add one more member to our family, and we couldn't be happier. Best wishes to you both.
Woohoo, you got married! Wishing you two lovebirds a lifetime of Netflix binging.
What a wonderful addition to our family. We're/I'm so happy to share in your celebration. Congratulations!
sources: theknot.com, hitched.co.uk, youandyourwedding.co.uk