Regardless of whether you're buying flowers for an event, such as a wedding or dinner party, or for a special someone, there are a number of tips and tricks to consider…
Find valid Serenata Flowers promotional codes and get a flower arrangement with a good discount!
London flower delivery – 5 mistakes to avoid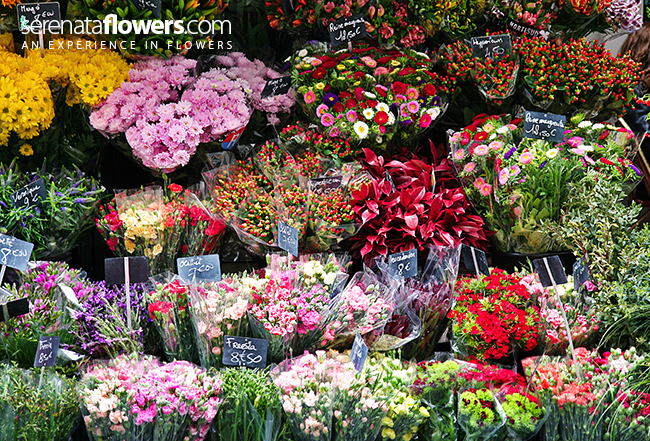 1. Damaging flowers in transit
If you live in central London, it's likely you travel by tube.
Carrying even a small bouquet home in this way can have detrimental effects on your beautiful blooms – especially if in rush hour.
Either choose a florist that offers London flower delivery or take the car! Alternatively, purchase flowers online – this way you can guarantee they'll arrive safely to your door and if they don't, you're liable for compensation!
2. Not budgeting enough
Flowers can get very pricey, very quickly, which is why it's important to be upfront about costs. Instead of budgeting for the flowers alone, you'll need to consider set-up costs, vase hire, hourly rates and delivery fees. If you're planning on purchasing flowers that are out of season, be prepared to pay three to five times more than you would normally.
A number of online florists, including SerenataFlowers.com, offer free delivery Monday to Sunday. If you're looking to save money, online shopping is a great option.
If you're buying flowers for a wedding, costs are likely to shoot up even more – especially if you're basing your floral arrangements on a platinum wedding seen in a bridal magazine. If you're looking to keep costs down, it's a wise idea to consider flowers that require little maintenance, hand-wiring or special work to look good. Individual blooms hanging from the ceiling are simply out of the question if you wish to keep costs down.
If you're having flowers delivered directly to the wedding venue, check your florist offers London flower delivery in advance.
If you can, have your floral arrangements delivered the evening before or even on the day – this will avoid the flowers drying out or becoming limp.
3. Ordering at the last minute
If you're selecting a simple bouquet, last minute shopping is acceptable.
However, if you're looking for an extravagant display, such as a floral centrepiece for a dinner party or a wreath for your wedding day, ordering in advance is a must. Asides from avoiding panic buying, ordering early will give you peace of mind.
Be sure to select a florist that offers London flower delivery – the last thing you want to do when organising an event is to endure the hassle of picking up the flowers personally.
4. Refusing to compromise
From choosing flowers that are out of season to picking colours that clash, not everyone is an expert.
It's therefore important to trust your florist. If they're asking you to compromise on a certain arrangement, it's likely they're asking you to do so for a good reason. It's therefore important to communicate with your florist from the very start.
From making sure they know your final budget, to communicating your vision, expectations, dislikes and likes, ensuring they know what it is you want to achieve through your floral arrangements is a must. This is often where a mood board comes in handy.
One way to avoid mistakes is to keep it simple. An elegant, minimalistic display trumps an overdone, garish exhibition any day of the week. A sprinkling of rose petals is often a much better option than a towering centrepiece – especially if that centrepiece is likely to block the views of others.
5. Overlooking the big picture
Buyers often tend to visualise centerpieces, table settings, headdresses and bouquets as one, instead of envisaging the entire setting as a whole. If your florist tells you to avoid a certain colour or an overly large centerpiece, they're doing it for a reason.
With this in mind, it's a good idea to create a mock-up of the room the flowers will be going into. This will allow you to see which colours work well together and where best to position each arrangement.
If you're buying a single bouquet for a friend or family member, choose something that complements their home.
If you're unsure of what their interior décor looks like, opt for a hue that complements their style. They're bound to have a favourite colour they wear all the time – if you get flowers to match their handbag or shoes, you're certain to be onto a winner.