Fresh flowers can be enjoyed by all and when they're cared for correctly, they bring color and life into any home and office.
The correct preparation and care of cut flowers will maximize the vase life of all blooms, whether purchased at an online florist, at a local shop or when grown at home. In part 2 of our focus on how to keep fresh flowers lasting for longer, we've focused on why the proper conditioning or hardening of flowers is a must.
Harden the Flowers
Post cutting fresh flowers, it's important to harden them. This is the treatment of the stem, which allows the plant to consume more water, as this keeps blossoms fresher for longer. It's important to note that the treatment differs depending on the stem type.
Step-by-step guide
For best results, recut the stems under running water. This will prevent air bubbles from forming within the stems. The next step requires you to remove approximately two inches from each stem base, always cutting at an angle. Once prepared, place the cut flowers in your vessel of choice.
To condition, the flowers, immerse blooms into tepid water immediately. The best temperature is around 40°C-45°C. This water should contain a floral preservative and the flowers should be immersed up to their heads. However, if conditioning plants with lots of foliage, avoid submerging leaves during conditioning.
To do this, remove the lower third of the leaves and immerse only to the level where the foliage begins. Place the containers housing the flowers in a dark, cool and humid location for a minimum of two hours. If possible, leave for longer than two hours. When transporting from the conditioning container to the vase, recut stems (again underwater) to the preferred lengths.
All flowers are different
Certain blooms require more attention than others prior to conditioning. For example, flowers with milky sap, including the likes of oriental poppies don't embrace water uptake like other blooms, as the stems can seal over. To prevent this sealing, immerse the lower part of the stem in boiling water for 20 to 30 seconds or char the ends of the stems in an open flame until they blacken.
In addition to this, you will need to scrape the bark off of blooms with woody stems. The stem will then need to be cross-cut to intensify water uptake. You will also need to fill the stems of blooms with hollow stalks, such as hollyhocks and delphiniums. To do this, turn the stems upside down and pour water into them until they are full. Then plug the ends with cotton or absorbent floral foam. To eradicate small air bubbles, use a pin to pierce the stem just below the flower head. It's important to note that these procedures will need to be repeated on any flower stems that are recut.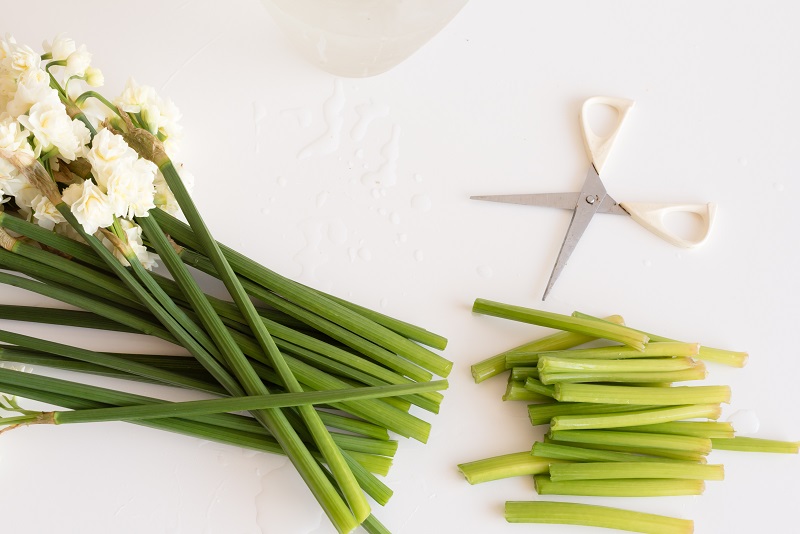 Why use floral preservatives?
Floral preservatives contain the sugars flowers require to survive. They also promote growth and act as a disinfectant, which prevents the development of bacteria and fungi in the water. A good floral preservative contains a quarter teaspoon of citric acid per gallon of water. Citric acid is readily available from garden centers and pharmacies. You can create your own homemade preservative using one tablespoon of sugar and a quarter teaspoon of bleach. The bleach works to eradicate bacteria and fungi while the sugar feeds the flower. Tonic water or lemon soda is another commonly used preservative. If you don't have the ingredients to make your own at home, you'll find an array of options stocked at your local garden center or florist.
Other tips to maximize vase life
Additional tips to maximize the vase life of cut flowers include ensuring your chosen vessel is always filled with water and it's important to refresh the water when needed. When doing this, re-cut the stems before placing them into the fresh vase of water. If changing the vase water is difficult, simply use a stronger preservative. It's important to check the water level regularly and for best results, always avoid the use of chemically softened water.
You should also always use a clean vase and ensure the flower stems are clean. To minimize water loss, keep the flower arrangement out of direct sunlight and away from heat and drafts. Choosing a cool location will also help to prolong the life of your blooms.
Flower selection
This is the most critical step when it comes to ensuring your blooms enjoy a long and healthy lifespan. Choose flowers that are just coming into bloom, as this will avoid loose pollen. When selecting flowers, steer clear of soft, limp blossoms and buds and any flowers that appear discolored or showcase drooping foliage.
This is when buying from a quality florist is a must. Serenata Flowers offer same and next day delivery, which will ensure your chosen floral arrangement will arrive in tip-top condition.
Sources: tipnut.com, iastate.edu
Read Also:
How to Make Fresh Flowers Last Longer
Keep Fresh Flowers Lasting For Longer – Part 1