Keep Your Flowers Well Groomed
Fresh flowers are an asset to the home. Asides from adding color and interest to minimalistic spaces, they add fragrance and style! When you walk into a room adorned with fresh flowers, your mood can be instantly lifted.
Once a plant is in full bloom, fresh flowers are cut and removed from the shrub (and if required, all thorns are trimmed). Such flowers can be found at online florists and make great gifts. Popular types of cut flowers include the likes of tulips, roses, gerberas, lilies, chrysanthemums, and carnations.
There is an abundance of fresh flowers to choose from, meaning there is an arrangement to suit almost all personas. From pastel blooms to tropical assortments, you'll find the choice is endless, but just how do you keep fresh flowers lasting for longer? Unlike plants they do have a quicker sell-by-date, however, they can still last for a lengthy amount of time when cared for correctly. Whether you take blooms from the garden, receive a beautiful bouquet or get imaginative with clippings from the florist, you want to ensure they have the best vase life they can! Regardless of the fresh flowers you choose, there are a few simple things you can do to extend their lifespan.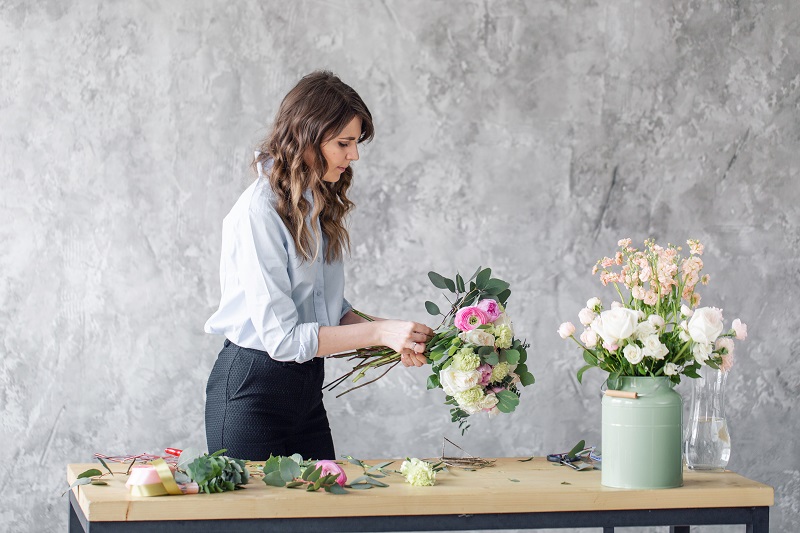 How to cut fresh flowers and what tools to use
A fresh-cut flower should display a sweet scent. In order to prolong the scent and the overall wellbeing of the flower, it should be properly cut. If a flower is cut incorrectly, it can lower the lifespan of the flower. For best results, cut your flowers in the morning. This is when the blossoms are at their peak, and when the content of sugar is at its highest. If you are unable to cut the flowers at this time of day, opt for a time when it is coolest outside.
The tools used make a massive difference when it comes to cutting and grooming cut flowers. It's important to always use a sharp knife or a sharp pair of scissors, this will enable you to cut the stem easily. When cutting the stem, do so at a 45-degree angle, using slow and careful motion, removing at least three to four inches from the bottom of the stem. Taking your time when doing this will avoid any mistakes, such as slicing the inside of the stem.
Once you have cut the fresh flowers, place them in a bucket of lukewarm water immediately. If you don't do this right away, air bubbles can form in the stems, stopping the flower from absorbing water.
Transfer the fresh cut flowers to a vase after 30 minutes, ensuring the vessel is filled with enough water to cover the stems. At this point, you should also remove any leaves from the stem before placing them in the vase.
After two to three days (or when needed) cut the stems again. To do this, remove the flowers from the vase and twist a thin rubber band around the top of the stem. Remove another three to four inches from the base of the stem and place into a clean vase with fresh water.
Keeping freshly cut flowers well-groomed is an important part of their maintenance and is something that needs to take place regularly, especially if you wish to enjoy them for longer. Cutting the stems encourages flowers to easily absorb water and flower food. On top of this, it's important to trim any foliage that sits below the waterline, as this will help to prevent bacteria growth, whilst keeping the water clean.
When it comes to choosing tools to cut fresh flowers, there are various options to consider. In fact, there is an abundance of florist tools available on the market, with different tools being applied to different jobs. Using the right tool for the job is extremely important, especially if you're looking to achieve high-quality results. The tool quality will help you to create a clean cut, remove thorns on the likes of rose plants easily, and create a neat appearance. Using high-quality florist tools will allow you to attain a good cut with little effort.
Bud Knives are a great option, particularly when it comes to grooming the flower, as are floral knives and cutters. All boast handy little blades, which are very easy to hold. These blades are sharp enough to create a clean cut and will cause no damage to the stem. Other cutting tools include rose strippers, which are also known as 'dethorners'.
Another similar stripper comes in the shape of the foliage stem stripper, which allows for a quick strip of all the unwanted leaves on the flower's stem. These handy tools are sharp enough to remove any unruly foliage, yet precise enough so as not to damage the stem.
If you don't have any of the above tools, you can use craft scissors and ribbon scissors. Craft scissors generally come with a larger grip and a shorter blade, to create a more precise and controlled cut. Ribbon scissors, on the other hand, is similar to that of normal scissors, yet house much larger blades and odd-sized handles to allow for a solid grip.
Also Read:
How to Make Fresh Flowers Last Longer – Infographic
Keep Fresh Flowers Lasting Longer – Part 2
Sources: simplemost.com, koch.com.au