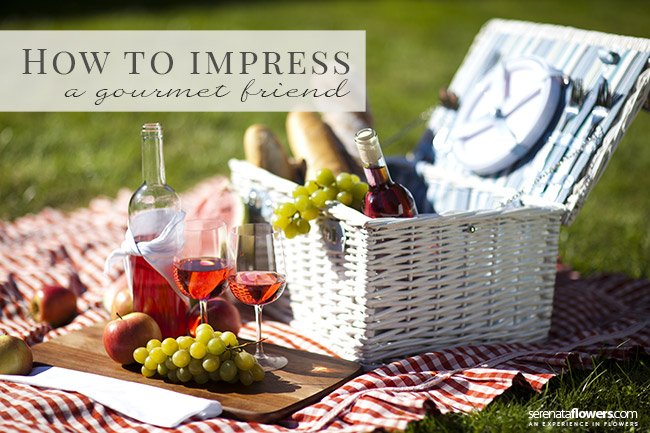 Everyone has that one gourmet friend that's the ultimate foodie and while it's handy for when you fancy an exquisite meal or two, it can prove to be a little tricky when it comes to impressing them with a gift.
You can guarantee your friend is always on the lookout for the next big thing, whether that's a reservation at the most coveted table in town, a meal from the new hot burger joint or a classy food hamper.
From gourmet edibles all the way to beautiful bottles of wine, we've got nine gifts sure to impress even the toughest-to-please gourmands.
1.Indulge with a sweet treat
For that hard to impress a gourmet friend, you can't go wrong with gifting them a food hamper. A hamper full of the tastiest treats and the very best wine; you're onto a winner! If your beloved friend just loves a bit of sweetness, why not opt for a classy hamper full of sweet treats! From a luxury strawberry jam with Marc de Champagne, butter shortbread rings, complete with handmade chocolate meringues, you're sure to give your friend a taste of glamour.
And to top it off, you can even get your hands on some crumbly butter fudge for good measure – now who can turn that beauty down?
2. Naughty but nice
Why not opt for a food hamper full of everything naughty but nice? Jam-packed with oaty biscuit treats, any friend who loves the finer things in life won't be able to resist this delightful hamper.
With farmhouse round chocolate chip biscuits, luxury Belgium white and milk chocolate peanuts, with caramelized nut pralines to finish it off – this is just heaven!
3. A touch of class
Give your friend a birthday with a touch of class with a wicker hamper, complete with a quality bottle of Le Paravel Blanc, the Vignerons de la Vicomte 2012. Oh and to finish this classic hamper off, a great birthday balloon is attached with Ballotin salted toffee truffles – delicious!
4. Choose luxury
Now, this food hamper would be best described as heaven on earth – trust us! What more could your gourmet friend want in a birthday present than champagne and chocolate? No doubt they're two of their favorite things in life!
Get your hands on this gorgeous food hamper full of the best delights, including champagne Bernard Remy, luxury Belgian chocolates and white chocolate covered strawberries.
Don't worry, you'll be forgiven for wanting to have a taste or two yourself.
5. Divine decadence
If your gourmet friend isn't a sweet tooth but loves the finer things in life, don't scrimp on your gift food hamper and opt for one that shouts divine decadence. Available with a cheese board chutney and a mouth-watering jar of Et Al Garlic and Chilli olives, sure to complement the hand waved Worcestershire gold mature cheddar and Moroccan spice crackers. Oh and to complete the taste of heaven, there's a luxury bottle of red; the Le Parcel Rouge, Vignerons de la Vicomte 2012 – what more could they want?
6. The chocolate addict
Does your gourmet friend have a secret chocolate addiction? Well, it's their birthday so it's the perfect time to feed their habit. This hamper comes complete with handmade chocolate infused fudge, Belgian chocolates and of course salted toffee truffles.
Oh and if that doesn't answer the chocolate cravings, the luxury assorted chocolate coffee beans most certainly will!
7. Time for tea
If your foodie friend just loves a good cup of tea, why not give them a birthday hamper that's all about a cuppa? Try out a time for tea hamper that's full of English Breakfast Tea, and add a couple of English chocolate and raspberry biscuits for dunking for that added bit of goodness.
You'll also find organic plum and strawberry jam in this hamper, which is perfect for a spot of afternoon tea.
8. Beer 'o' clock
If your gourmet friend enjoys sipping on a beer or two, why not buy them a whole hamper dedicated to beers from around the world? Here you will find everything from Gran Riserva to Asahi Black, complete with a few nibbles. With smoked paprika crisps and posh chili pork scratchings, your beloved friend will have everything they need to enjoy a good beer!
9. Feelin' hot, hot, hot
If you're really stuck for a present for your foodie friend, why not bring a little spice to their life? This hamper is full of treats that are guaranteed to awaken their taste buds. Complete with the very best hot chili cheese and black olive crackers, there's everything that will impress your friend right here.