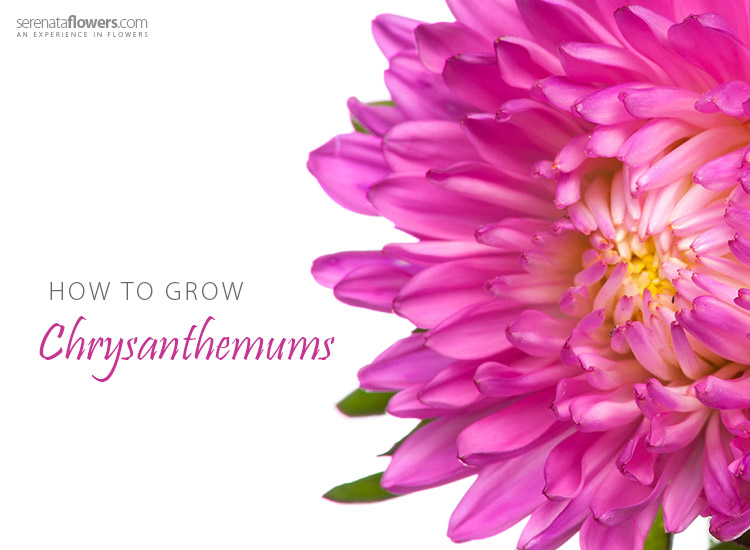 Are you getting your garden ready for the coming autumn months?
Then chrysanthemums are a must have, they are absolute show stoppers during this time of the year.
To get you started on turning your garden into a thing of beauty this autumn here is how to plant and grow your flowers.
First thing's first though – what type of chrysanthemum are you planting? There are thousands to choose from, including:
Single – long, daisy like petals
Decorative – large with many rows of petals
Cushion – aptly named for its medium sized cushion-shaped blossom
Anemone – cushion-shaped but the center is covered by shorter petals of a darker color
Pompon – a small, firm globe of tight petals
Quill – tube-shaped petals that are long and straight
Spider – long-tubed shaped petals with curved ends
Spoon – flatter blossom with rows of spoon-shaped petals
Get planting your chrysanthemums
If you've purchased your plants in the form of rooted cuttings it's important to pot them into 7cm pots of soil free compost as soon as you receive them. Ensure that you place them somewhere that they won't be affected by frost and have plenty of light.
Once they've begun to grow you should plant them in well-drained soil that has had some compost and fertiliser dug in. Be sure to space the plants about 20cm apart so that they have plenty of room to grow.
After you've planted your beautiful blooms be sure to water them generously for 1-2 weeks so they begin to grow well.
Now it's time for maintenance
As with almost every plant that you grow for picking, you need to ensure you get the very best out of them. In order to do this you should wait until they've grown to 6-8 inches before you begin to punch-out and spray your chrysanthemums.
You should do this by removing the top growth and taking it down to three or four leaves from the base of the plant. This will help the formation of the side shoots – creating a bushier more flower productive clump and making your garden look marvelous.
You can also use what you remove as cutting – which works really well at ensuring your stunning plants get the food and nutrients they need.
However, if you fancy creating one large shaggy flower you should try to grow the large-headed blooms rather than the sprays. This is a similar technique to training tomatoes – by removing all of the sides shoots the plant begins to grow as one very strong stem that looks wonderful.
You also need to stake
Chrysanthemums are very like dahlias in that they tend to break at the base of the stems and therefore staking is absolutely key. By the time your blooms are at their peak height, the autumn gales will be in full flow with the rain on its way too – so stakes are a must have!
You should ensure the stakes are tall enough that they can accommodate the entire plant, but short enough for the flowers to stand above it – check the height of the varieties you've purchased as this should help.
The winter time
There's no getting away from the cold winter months in the UK so it's important to prepare your bloom for the weather. Once your chrysanthemum has flowered you should cut back the stem to about 20cm to produce what is known as rootstock.
Luckily, these flowers are known for their hardiness during cold months and can withstand temperatures as cold as -5°C. However, to protect them during this time it's recommended that you cover them with a course organic cover such as homemade compost or bark chips.
Overwintering
During this time it's important to lift the shortened plants from the ground or remove them from their pots while ensuring the surplus soil is shaken from the roots.
Next, you should tidy up the stools by removing the green shots and leaves and placing the stools in a shallow tray on top of a 5cm layer of multi-purpose compost.
Be sure to not water them in and keep them but cold frost free over the winter months. A heated greenhouse is a perfect place.
Things to watch out for
Chrysanthemums are great to grow outside however, you do need to be aware of a number of things that can damage your plant.
Pests – aphids and lead miners are the most common pests, while eelworms can damage stock that hasn't been heating treated. Meanwhile, earwigs can damage the blooms on the flowers so it's vital that you keep a close eye on your beauties.
Disease – white rust is extremely common in these plants and can be hard to control so it's important to keep an eye on this at all times.
---
Local And International Delivery
Flowers By Occasion And Holiday
Specialized Gift Ideas