Wishing to add a little tropical style to your garden?
Hibiscus, with their bright, trumpet-shaped flowers, are the answer. When cared for correctly, these easy maintenance, high-impact plants will last for many years, adding great beauty to your home.
Hibiscus Plant – Varieties + Growing
There are three major types of Hibiscus flowers, including Perennial Hibicus plants, Tropical Hibiscus and Hardy Hibiscus. They're also available in a number of variants – 200 to be precise.
These include Rock Hibiscus, Rose in Sharon, Giant Rose Mallow, Abelmosk, Hibiscus Moscheutos, Checkered Hibiscus and Hawaiian Hibiscus to name a few.
On top of the many variants, these plants are also renowned for their health benefits and decorative uses.
Many who wish to grow a Hibiscus plant often opt to use a container, as this allows them to move the plant to the perfect location. Hibiscus plants require at least six hours of sunlight a day, it's important to give them this if you want to see them in full bloom.
Although these plants love warm, tropical environments, when growing them at home, it's a good idea to provide them with a little shade every now and again – especially when it's overly hot. This is when using containers comes in handy. For best results, choose a container that offers a cosy fit and excellent drainage.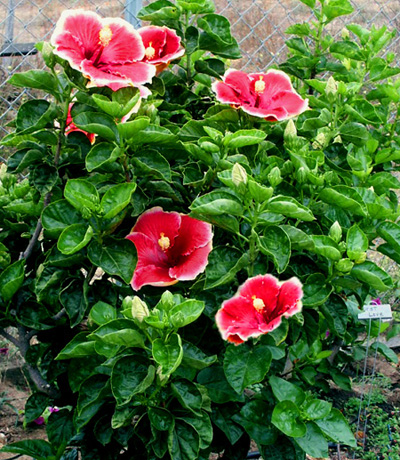 Watering Hibiscus
When Hibiscus plants are in their blooming stage, it's important to give them lots of water.
In warmer weather, you will need to water your plant on a daily basis, while in cooler weather, less water is required. In the winter months, only water your Hibiscus plant when the soil is dry to the touch.
Fertilising Hibiscus
A growing Hibiscus Plant requires a good fertiliser in order to bloom to its full potential.
A high potassium fertiliser is recommended in the summer months, however, come winter, Hibiscus Plants require no fertiliser. To increase your plant's lifespan, use a diluted liquid fertiliser once a week and a slow release fertiliser once a month. Alternatively, add soil with a high level of potassium to compost.
Preventing blooms from dropping on a Hibiscus Plant
Insect pests, particularly thrips, are one of the most common causes of Hibiscus blossoms falling off plants.
These tiny insects attack the flower buds, causing them to fall prior to blooming.
One way to prevent this from happening is to use an organic insecticide at least once a week.
Other insects and pests that are common attackers include midge, spider mites, hibiscus beetles, whiteflies, aphids and mealy bugs. Asides from insect sprays, yellow sticky traps can also be used to ward off and eliminate bugs.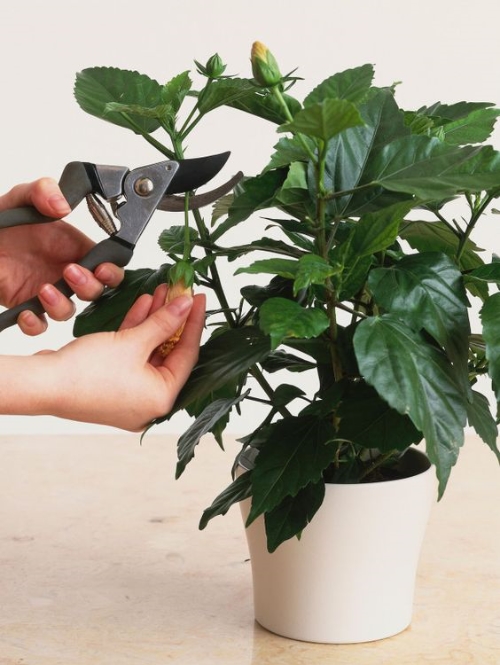 High humidity, overly moist soil, nutritional deficiencies and environmental conditions can all add to the deterioration of blooms. Feeding your Hibiscus Plants with a quality fertiliser and checking for problems on a regular basis can help to prevent this.
Replanting and basic care
When the Hibiscus flowers begin to fade, this is the best time to transplant them. Traditionally, hibiscus shrubs cease blooming in late August or September. Replanting them at this point allows enough time for the shrub to become established before the cooler weather sets in.
When it comes to replanting Hibiscus flowers, pick a location that lives up to their needs. Once you've sourced the perfect environment, begin by digging a planting hole. A good tip involves planting the shrub as quickly as possible, as this will help to reduce the chance of transplant shock and moisture loss. The planting hole should measure twice the width of the plant and as deep as the root mass.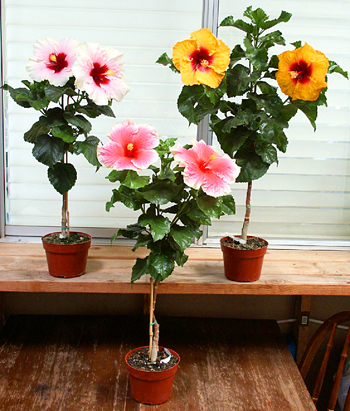 To make the job swift, place the soil you remove from the hole on a tarp, as this will make it easier to fill once the plant is re-homed. Once replanted, give the plant plenty of water – particularly in the first four to six weeks.
Hibiscus plants require at least one inch of rain (or water) per week. It's important to ensure the plant is moist but not saturated. During the growing season, feed the plant twice a month and prune by cutting branches just above the side shoot. It's also a good idea to watch for pests – using horticultural oil or insecticidal soap will help to diminish unwanted insects.
Trivia about Hibiscus plants
Hibiscus plants are not only attractive garden ornaments; they have a number of other uses. The petals and other parts of the plant are often used as a shampoo, tea or a natural dye.
Hibiscus tea: When steeped in boiling water, these plants produce a healthy and delicious tea, which tastes a little like cranberry juice. This tea is often drunk by those who have high blood pressure, as it contains essential fatty acids and much-needed vitamins. It's also a popular diuretic. The flower has also been used in China for many years in traditional medicine.
Food: The flower can be eaten and is often used to adorn salads. It has a sweet, tangy and citrusy flavour.
Dried Hibiscus: This is considered a delicacy in Mexico and can be used to decorate various surfaces – it's also a great alternative to wedding confetti.
Creative uses: The flower can be used to create a natural dye or food colouring. It can also be used in papermaking.
Cultural: Hibiscus is Malaysia and South Korea's national flower.
In Polynesia, the bark fibres are used to fashion pretty grass skirts
Tahitian women often wear a single red Hibiscus flower behind their ear to inform suitors they're available for marriage.
Both the leaves and the flowers can be used as a natural shampoo. To make this, they're ground into a natural paste.
So there you have it in all its glory – the Hibiscus Plant. If you're looking to brighten up your outdoor spaces and add tropical flair to your garden, look no further! If you have Hibiscus in your garden and are proud of your displays, let us know, as we'd love to showcase just how pretty an arrangement can be.
Sources: gardeningknowhow.com, funflowerfacts.com
featured image: credit