Flowers are a wonderful addition to the home, office or garden. Whether you're buying them for yourself or for a loved one, you can guarantee they'll add a splash of vibrant colour to an otherwise dull space. When it comes to buying flowers in Glasgow, there are a number of options to choose from, including placing an online order, visiting a local farmer's market or purchasing a bouquet from an independent or high street chain.
With so many options to choose from, we've created a handy list to help you in your search for the perfect flower arrangement.
Glasgow florists – Your guide to flower shopping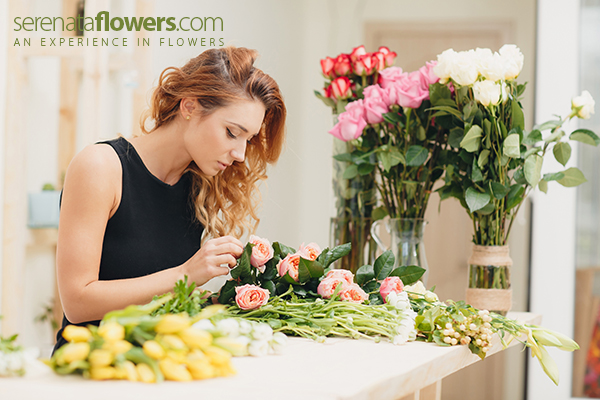 1. Buying online
There are a number of online florists to choose from, many of which offer next-day, free delivery to Glasgow. One such online store is Serenata. Renowned for their wide choice of bouquets, plants, hampers and gifts, they are a great option for those who wish to purchase hassle-free, quality flowers.
The beauty of an online florist is that you can order any time of day or night, regardless of your schedule. They'll even hand deliver the flowers to a recipient with a personal message from yours truly.
Another benefit to ordering online is the vast choice available. If you're looking for something a little out of the ordinary, such as a tropical, hot-hued floral display, you're guaranteed to find it on the World Wide Web. You'll even find individually style arrangements, perfectly suited to birthdays, anniversaries, weddings and many more occasions.
2. Buying local
If you're looking for a fast fix, head to your local florist. There are an abundance of independent flower shops to choose from in the Glasgow area, including those on Charles Street, Netherton Road and Kildrostan Street. You can even mix and match the flowers you purchase from local independent stores with those purchased online – allowing you to create a tailor made centrepiece for your home.
3. Pick your own
On a sunny day, there's nothing quite like venturing to a local farm and picking your own fresh flowers and berries. There are a number of farms in the Glasgow area offering this service, all of which grow annual and perennial flowers in the thousands. Choose from an array of colours, shapes, species and sizes. Regardless of whether you're looking for a gift for yourself, a present for a friend, family member or loved one; or a selection of flowers for drying, you're guaranteed to find a hue and style to suit everyone's taste. When considering picking your own flowers, it's important to keep in mind that this service is seasonal only, with most farms running from mid-June to mid-October.
4. Rely on recommendations
If you're struggling to find a boutique, independent or online florist, simply ask for recommendations. It's highly likely your friends, colleagues and family members have all purchased flowers from the Glasgow area, which means they'll be able to offer you plenty of advice. Alternatively, read up on online reviews. SerenataFlowers.com boast a star rating against each bouquet, plant and gift. This rating is based on reviews given by past and existing customers and is a great way to gauge whether or not the bouquet is the right one for you.
Another way to find a trustworthy florist in Glasgow is to pick a few to visit. Arm yourself with a list of questions to ask your chosen florists – this should be face-to-face when visiting an independent or high street store or via email or phone when checking out the many online offerings. Pick no more and no less than three options. Too many will leave you feeling overwhelmed and overloaded with information, whilst too few choices will leave you with nothing to compare your findings with.