Funeral flowers are a popular way to pay tribute to the deceased, yet some hesitate to send blooms, sheaves, and bouquets to a funeral because they are unsure of the correct etiquette. To help you out, we've put together a guide on what you should be sending and the different types of options available at a time of mourning.
Things to consider
Your relationship to the deceased is an important factor to consider as this will help you to determine what style of funeral tribute is appropriate to send. Traditionally, funeral etiquette dictates that blooms reserved for the casket are chosen by the immediate family only.
Both relatives and close friends should opt for a different display, and have a wide range of options to choose from including the likes of hearts, wreaths, sheaves, cushions, sprays, or custom arrangements – all will allow you to honour the personality of the deceased. Friends and colleagues of the deceased may choose a spray or sheaf display.
What is a funeral sheaf?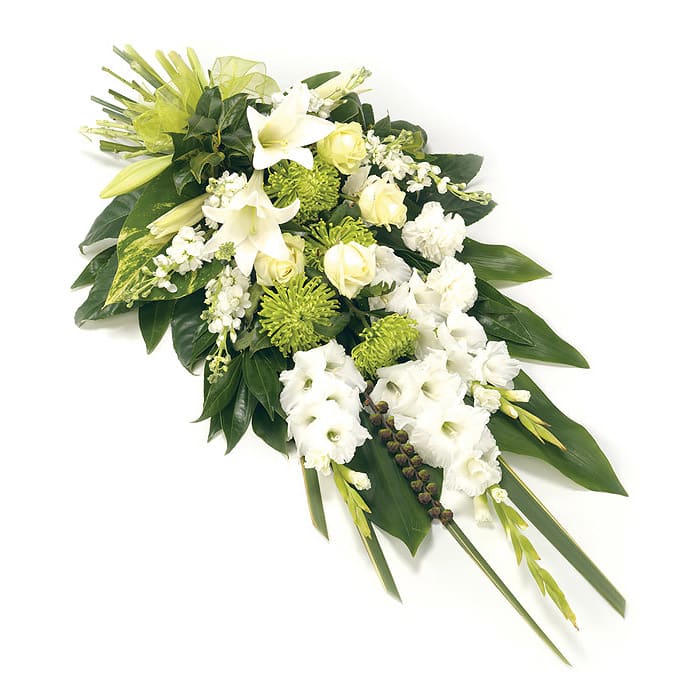 Hand-tied sheaves often referred to as a 'Tied Sheaf' are considered to be one of the options to send directly to a funeral venue, or alternatively, to a home address after the funeral. This floral display is a fitting alternative to a regular bouquet, and will often mix elements of greenery with pastel hues or brightly coloured blooms. Sheaves will often feature complimentary blooms, such as roses, freesia, mini gerberas, and lisianthus.
Tied Sheaves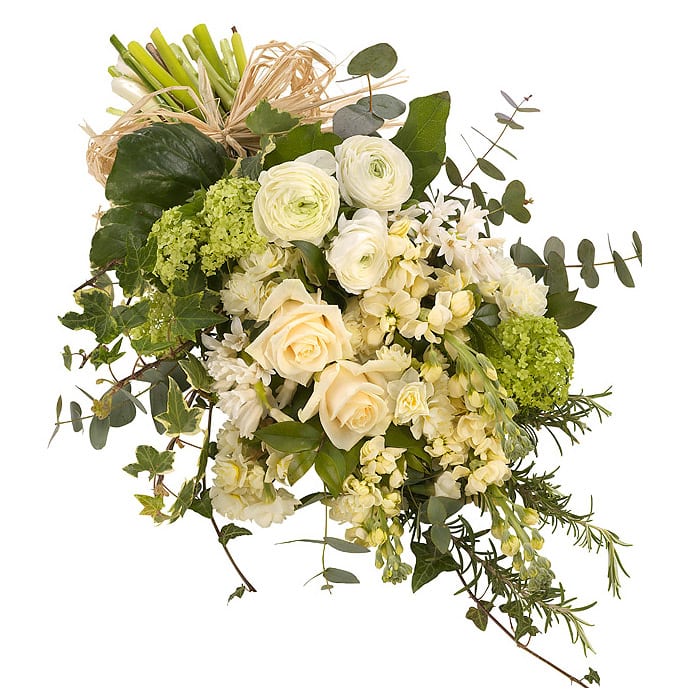 Tied Sheaves are another option suited to friends of the deceased, especially those who wish to mark their respects. These are available in an assortment of shades and seasonal flower options. The arrangements often arrive wrapped in cellophane and can be given to the bereaved families once the funeral service has taken place.
If you're unsure of which option to opt for, choose a simple sheaf such as the mixed white sheaf, which contains an assortment of blooms in the shape of white lilies, chrysanthemums, gladioli, stocks, and complementary foliage. This simple yet elegant spray will suit all tastes.
For a more vintage style, opt for a natural style sheaf, containing cream roses, soft green foliage, and soft white blooms for a boho, garden-style look. For something brighter, choose the pink rose and purple lily display, an option if you wish to celebrate the life of someone who brought vibrancy and energy to every setting.
What is a funeral spray?
Standing sprays come in the shape of funeral blooms displayed on easels. Funeral sprays should never be sent to the office or home and tend to be reserved for formal services such as memorials, funerals, and graveside services.
How much does a funeral spray cost?
Funeral sprays vary in price, often ranging from £20 to over £50, depending on style and the flowers that have been used to create them. When ordered online from a florist such as Serenata Flowers, you can choose the same or next day delivery. You may also wish to buy a variety of blooms and mix them together to create the one spray.
Funeral etiquette by faith
Funeral etiquette is different from faith to faith. What may be suitable in one culture may not be suited to another. Avoid unwanted awkwardness by always being sensitive to the faith of the deceased and their family prior to selecting and sending funeral flowers.
Catholic: All types of floral arrangements are acceptable.
Protestant Christian: Again, the majority of flower arrangements are welcome.
Mormon: Most blooms are suitable, however, it's important to avoid tributes in the shape of a cross.
Jewish: It is not tradition to send floral displays to a Jewish funeral or even to the family home during shiva (this is the first seven days after the funeral).
Hindu: Despite most floral arrangements being accepted, garlands are more traditionally worn at a Hindu funeral.
Muslim: It is said to be good etiquette to seek consent from family members prior to sending funeral flowers to an Islamic funeral.
The Family's Wishes
It's important to consult the family of the deceased before sending flowers, especially if you're planning on sending them to the funeral home. Selecting a fitting funeral flower tribute requires dedication. Just as people will mourn in different ways, different individuals will prefer certain types of flowers and arrangements. This is when it's important to follow advice and guidance from your online or local florist.
Their experienced florists will have an array of prepared blooms available, all of which have been designed with sympathy in mind. You'll discover various different types of arrangements to choose from in simple hues and styles, as well as brighter blooms. In certain instance the family may request bright colours at the funeral to reflect the life of the deceased, which is when you may wish to consider such a bouquet.