Freesias are a great bloom to grow indoors as they're able to thrive inside. They can add an instant injection of colour to any room and they're reasonably easy to care for.
When growing a freesia in a pot, it's wise to plant the bulbs about two inches apart in a pot filled with regular potting soil. It's important to keep the soil moist, but not saturated, and to place the pot in a sunny position, preferably in a south-facing window. If you follow these tips you can expect flowers to bloom in 10 to 12 weeks.
The freesia boasts sparkling hues and leaves with a subtle hint of fragrance, which will bring the home to life, and often evokes memories in many people. This vintage, nostalgic flower has recently made a spectacular comeback and getting your hands on some is now easier than ever. Many online florists, including Serenata Flowers, offer both same and next day delivery options, meaning you can have the blooms in your home in no time at all. Just order by the daily cut off time to qualify for same day delivery!
Colours and shapes
The freesia's tuber boasts many small tubers, which sit under the soil. These are called beads. These beads grow into a full tuber and eventually into a comb of flowers, which look both sophisticated and stylish. The freesia's flower display is called a comb because of the buds which are lined up neatly. This is one of the reasons they're so popular in the home, and to make things better, the blooms even carry on growing when cut and placed in a vase. The freesia comes in an array of hues including shades of white, yellow, orange, red, blue, pink and purple. They can also be bicoloured or multicoloured, which makes them very unique. Many versions have a bold, sweet fragrance that makes your home even more attractive.
Meaning
The freesia is symbolic of unconditional love. Many gift these blooms to their spouse, choosing white freesias to celebrate seven years of marriage, as they remind both partner of their pure, genuine love. The beautiful perfume of the bloom's comb lends an extra dimension to this. It also symbolises feelings of innocence.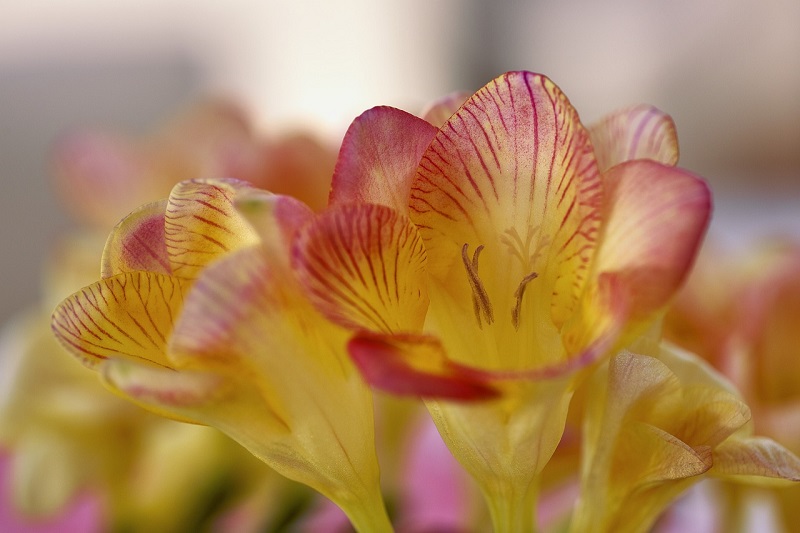 Origin
The tuberous freesia was first 'discovered' in South Africa, and was initially called 'Cape lily-of-the-valley'. The bloom was given the name 'Freesia' by the South African botanist Ecklon in 1830, who named it after his friend, the German Dr F. Freese. This bloom was introduced to England in the Victorian era, and as you'd expect, the highly fragrant, hot-hued flower that became an instant hit. It is symbolic of trust, innocence and purity. Today, freesia is as prevalent as ever, especially as a cut flower, for use in floral arrangements and bouquets. If you're looking for a long lasting flower for a cutting garden, freesias are a great option.
Bouquet inspiration
There are many freesia bouquets to choose from, including bold and beautiful vintage bouquets or original innovative combinations. These beautifully scented freesias are extremely versatile. The many hues mean that you can create an assortment of different bouquet styles. Some tried and tested combinations include mixing yellow varieties with Ammi majus (Bishop's flower), tulips, irises, Asclepia and statice. If you're unsure of what arrangements to choose from, you can take inspiration from online florists such as Serenata Flowers. You can add extra interest with an assortment of fabulous foliage such as asparagus, leather leaf fern and Aralia.
Freesia growing requirements
As freesia blooms are native to South Africa, it's important to follow a few tips to ensure they thrive both indoors and in the garden. For best results it is important to mimic their native habitat. Freesia plants grow best when daytime temperatures are around 16°C-21°C and when nighttime temperatures stay between 7°C and 13°C. It is important to note that freesia blooms cannot withstand any frost and will die if exposed to temperatures below -4°C. They can however be grown as annuals or houseplants in cooler climates – the most common option in the UK.
In the Southern Hemisphere, freesia flower in the autumn, then go dormant when winter temperatures become too cold. In Northern Hemisphere zones, they bloom in the spring and go dormant when summer temperatures become too hot.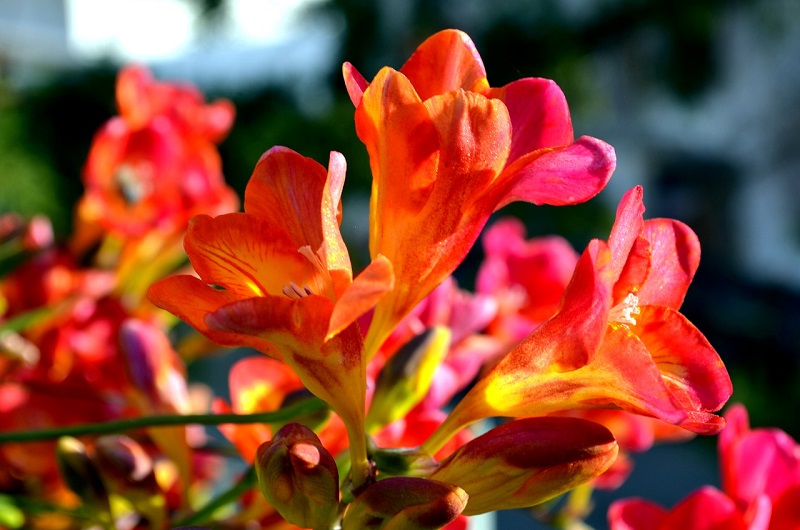 Watering
You should water your freesia regularly, ensuring that the soil stays moist. This should be maintained throughout the growing season, while you can reduce the amount you water them slightly once they are indoors and potted.
Sending freesia
If you wish to send freesia blooms to friends, family or colleagues, you can do so very easily. With the advent of online florists, sending these blooms to your nearest and dearest is as easy as the click of a button. You can even opt for same and next delivery when you order before a certain cut off time – just make your selection at the check out.