When offering condolences, either in person or in writing, it can be hard to know what to do or say. We've put together a guide on sympathy etiquette and flowers for sympathy to help you if such a situation arises.
What to say to express sympathy
When it comes to expressing sympathy to a loved one, friend or family member, the goal is to show both concern and compassion to the bereaved. Whether you share a happy memory, write a message or send a gift, such as a bouquet of blooms, the most important message to get across is that you are there for the bereaved should they wish to reach out to you.
Messages to accompany flowers for sympathy
There are certain messages you should send and some messages you should avoid. Generic messages can include the likes of:
'I'm sorry for your loss.'
'You are in my thoughts'
'He/she was a wonderful person.'
'I will miss him/her.'
'This must be so hard for you.'
What not to say to someone who has experienced a loss
Many people are scared of saying the "wrong thing" to someone (be it a colleague, friend or relative) who has just experienced a loss. Those who are in this situation are likely to be feeling extremely emotional and overwhelmed. With this in mind, always try speaking to them from a place of compassion and love, while acknowledging the situation and allowing them as much space as they need.
Three top tips to follow around what not to say include:
Don't deny that the person who has passed has gone.
Don't deny that the bereaved is in a great deal of emotional pain.
Don't deny that this death may alter everyone's lives.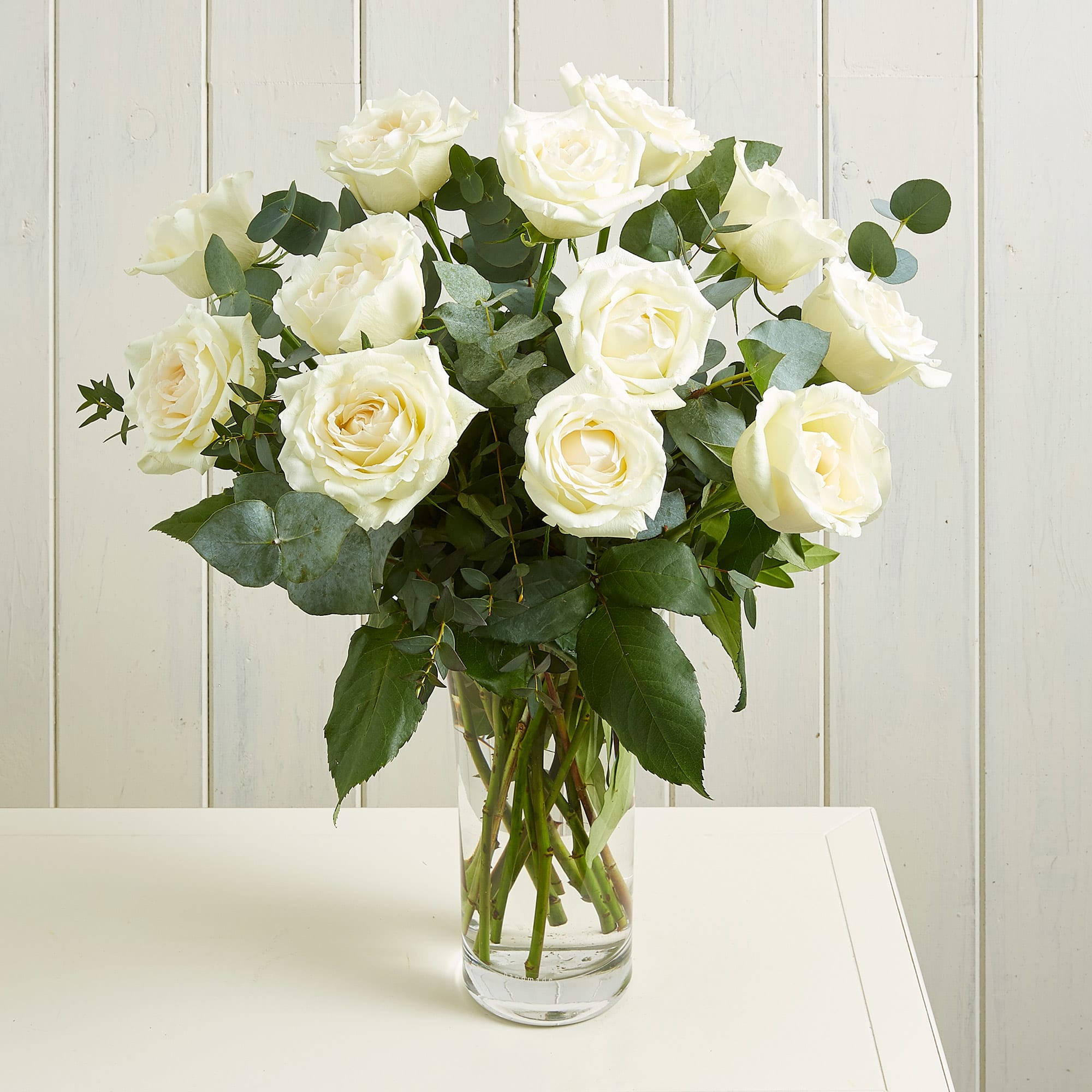 When and where to send flowers for sympathy
While it's not always easy to know what to say to an individual who has recently lost a loved one, sending flowers for sympathy expresses your thoughtfulness for the situation. An arrangement of beautiful flowers will bring both beauty and comfort to a sad occasion. They will brighten the mood and show the individual that you are thinking about them at that sad time.
Flowers are traditionally sent directly to the funeral home if you wish for them to be displayed during the service at the funeral. However, if you wish to express your condolences, you can send flowers to the home, or homes, of the bereaved.
Send thoughtful funeral wreaths for the memorial service
Wreaths are one of the most popular flower arrangements for funerals. They are normally set up adjacent to the casket on easels, which will be provided by the funeral home. A banner is often placed over the wreath, with the words 'Grandfather', 'Uncle', or 'Grandma' inscribed on it. These blooms are usually reserved for immediate family.
Arrive with fresh-cut sympathy bouquets for the ceremony
Fresh cut flowers for sympathy are the most prevalent choice when it comes to sympathy bouquets. They offer delicate scents and serve a purpose throughout the bereavement services. Cut flowers can also be placed on the grave at the burial and are accepted as correct forms of condolence.
White blooms are popular options when sending sympathy flowers because they signify love, purity, and peace. Simple white flowers will also flatter any bereavement ceremony surroundings. The most prevalent white cut sympathy flowers include lilies, white roses, orchids, and irises.
Send potted plants to the home of the bereaved
Once the service had commenced, you may wish to send a gift to the bereaved to show you're thinking of them and are there for them if needed. Potted flowering plants are a gift that will live on as a memory of the service, the lost loved one (especially if you choose their favorite bloom), and as a sign of your compassion.
Sympathy lilies are the traditional option, with dark green highlights and white blooms. Potted orchids, gardenias, and white azalea bushes are other good choices sent in times of grieving to bring comfort to those mourning.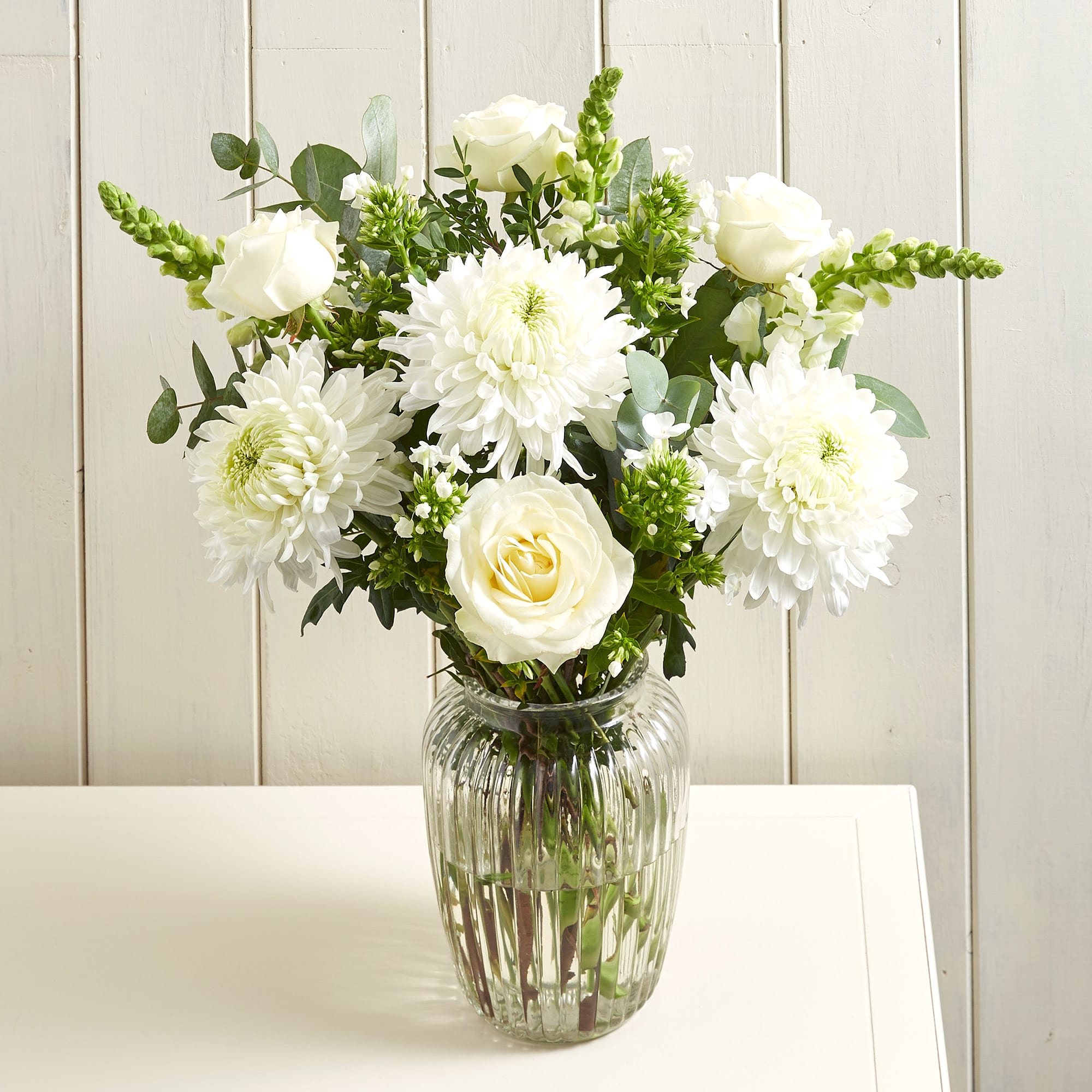 Flowers for sympathy
You can send sympathy bouquets comprising of white roses, white lilies, white freesia, white gypsophila or bold chrysanthemums or gerberas, all to say 'I'm thinking of you'. In certain instances, those mourning may request brighter colors if they want to remember an individual in a certain way.
Which types of blooms are good sympathy flowers?
A number of flowers for sympathy can be chosen, although some blooms are more prevalent than others, including the following:
Lilies
Roses
Carnations
Gladioli
Calla Lilies
Chrysanthemums
A dozen roses is another peaceful, nondescript gift that will be sent in the days and weeks that follow an individual passing away. Regardless of how you wish to show sympathy, sometime the mere fact that you are there to provide support is enough.