Flowers are a wonderful gift to give to loved ones, friends, family members and yours truly – however, it's important to learn a few tips and tricks when it comes to getting flowers delivered in the UK.
Here we've listed a few of the common mistakes to avoid…
1. Not checking delivery charges
Choosing next day delivery is likely to cost you more than standard delivery, however this cost often won't be applied until the last stage of your order.
Be sure to check your total before entering your card details.
2. Double checking the florist delivers to the area you live in
Before placing your order, and to avoid disappointment, ensure your chosen florist delivers to your chosen area.
Flowers delivered in the UK won't always include delivery to parts of Scotland, Ireland, the Channel Islands or the Isle of Man.
If the florist is willing to deliver to areas just outside of the UK, it is also likely they may charge you more.
3. Extra hidden charges
From different sizes to a variety of packaging, to vases and vessels – it's not uncommon for extras to cost extra.
Be sure to check your final total before paying for your order. The likes of gift wrap, a gift card and choosing the larger blooms are all likely to bump the price up.
4. Delivery terms and conditions
If you're ordering flowers as a gift and wish for them to arrive at a particular time and date, check the delivery terms and conditions first.
Even if a florist states it offers next day delivery, this may only apply to certain locations. It may also only apply if you order before a certain time.
5. Sizing
Sometimes images can be deceiving – especially when ordering freshly cut flowers. Not every stem, bloom and leaf is the same size or shape.
Keep this in mind when placing your order, as it's likely it won't look exactly the same as it does in the picture. One way to ensure you're getting the product you desire is to type the bloom's name into your search engine – this will reveal a list of images, showing you how the plant looks in various stages.
If you like the many varieties, it's likely you'll be happy with your order. When it comes to sizing, check the small print or alternatively, call the florist and enquire before paying for your order.
6. Whether the plant pot / vase is included with your order
Quite often, images on florist websites will picture the bouquet or plant in a plant pot.
This doesn't however mean the plant will arrive in this exact vessel (or any vessel for that matter). It may come at an extra cost, or may have simply been used for the photograph alone. You can usually find your answer in the small print or by searching or your answer on the website's FAQs.
If not, try calling or emailing the florist before placing your order.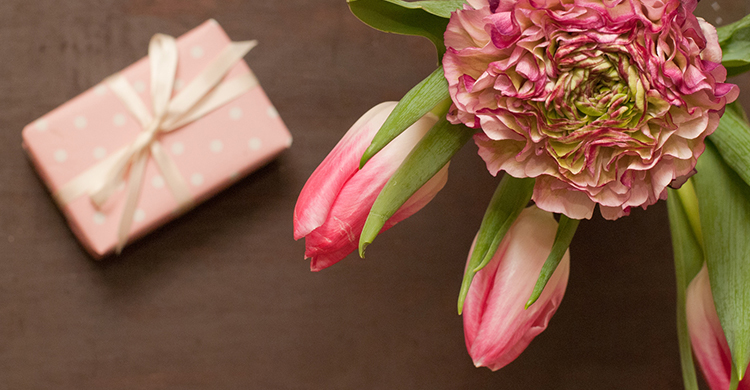 7. Colour
Colours can vary due to screen resolution and also season. If the flowers you are ordering look extremely red, don't be surprised if they arrive in a slighter lighter shade or even, a pink hue.
Again, use your search engine to research the specie you have chosen, as this will help you to determine what colours they are available in and whether the season you purchase them in affects this.
Alternatively, check the florist's website on a variety of different devices, including your mobile phone, your tablet, your laptop and desktop computer – all are likely to feature slightly different resolutions.
8. Damage in transit
Flowers delivered in the UK can occasionally become damaged in transit.
Before placing your order, check you're insured for damage. It's important to know the florist is willing to replace damaged goods.
9. What happens is you're not in when your flowers arrive?
This is an important question to ask, or research, especially if you're sending the flowers as a gift to a loved one.
If the recipient is out when these arrive, you need to know that they will be left in the safe hands of a neighbour, is a secure location or at the reception of an office.
When ordering, there is usually a section where you can add a note for the delivery company. It's here that you can let the delivery driver know where to leave the bouquet if you're not in at the time of delivery. Most of the time, you will be able to pick a delivery time.
10. What happens if your delivery doesn't arrive?
Sometimes items get lost in the post. It's always a good idea to keep your receipt, as this will allow you to prove you placed the order.
The majority of companies will supply you with a tracking number once you have paid for your purchase, this is usually emailed to you. If there seems to be no progress when you check the status of your order, simply give the florist a call or send them an email supplying them with your order number and tracking number.
The quicker you speak to them, the quicker the situation will be resolved.
11. What happens if you change your mind?
You may discover that a sibling has ordered the same bouquet for your mother, you might simply change your mind or you may discover the recipient is away.
There is usually a cut-off period for refunds, especially when considering perishable goods. It's unlikely you will be able to return the flowers (unless they are faulty) however, you may be able to request a refund immediately after you have placed the order. It's important to read the site's FAQs before you purchase the flowers.
You will usually find any answers to questions you have in the FAQ section. If you don't, simply give the florist a call and they will be able to advise you, answering any queries you may have.
Find the latest flowers promo code on our website and get flowers with a good discount!