With Christmas just around the corner, it's time to start considering what gifts to send to loved ones. One option is a beautiful bouquet of Christmas blooms. This is a great gift to send to family members, friends, and colleagues, and also to those who live further afield.
With the rise of online florists, people across the country can send flowers to their nearest and dearest at the click of a button. Here we've listed a few of the blooms that are best sent at Christmas to give you a little festive inspiration…
Traditional Christmas Flowers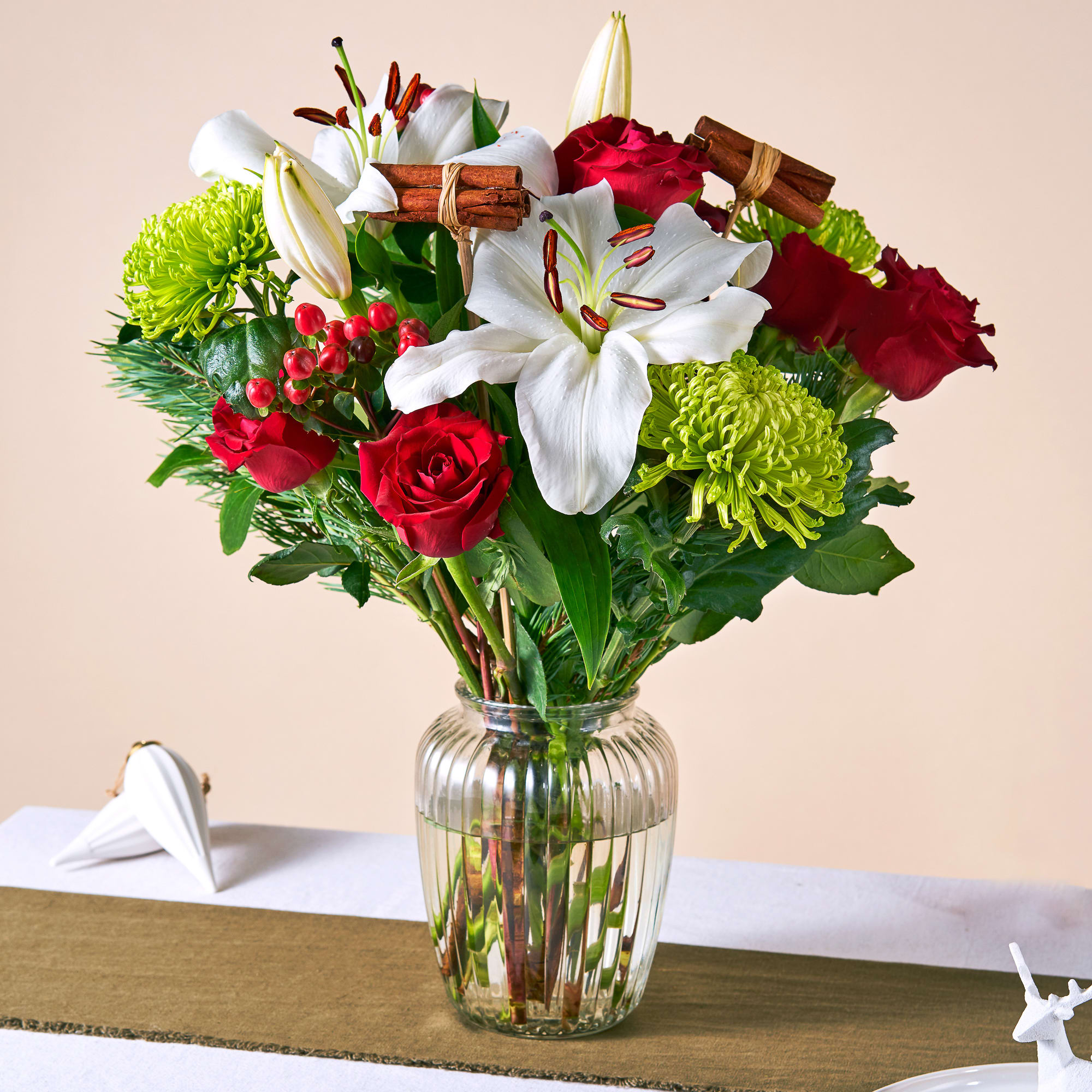 Seasonal blooms are in plentiful supply at this time of year and some of the most popular options include amaryllis, poinsettia, azalea, cymbidium orchids, and red roses to name just a few. When choosing blooms as Christmas gifts, opt for hues and styles you know the recipient will enjoy. If you're unsure of their favourite hue or bloom, opt for a traditional or minimalistic display.
Poinsettia
This has to be one of the most iconic Christmas plants in existence and is one of the most popular plants to invest in come December. This plant boasts a festive combination of green foliage and red hues. They're also available in shades of pink and white – perfect for those who prefer softer accents.
Although many think these plants have petals, the vibrant red blooms are actually bracts – the upper leaves of the plant. The flowers produced by this plant are green or white and can be found hidden in the middle of the leaves. These blooms are native to Mexico and flower in winter.
To ensure they thrive in the home, place the plant in an area that benefits from bright sunlight for around six hours per day, and ensure the soil is moist but not drenched. When it feels dry to the touch, this is when you should water your plant again.
Azalea
These blooms are part of the Rhododendron family and are another popular Christmas flower. They're a great option to choose if you wish to add a splash of colour to your home in the cooler months, with red and white variants being the most popular options for the festive season.
The flowers tend to last around four weeks, which makes them a great focal point for the home throughout Christmas, especially as a table centerpiece. Asides from their aesthetic appearance, they also have a rich symbolic significance. They denote feelings of temperance, femininity, care, and softness.
Cymbidium Orchids
Native to Himalayan forests, these beautiful, bold blooms are a distinct and elegant addition to the home, as well as to Christmas bouquets. They're only in season in the winter, which makes Christmas the perfect time to gift and enjoy them. They boast a series of beautiful flower spikes, which add texture and interest to an array of bouquets.
Amaryllis
One of the most prevalent Christmas blooms available, mainly because of their vibrant red blooms, which go hand in hand with traditional Christmas colours. You can also invest in other varieties that boast snowy white blooms, an ideal option for those wishing to create a winter wonderland look or a more minimalistic style.
The flowers are oversized and trumpet-shaped, which makes them a natural focal point. In addition to their seasonal hues, these blooms are often extremely long-lasting. In fact, when cared for correctly, they can last for many weeks at a time. Even cut amaryllis, for example, has an impressive vase life.
For best results though, you'll want to order a bouquet a few weeks prior to Christmas and then you can expect to enjoy it well into the New Year.
Red Roses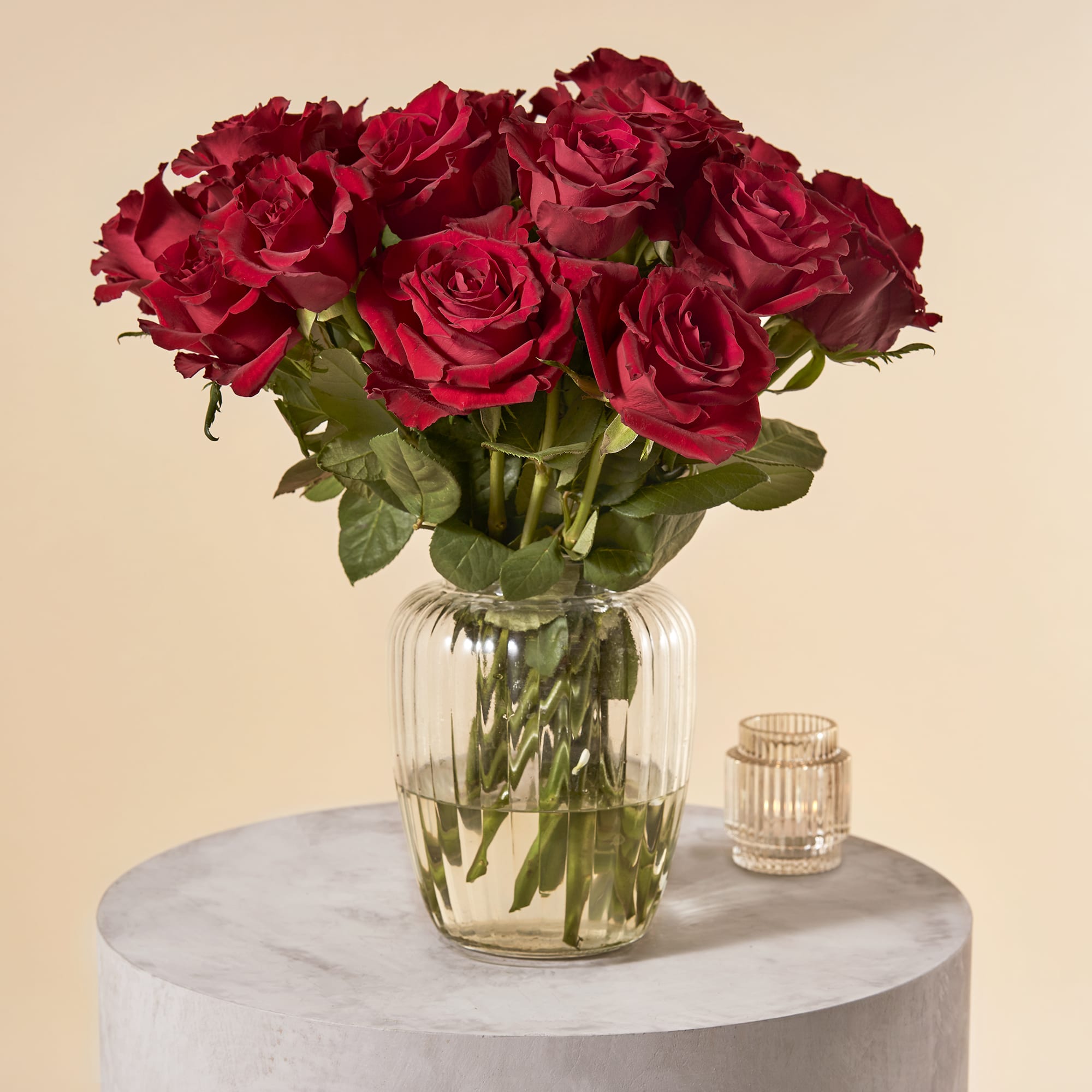 Roses aren't just for romantic occasions, as they're a popular option for Christmas bouquets. Their vibrant hues perfectly complement the traditional seasonal hues, adding an instant festive style to bouquets and your interior decor. They're also a popular option for table centerpieces, especially when teamed with candles.
Christmas Foliage
Asides from blooms, foliage is an important part of any festive centerpiece or bouquet. The likes of pine cones, berries, and evergreen can add warmth and a touch of festivity to tables, wreaths, and bouquets.
Christmas Flowers as Decoration
As well as sending blooms as Christmas gifts, you may also wish to invest in a handful of flowers and Christmas plants as a wonderful addition to your home decor. Blooms instantly add a touch of natural seasonal beauty to an array of rooms in your household, adding effortless style to your home this Christmas, complementing both wreaths and trees.
If you plan to send blooms for Christmas, make sure you send them in advance so that the recipients have more time to enjoy their rich colours and beautiful foliage. Any blooms ordered from December onwards should last until Christmas and beyond, providing an ample dose of festive cheer.