For many, Easter represents the beginning of spring. The sun shines for that little bit longer every day, birds begin to sing and flowers are finally in bloom again. Asides from changes in the weather, this season also brings with it an array of events and festivities.
Easter events taking place in the UK
Easter will be upon us before we know it! If you haven't yet found activities to fill your days of freedom, it's time to get cracking! Thankfully, there is a range of things to do this Easter, all of which are suited to the entire family.
Easter adventure quest at Kenilworth Castle, Warwickshire: Conquer foes and fight dragons in a quest to find as many Easter eggs as possible at a royal castle this April. You may even bump into an array of historical figures during the trail.
Leeds Castle circus fun: This Easter, the famous Leeds Castle will host what promises to be an incredible aerial circus show.
Music concerts in London: On Easter Saturday, True welcomes the return of the awesome musical duo, Laura & Ben Santiago, who will play at McQueen Shoreditch! This is the only date you'll get to watch the pair in London before the summer!
Watch the Passion of Jesus in Trafalgar Square: Each year there's a massive free outdoor theatre show in London's famous square and 2019 will be no different. Learn more about the final days of Jesus, including an amazing interpretation of the crucifixion.
Meet Bobtail Bunny at Paulton's Park: The home of Pepper Pig on the edge of the New Forest is preparing to welcome a number of characters over the Easter period – something that youngsters are sure to love!
Decorate your own Easter egg: If you're on the lookout for fun crafts and activities this Easter? Look no further than the English Heritage's guide to decorating Pace Eggs using an assortment of colorful dyes
Easter Eggstravaganza at West Midland Safari Park, Worcestershire: You'll find an array of enormous Easter eggs scattered around West Midland Safari Park – become an 'eggs-plorer' for the day and try to find as many as you can! Those who complete this challenge will be awarded a chocolatey prize. And if you snap a victory shot at the end of the trail, you'll be entered into the park's Easter Facebook Photo Competition to win a Family Annual Pass.
The fun of the fair at Manchester Central: A huge indoor funfair for Easter – what's not to love? As well as classic funfair games and rides, they'll be food and a party atmosphere inside the spectacular arena!
Wiglet's Easter Eggstravaganza at Godstone Farm, Surrey: This 'Eggciting' Easter event will allow you and the family to meet an array of adorable newborn lambs and chicks, as well as take part in the Mega Easter Egg Dash for a chance to win an assortment of prizes!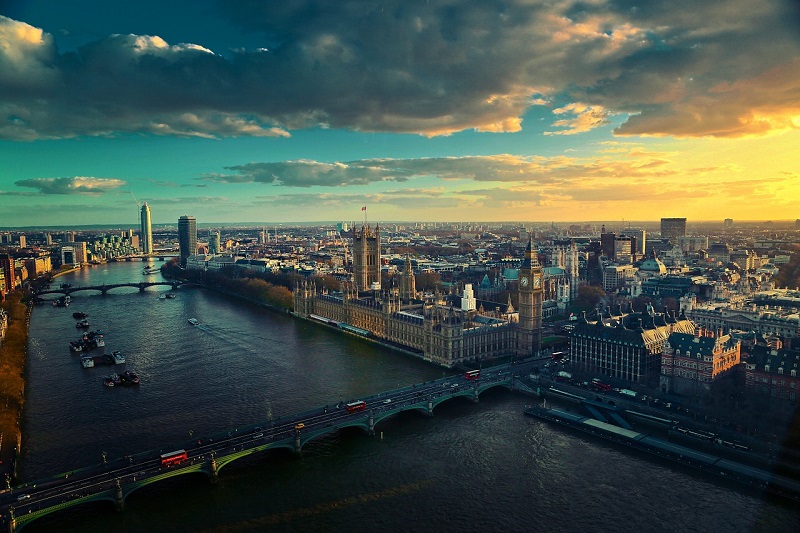 Flower delivery in the UK
There are many ways to surprise friends, family members and loved ones with flowers in the UK, particularly because Easter is a time when flowers begin to bloom and the outdoors come to life.
Easter lilies: The most popular Easter flower is the Easter lily. These elegant white blooms are an ideal addition to seasonal flower displays and Easter wreaths. They're also a religious symbol for Easter and are often seen embellishing church altars. Due to their association with this celebration, they're one of the most gifted flowers on Easter Sunday. Serenata Flowers have an array of beautiful bouquets containing lilies, all of which can be delivered to various places in and around London.
Chrysanthemums: With their bright hues and clustered blooms, it is little wonder they symbolize cheerfulness and joyfulness. They also boast a particularly long vase life, which makes them a popular choice for those looking for Easter flowers with staying power.
Tulips: Spring brings with it fields and fields of vibrant tulips in bold jewel tones as well as lighter, pastel-hues, for a more classic Easter look. If you're creating a wreath or table display, adding a handful of yellow, pink and green Easter eggs to the mix will perfectly complement the softly colored blooms. Serenata Flowers even offer next day delivery on many of the bouquets they feature online.
Daffodils: The bold yellow color of daffodils immediately confers up feelings of sunshine and cheerfulness. On Easter, daffodils are traditionally gifted to those you wish to say "I love you" to.
Hyacinth: Hyacinth flowers come in an assortment of hues, including everything from bright blue to purples and light pinks. The common Easter flower boasts a unique cone-shape, with impressive several blooms in each blossom. The flowers look bold and beautiful, and act as a great filler for bouquets, arrangements, and wreaths, especially if you're wishing to achieve a gorgeous springtime look.
Daisies: Classic daisies in soft cream and white hues are symbolic of purity, or classic gerberas are another popular option for Easter.
If you're still unsure of what blooms to purchase at Easter, speak with your local florist or a member of staff at a garden center for advice. Alternatively, you'll find an abundance of useful advice using popular online search engines.
Sending gifts to relatives that live far away
If you wish to rejoice Easter with family and friends that live further afield, sending a beautiful bouquet of blooms or even an Easter plant is a great way to show loved ones you're thinking of them. Serenata Flowers delivers to various places in the UK, including an array of suburbs in London.
If you need to get beautiful blooms sent to other areas of the UK too, Serenata Flowers have an abundance of florists in the majority of the nation's major cities and are able to offer next day delivery – or even same day delivery in some cases. Just remember that you'll need to order before a certain time in order to take advantage of any offers.