Flowers are a great gift to give and receive, however it's important to consider a few tips when it comes to flower delivery.
Read on to discover how to ensure your floral bouquet is delivered on time…
Order in plenty of time
If you're sending flowers to a certain someone for their birthday or anniversary, it's likely you'll want the bouquet to arrive on a particular date, even at a particular time. A number of florists offer next day delivery (due to the perishable nature of the product) however, there is often a cut off time. It's important to check what the cut off time is before placing your order, if not, the recipient may be left disappointed.
If the individual you have chosen to gift flowers to boasts a busy social or work schedule, it may be better to gift them with a plant instead of a bouquet. A number of florists offer both options. When choosing, select something that is low maintenance and requires little care.
Don't forget to check the small print and images too, as it's not uncommon for online florists to showcase plants and flowers in plant pots and vases in the display image. This doesn't always mean they will arrive in a vase, box or case.
These are often extras that will need to be purchased at the checkout. You'll also be able to check your flower delivery to ensure that what you're ordering is what you expect.
Add a delivery note
If the delivery address is a little tricky to find, it's a good idea to add a delivery note to your order. You will usually be prompted for this at checkout. This may include a phone number, directions or information on where to leave the flowers if the individual isn't in.
If sending to a recipient, remember to add a card to inform them who they are from. Many online florists will ask you to write a message before proceeding to checkout. You can often even choose the design of the card and sometimes, the typeface.
Similarly, you can also opt to add embellished packaging in the shape of ribbons and pearls for your bouquet. Remember to ask for the invoice to be sent to your address, as opposed to theirs with the flower delivery! No one wants to know how much you have spent on them!
Plan ahead and pick a time
If the recipient works mornings, choose an afternoon delivery time or vice versa.
This will ensure they're at home to receive the flowers when they arrive.  However, if they work full time or aren't likely to be in when the delivery arrives, it's important to have a backup plan. This may mean delivering them to a neighbouring address or alternatively, to their place of work. In fact, sending the flowers to the recipient's office is a great way to make them feel that extra bit special, as it's likely their colleagues will make a fuss of them!
Get tracking
Once you've placed an order, you should receive a tracking number (usually via email). This will enable you to watch the progress of your order. If being delivered to yours truly, this will help you to ensure you're in to receive the flowers when they arrive to your door.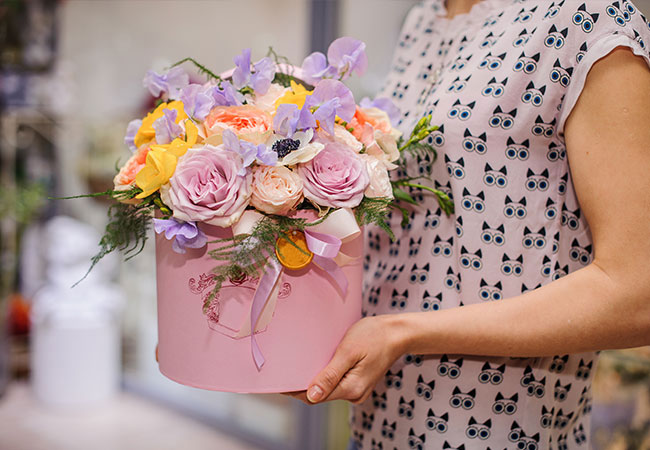 What to do if the flowers are damaged in transit
Before placing an order, check if the florist you are ordering from is willing to cover the costs of damaged goods or alternatively, replace them. Both bouquets and plants must be handled with care as they're extremely delicate. With this in mind, it's important to ensure your plants are covered.
Similarly, if the bouquet goes missing in the post or arrives late, knowing you're entitled to a refund is a must. You'll likely find the answer to these questions in the FAQs on the seller's website. Alternatively they may offer an email address, phone number or live chat feature.
Sizing and colouring
Just because one size of bouquet or plant is featured in the image on the seller's website, this doesn't mean this is the size you will receive. You will usually have to select a size prior to proceeding with your order. In addition, as plants are live species, they can vary in hue. It's also important to bear this in mind when ordering a bouquet, particularly when ordering online. Screen resolution can also affect the image colour of the bouquet, as it may vary between devices.
When placing a larger order, this may be for an event such as a dinner party, a corporate soirée or even a wedding, it's a wise idea to place this order over the phone or face-to-face. This will ensure the number of plants and floral displays required are in stock. It will also allow you to discuss factors such as caring for the displays on the day and when to place the order to ensure the flowers last for as long as possible, yet still arrive on time.
Payment methods and hidden costs
Not all florists accept the same payment methods. Before placing an order and paying for delivery, it's important to check this. Smaller, brick and mortar style venues may only take cash, while online florists will usually accept all payment methods, except certain credit cards. There may also be the option to use PayPal.
Some florists will offer free delivery, whilst others will add additional delivery costs. First class and speedy delivery will often be more expensive than that of standard delivery. It will, however, mean your bouquet will get there quicker! To ensure you're not paying over the odds or incurring unexpected charges, check your final balance before entering your card details.
Delivery flowers are a fantastic way to surprise someone on a special occasion or just to remind them how much you care. With so many options available to help you on your way, you should be able to find the perfect blooms and have them delivered straight to the recipient's door.
Find the latest Serenata Flowers promo code!
---
Local And International Delivery
Flowers By Occasion And Holiday
Specialized Gift Ideas