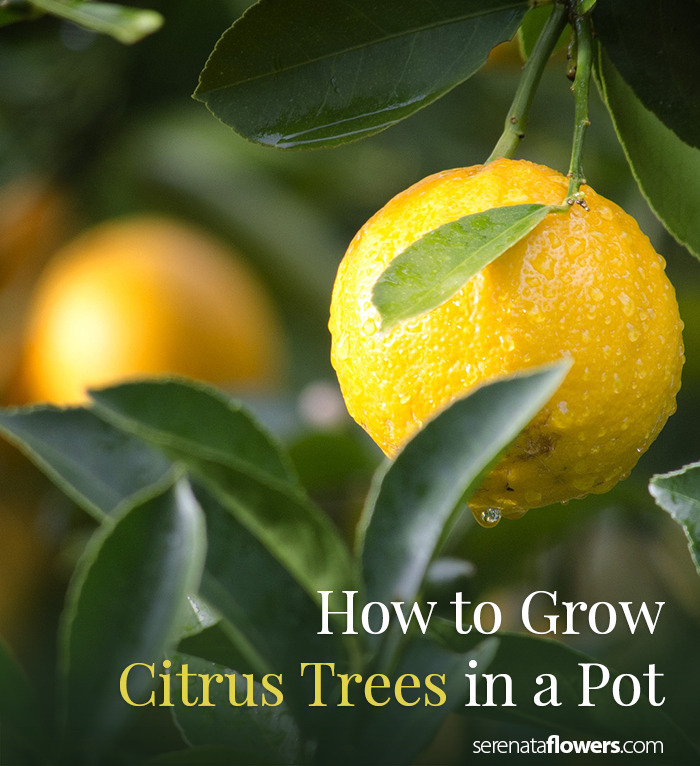 From mandarin to lemon trees, there are a variety of citrus trees in existence, and despite what you may think, many of these species can in fact be grown in a pot.
Indoor fruit trees have been developed by plant specialists, who have created a botanical formula that allows green-fingered connoisseurs to enjoy citrus trees indoors.
How to grow citrus trees at home
An abundance of plant breeders have introduced dwarf citrus trees to the market, which means green-fingered connoisseurs no longer need a large garden to grow exotic trees and can instead grow them in pots, either in the home or on a sun-drenched balcony.
What environment do citrus trees thrive in?
Citrus trees, like many of us, enjoy good weather. If placing the plant in your home, be sure to place it next to a window, where it can bathe in full sunlight. Alternatively, in the summer months, you may wish to place it on a south-facing balcony.
For best results, use a pot with drainage holes and elevate the plant slightly. In warm weather, you will need to water the plant two to three times per week. You should also invest in food for your citrus tree, to help it flourish in its new environment.
Getting started
Begin by selecting the correct sized pot for your citrus tree. Once you've found the perfect pot and before filling it with high quality potting mix, place it into its final position. It's important to choose a vessel with several large drainage holes, and also, a pot that is slightly raised off the ground. If you're unable to find a suitable pot, simply place the pot on bricks.
When filling the pot with potting mix, leave a space of 4cm between the soil and the rim – this slight area will allow for space for watering. When the plant is in its new home, water well and firm the soil around the tree.
Which trees produce fruit and what environment do they require?
A number of indoor citrus trees produce fruit year after year if cared for correctly. Measuring just 3-4 feet in height, they're ideal for any indoor environment, including offices and apartments. All they require is a bright space, a little misting to create the effect of humidity and water a few times per week.
The grapefruit tree: Freshly picked grapefruit is a luxury enjoyed by many. Now imagine growing your very own grapefruits in your home.
The lemon tree: If you're looking for an inexpensive potted citrus plant, the indoor lemon tree is a must! They're low maintenance, easy to grow and produce a great deal of fruit! If you only have a small space to work with, choose a dwarf lemon tree, as they will thrive on even a small patio. You'll be pleased to know, despite their name, they yield fruit of a normal size. The dwarf Meyer lemon tree also acts as a natural air freshener for your home and promises to harvest fruit that is much sweeter than that of store-bought produce.
The lime tree: An indoor lime tree is a great addition to any household, especially to those who enjoy cooking. Asides from offering an energizing scent, it adds a splash of colour to your home.
The fig tree: The indoor fig tree is not very well known when it comes to indoor container plants, yet despite this, it's arguably one of the most prolific of all citrus trees and yields the sweetest, most appealing fruit! Asides from being a joy to grow, the indoor fig tree is a fig-lovers dream.
The olive tree: Indoor olive trees are one of the most recent additions to the world of indoor potted plants. They are both handsome and extremely prolific. They're renowned for their appearance, health benefits and fruit yield.
The fruit cocktail tree: This tree was first introduced in the 1990s through embedding a number of fruit trees of the same species on one single root system.
Looking for something a little more exotic?
If you're looking for something a little more exotic to grow in your home, try these for style:
The Clementine Tree: Clementine's are a similar size to standard oranges, however they're almost always completely seedless and extremely easy to peel! This makes them much easier to enjoy. This particular specie of citrus tree produces fruit in both the summer and winter months – just another reason for their popularity.
Calamondin Orange Tree: Calamondins are seldom heard of. They boast an extremely small fruit and are native to China. The tree is extremely well suited to a container and often blooms and yields fruit a couple times a year! Even though the fruits are small in size, the harvest is very generous. For best results, pick the fruit when it is a little unripe and allow it to ripen off the vine. Asides from offering a sweet smell and pretty hue, this particular specie of fruit is often described as a 'super fruit' as it boasts numerous health benefits.
Owari Satsuma Tree: Many often confuse a satsuma with a clementine, mainly because of the way they look. However, they come from the Mandarin family and are very tolerant of the cold weather! If you live in a cooler climate, this is the citrus tree for you. They're hardy in style and require little water. If you're away often, they're an ideal option.
The Blood Orange Tree: This unique fruit boasts a beautiful colour and a sweet, delicious flavour. Despite being from the orange family, they offer a strawberry-like after taste.
They're an ideal option for indoors and grow well in containers. They're also pest-free and low-maintenance. The highest height they will reach is 8 foot, which is a little taller than most indoor pot plants.
The Nagami Kumquat Tree: This unique specie of citrus tree produces a delicious fruit with a sweet, textured skin, which is perfectly edible. Kumquat's make for a delicious snack and because of their sweet flavor, they're often used as decoration on desserts.
Which citrus trees are easy to grow in the UK?
When searching for the perfect citrus trees to grow in the UK, it's important to keep both the weather and the environment in mind. Many of these plants thrive in sunlight, which means their placement is crucial to their survival. Both Dwarf Eureka and Lots a' Lemons are perfect plants for pots.
If you're looking for something even smaller in size, opt for one of the native Australia limes or the Dwarf Tahitian plant. Another good option is a Citrus Splitzer – this multi-grafted citrus tree yields both lemons and limes and is well suited to a larger pot.
Cumquats, Mandarins and Calamondins are a few of the other options available, and all are productive throughout the winter months.
If you're considering having citrus trees in your home or out on your patio, it's important to recognise the conditions that you have on offer.
Should your home not get enough sunlight, or not have enough space for the tree to grow, the chances are that your specie may not grow quite as you are hoping.
Sources: indoor citrus trees, home life 
---
Local And International Delivery
Flowers By Occasion And Holiday
Specialized Gift Ideas