Christmas is now on the horizon, but it's never too early to start planning the perfect Christmas bouquet.
Rather than going over the top with an array of Christmas decorations, why not add festive cheer to your home and office environments with an assortment of floral bouquets?
Asides from keeping costs down, this is a great way to inject color and character into your study, living room, bedroom or kitchen.
And you can always choose Christmas bouquets that are as subtle or as bold as desired.
How to Pick the Perfect Christmas Bouquet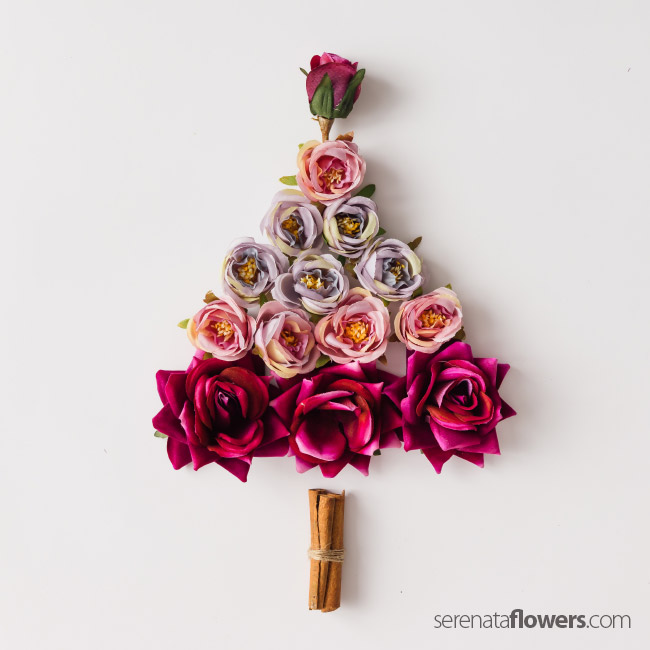 Festive Floral Choices
Many are under the impression Christmas bouquets must consist solely of flowers. But this is far from the case.
Today's arrangements use an assortment of shapes, colors and textures – comprising rich foliage, berries and blooms – to create festive-themed bouquets.
Bouquet or Wreath?
When Christmas arrives, both bouquets and wreaths are popular options. Which you choose depends on the environment in which you wish to place your display.
Wreaths are a great option for walls and doors, whilst Christmas bouquets are an ideal option when gifting a loved one.
They can also make bold centrepieces for your Christmas dinner table.
Plant and Flower Choices
From sophisticated Christmas bouquets to contemporary designs, there are an array of options to choose from.
If you're looking to create a rugged, natural look, opt for the likes of evergreens or ferns. However, if you wish to create something more feminine, choose an array of delicate florals.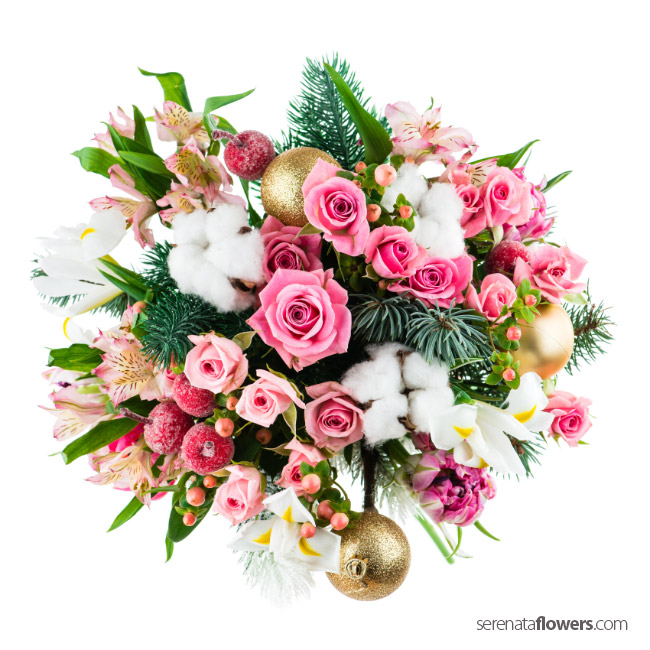 Smaller Displays
Christmas bouquets don't have to be big to create an impact.
Smaller displays encasing brighter hues can create a bold focal point – especially when an array of smaller bouquets are placed on various surfaces, including tables, desks, dressers, window sills, and mantle pieces.
Warm Hues
Rosy reds and creamy whites perfectly complement rich greens, whilst adding festive cheer to an otherwise minimalistic space.
Place in a vase embellished with a ribbon of a similar shade and choose blooms comprising white alstroemeria, red carnations, small red roses, red berries, winter white lilies, hydrangeas, and fir branches.
The reds and greens perfectly complement one and other, whilst playing up to the traditional Christmas theme.
Foliage
Today's modern floral designs are showcasing a great deal of foliage in rich, green and vibrant shades.
If you're on a budget, foliage is a great option as it will allow you to bulk up your Christmas bouquet, adding both depth and hue to an otherwise simple arrangement. In terms of festively-themed foliage, ferns, holly and ivy are all great options and look particularly stylish when teamed with vibrant reds, in the shape of poinsettias, berries, and carnations.
If you have a real Christmas tree, you could also cut a few branches from the back and add them to your Christmas bouquet.
Artificial flowers
If you're looking to save a little money, creating an array of Christmas bouquets using both artificial flowers and real flowers is a great idea!
Today's artificial variants are extremely authentic and whilst they don't offer the sweet fragrances real blooms do, they work well to bulk up an otherwise subtle Christmas bouquet.
You may even wish to use artificial flowers for smaller displays and real flowers for your main event.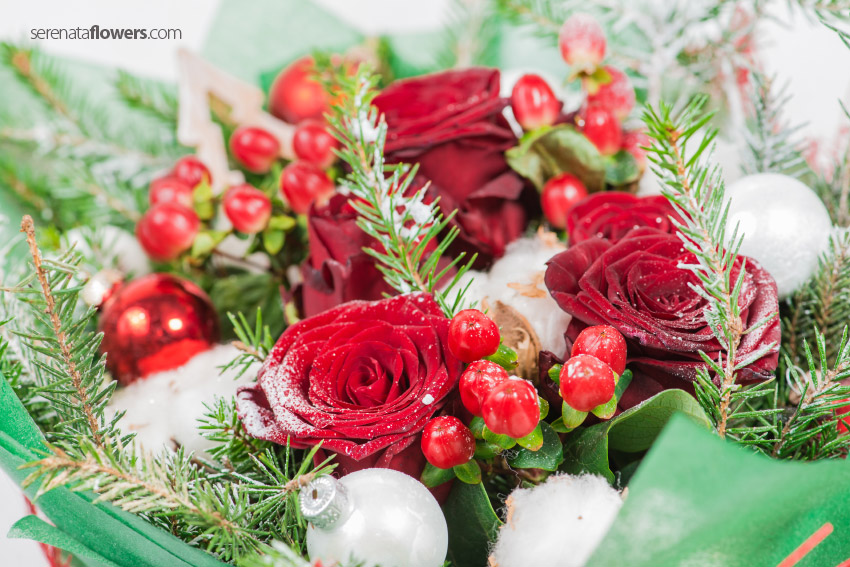 Table design
Asides from creating a centre piece using an array of real blooms, there are other unique ways to introduce blooms into your festive decor scheme.
One such idea includes adding a single rose to place names on the table – friends and family can even take this home as a gift.
Another idea includes investing a series of glass bells. Place a rose and Christmas ornament (these can be tailored to each guest) on the plate and cover with the glass bell.
Alternatively, tuck a small piece of holly or fern into napkin holders – asides from offering an intense fragrance, they'll add instant festive cheer and color to the white backdrop of a tablecloth.
Something different
As well as adding Christmas cheer to bouquets through the use of ornaments, including baubles, berries, and candy, festively themed fruit is also a great idea. Using a mix of dried fruits and nuts, in the shape of oranges and lemons, almonds and walnuts, will add both color and depth to a traditional Christmas bouquet.
The bright hues will instantly warm up an otherwise minimalistic room.
Choose the right vessel
Sometimes the vase is just as important as its contents.
Think golds, greens, reds, and whites, adorned with beading, ribbons and foliage. For an alternative take on the Christmas bouquet, choose an unusual vessel – such as a jam jar, bowl, raffia basket, tin can, teacup or bottle. If designing a centerpiece, a bowl may be more apt.
For something more over-the-top and very in trend this season, opt for a pineapple vase!
A reason to be colourful
Christmas is certainly a great time of year to abandon those muted tones and embrace color.
Reds, greens, crimsons, rich creams and purples are all the rage come Christmas time. The team as many shades of red, white and green together as desired. However, when using crimson flowers, opt for a more subtle backdrop, as this is one of the more, over-the-top Christmas shades!
The most used flowers come the festive season include Poinsettia, white tulips, dark red roses, holly, and cream roses. All complement one and other perfectly. Display in one large vase or create several small displays – both arrangements are guaranteed to create the desired impact.
Embellishments
Add a little red and white cheer to a festively themed table by adding vivid red carnations to a glass vase and embellishing with candy canes, gold beading, metallic hints, and green foliage.
This simple yet effective display is a great idea for a Christmas bouquet and can be used on the mantelpiece, dinner table or windowsill.
Other embellishments may include chocolate coins, angel decorations, ribbons, fake snow, cut-out paper snowflakes, pinecones, miniature baubles, reindeers, stockings, snowmen, and holly.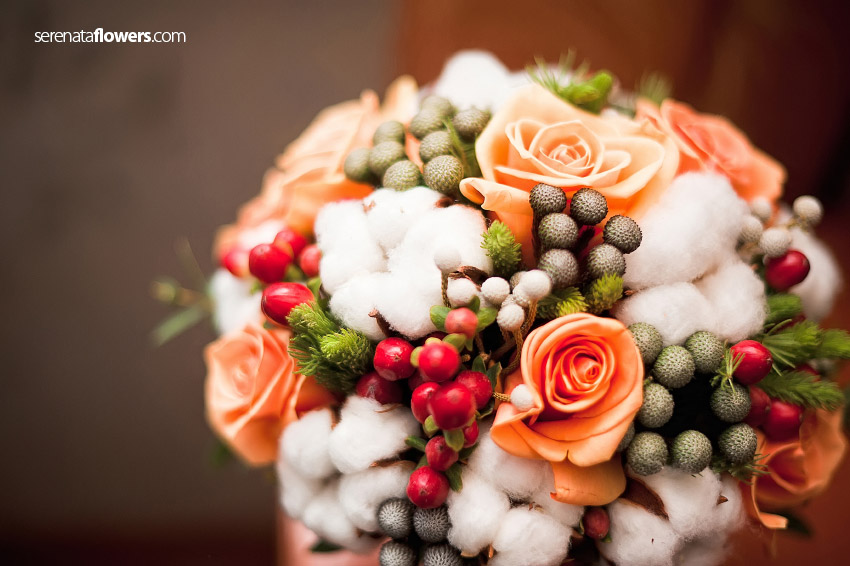 Match your flowers to your table decor
If you're big on design, why not match your Christmas bouquet to your table and home decor?
This is a great way to create a seamless design and one that is guaranteed to wow your guests. Whether you have a red and white table runner, green placements and gold accessories, or your theme this year is electric blue and silver, there is a Christmas bouquet to suit all styles.
If you're decorating a large area, create a mood board prior to creating floral displays, as this way you will be able to get an idea of the end results in advance. It will also help you to create a color scheme that complements your existing decorations and which brings out the true character in your home.
Keeping it minimalistic
If your home is extremely modern, it's likely you want to create a similar Christmas bouquet or floral centrepiece. In this scenario, candles are a great investment.
Place three glass candle holders on a wooden platter or silver plate and surround with pastel-hued flowers in soft metallic tones.
The light from the candles will illuminate the tones of the petals to create a stunning display. You may also want to position the colors of the flowers in order, from cool to warm tones, if you wish to give your bouquet an extra edge.
Gifting a Christmas bouquet
As well as using floral bouquets to decorate the home come Christmas time, gifting friends and family with a festively themed floral arrangement is a great idea.
You may wish to send this in advance so that your loved ones can enjoy their gift throughout the Christmas period while allowing them to add color and cheer to their home or office. A number of online florists, including Serenata, offer a wide range of festive bouquets, meaning there is something to suit all tastes!
Flowers are a great way to decorate an array of environments come Christmas time and when sent in advance, they're the gift that keeps giving throughout the Christmas period – offering a beautiful scent for many days to come.
Flowers speak a lot through their forms, hues, and fragrances. Even a small Christmas bouquet can create a huge impact. Christmas bouquets mark the beginning of a new, festive season and one that brings with it an assortment of joy and laughter. When designing an array of Christmas bouquets, it's important to keep this in mind – especially when selecting colors and adornments. Another thing to be mindful of is color and home decor.
Warm colors including reds and golds are likely to attract maximum attention and are best paired against a more neutral backdrop, whilst cooler, metallic tones are more muted and perfectly complement a modern decor.
If you love decorating your home with Christmas bouquets we'd love to see your designs so that we can share them with our readers and hopefully inspire them ahead of the festive season.