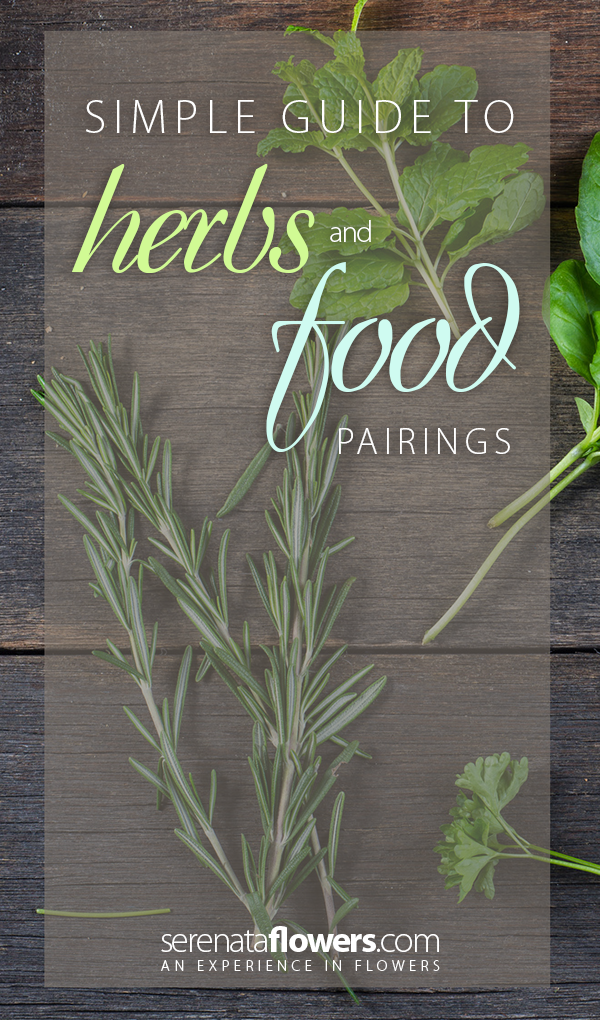 For any flourishing chef or foodie, understanding how to pair herbs with food is incredibly important, because let's face it, if you get it wrong, it doesn't taste too great!
Believe it or not, herbs are just like people; each with its own style and personality – in fact, pairing them with food is almost like playing matchmaker.
While there's nothing wrong with experimenting to discover what these natural marriages are, almost every cuisine in the world has done the work for you, so why try to reinvent the wheel?
Getting to grips with the herbs
Before you begin trying out the different herbs available, it's important to get to know and understand the particular nuances of each herb. Here is a little guidance to help you:
Dill – This herb comes with feathery-like fern leaves and is best used fresh to flavour sauces, fish and pickles.
Marjoram – While this herb tastes better fresh, it is fine to use dried. Simply chop with a little olive oil and rub it on fish and meat before grilling. Oh and it's great with lamb!
Sage – Try to always use sage leaves whole to really experience the flavour. It's great with pork and is lovely in soups containing garlic.
Thyme  – This is probably one of the most versatile herbs. It's great for rubbing into meat and seafood and tastes yummy once it's been simmered in stews or sauces.
Tarragon  – This herb has a stunning liquorice flavour that pairs well with chicken and tomatoes.
Rosemary  –This herb works wonders when it's used alongside garlic with potatoes and lamb.
Mint  – Known for making a great cup of tea, mint can also be used in fruit salads, yoghurt and salmon. Oh and don't forget how lovely it tastes when used in cocktails.
Basil  – When you're using basil, always be sure to add it into sauces at the last minute as cooking can make it lose its flavour.
Parsley – Like basil, this herb should be added at the last minute to fish and sauces.
Chives – This herb is perfect with a fried egg, or alternatively, simply use it with a soup for that added rush of flavour.
Most Popular Herb and Food Pairings
Now that you understand how each herb works best, take a look at some of our favourite food and herb pairings, sure to make your meals absolutely delicious.
Cooking with: Basil
Make a salsa cruda with diced ripe yellow and red tomatoes, red onions and fresh mozzarella. Add a few shredded basil leaves and fruity olive oil and serve. Perfection.
Create the perfect relish with chopped citrus fruits, shallots and basil leaves; simply serve this with grilled fish and you'll have a dish to die for.
For chicken and shellfish sauces, combine Thai basil with coconut milk and a little lemongrass.
Cooking with: Dill
Make the perfect sauce of mustard, oil, sugar, salt and dill with a splash of vinegar to serve with smoked salmon.
For salad-based dishes add chopped dill to potato salad or egg salads for a beautiful flavour.
Cooking with: Marjoram
Create the perfect side dish to your meal with toss steamed beans with gently heated crème fraiche, a little lemon zest and marjoram; you can't go wrong.
Alternatively, use marjoram in mustard or tomato sauces for stewed rabbit or chicken sauces. It also tastes great when combined with pork sausages.
Cooking with: Parsley
Cook up the perfect salad with lemon zest, toasted pine nuts, chopped parsley, currants and mayonnaise.
Or why not make the ultimate gremolata with a mixture of finely chopped flat leaf parsley, lemon zest and garlic. Serve this with steams clams and a glass of white wine. Delicious.
Cooking with: Rosemary
Make the perfect snack by brushing toasted bread with olive oil and finely chopped rosemary before topping it with fresh goats cheese.
Alternatively, stuff a chicken with a few rosemary sprigs, a quartered lemon and a handful of peeled garlic cloves. Yummy.
Cooking with: Sage
Prepare the ultimate fettuccine sauce by combining warmed heavy cream, peas, sage and nutmeg. A little grated parmesan also works well and a few thin strips of prosciutto for that added saltiness; this will taste divine.
If you're cooking pork, why not rub a mixture of chopped sage leaves, olive oil, peppercorns and sea salt onto it? The crackling will be beautiful.
Cooking with: Thyme
For a delightful treat, simply mash chopped thyme with Roquefort cheese and chopped walnuts…it's delicious on a few crackers. Or if you're feeling super hungry, serve it with a grilled steak.
Alternatively, cook up a few sprigs of thyme with French green lentils and use it as a bed for grill salmon; perfect for those counting the calories.
Now that you know everything there is to know about food and herb pairings, it's time to get cooking!
---
Serenata Flowers offers a five-star flower delivery service in the UK – take a look at our recent special offers and take advantage of our discount codes to get fresh blooms at unbeatable prices. Free delivery in the UK from Monday to Sunday.