Carnations, which go by the scientific name of Dianthus (the name given by the Greek botanist Theopharastus), are also referred to as the January birthday flower. The actual translation of this flower is "Flower of God" or "Heavenly Flower."
This somewhat mesmerizing bloom has been popular for centuries and is one of the oldest flowers in existence. The history of this exotic flower dates back to the ancient Greek and Roman times, as the blooms were considered an important part of art and decor.
The carnation also has religious connotations, as Christians believe the bloom first arrived on earth when Mother Mary wept for Jesus as he carried the cross.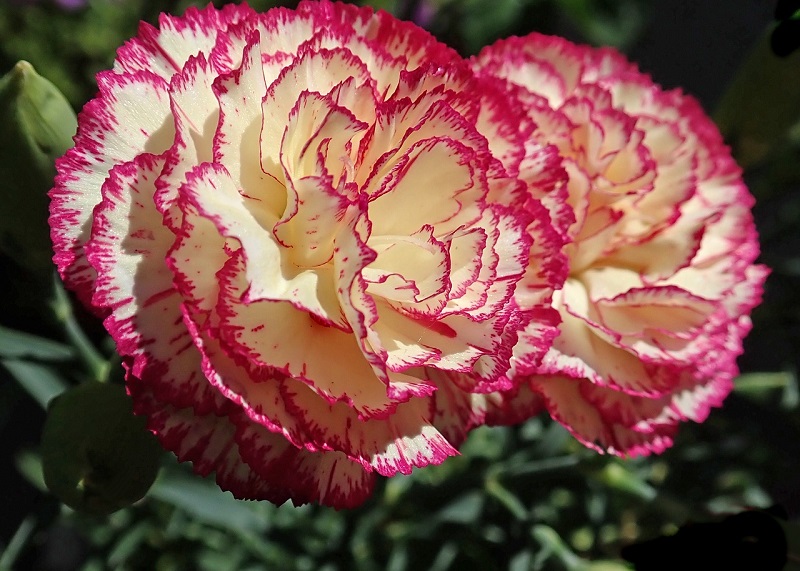 The symbolic meaning of carnations
With a history that dates back an astounding 2,000 years, it comes an as little surprise to discover carnations are rich with mythology, symbolism, and debate. Certain scholars state their name comes from the word "corone" (which translates to flower garlands) or "coronation" because of its use in Greek ceremonial crowns. Others have suggested this floral variant is derived from the Latin word "carnis" (meaning flesh) and refers to the flower's initial pink hue or "incarnacyon" (which translates to incarnation), and stands for the incarnation of God-made-flesh.
Today, the carnation flower is available in a huge assortment of colors, with each related to a different feeling, including expressions of love, distinction, and fascination. In fact, almost every hue is associated with a different feeling, which means it's important to do your research before gifting them to a special someone. White carnations are symbolic of pure love and good luck, while light red carnations boast feelings of admiration, and dark red represents deep love and affection.
Serenata Flowers have a number of carnations available to choose from, all of which are perfectly suited to those looking to gift their nearest and dearest with a bouquet of the beautiful and unique bloom. Some of the most popular options include:
Woodland Basket: An ideal gift to give those you wish to share your deepest condolences with. This picture-perfect floral tribute boasts a basket brimming with white oriental lilies, green carnations, white roses, freesia, and chamelaucium – all of which complement one and other.
Happy Birthday: If you're looking for a bouquet that promises to inject an instant hit of color into the lives of your nearest and dearest, bright and pretty blooms comprising carnations, delicate germini, roses, veronica and statice.
Bright Letterbox Flowers: These exquisite blooms promise to raise feelings of warmth and sunshine, even on a rainy day. You can send them directly to the recipient, and the best part? They'll fit through their letterbox! Vibrant roses perfectly complement carnations, freesia, chrysanthemum and statice flowers for a combination that will enhance any room in the house.
Carnations colors
Originally, carnations were pale pink and peach in hue, however, the blooms are now available in wide range of shades, including yellow, red, white, purple and green hues. Regardless of their age, carnations are still one of the most prevalent flowers in existence. If you'd like to gift a loved one with a bouquet of carnations, this is easier than ever before with the advent of online florists. Choose from traditional styles, such as pink letterbox flowers in the shape of lily, carnations, chrysanthemum, alstroemeria, gypsophila, and pittosporum. Alternatively, opt for a statement classic yellow wreath, made up of canary yellow roses and crisp white carnations.
Why the carnation is one of the most prevalent flowers today
The carnation is adored for many reasons, three of which include their ruffled outlook, their clove-like fragrance and their impressively lengthy blooming period. On top of this, carnations are highly associated with various meanings, including distinction, fascination, and love. In addition, the different colors of this flower symbolize different meanings. The red Carnation is symbolic of admiration, the dark version expresses sentiments of love and affection, and the white carnations are associated with purity and love. Pink carnations, on the other hand, are often gifted to recipients in order to showcase gratitude. A further merit to this bloom is that it became the official Mother's day flower in the early 20th Century.
Fun facts about carnations
• Carnations are edible, and many restaurants and foodies will use them to decorate an array of dishes as they make a beautiful aesthetic.
• Asides from being readily available in an array of hues, the color of carnations can also be altered with the help of food coloring. This means white carnations can easily be changed into the likes of orange, purple or yellow carnations. This is a huge advantage when creating specifically themed bouquets and table decorations. It also makes creating bouquets for wedding receptions and events much easier.
• Carnations are commonly referred by their scientific name, "Dianthus", this name is derived from the two Greek words – "dios", which refer to the god Zeus, and "anthos", which translates to flower. Carnations are therefore known as the "The Flowers of God".
• In Ohio, USA, the carnation is the State Flower. A scarlet-hued carnation was selected to honor President William McKinley.
Medicinal usage of carnation
The humble carnation boasts a huge number of health and medicinal benefits. Some of these benefits include helping to relieve stress levels, rashes, inflammation, skin irritations, fever, stomach aches, and pain.
Common carnations
Of the several variants of carnation available, the three most common species are:
• annual carnations,
• border carnations,
• perpetual-flowering carnations.
The single carnation flowers, also known as Dianthus caryophyllus, boast five petals, which vary in hue from white to pink and purple. Border carnation cultivars on the other hand often showcase double flowers, brandishing an impressive 40 petals. These variants make great centerpieces. If you're looking for a festive option, choose a Christmas Celebration basket, featuring a series of fiery red roses and scarlet carnations, paired with sparkly golden pine cones and elegant lilies for that special festive cheer.
More about carnations
Carnations come in the shape of bisexual flowers and tend to bloom in a simple style, or alternatively in a branched or forked cluster. The stamens on carnations represent either one or two whorls, which sit in an equal number or sometimes, double the number of the petals. The carnation leaves, on the other hand, are narrow in style and will stalkless, with their color alternating from green to grey-blue and sometimes purple. Carnations can grow to an impressive size, with a series of full flowers, which sit upon strong, straight stems. This makes them a great option for green-fingered connoisseurs looking for a statement bloom to place either in their home or garden.
Growing carnations in gardens
When growing this species in gardens, they tend to reach a height of up to 60cm, while the flowers can be up to 8.5 cm in diameter. The pretty petals tend to be clawed or serrated. Dwarf versions of carnations are also available, and those tend to grow to roughly half the height of other species – around 30cm.</p>
The use of carnations in outdoor settings is varied, as they can be used as companions for other plants or as the main attraction. They make for spectacular border plants and do not look out of place in plant pots or containers either. You may also wish to add them to a rock garden if you want to inject a series of bright colors.
Growing Tips
Carnations can be grown easily from cuttings, especially those taken from the suckers that form around the stem base, the side shoots, or the main shoots prior to flowering. For best results, use the cuttings from the base of the plant, as these tend to create the strongest plants. You'll also need to remove cuttings from the plant during autumn or winter. The cuttings should be rooted in sand and placed in a container or pot, where they will need to stay until the months of spring. This is generally in April, as this is when the ground is suitable for planting, and the temperatures have warmed up enough. To promote good growth, use quality soil and opt for a sandy loam. It's also important to consider the location when planting carnations. They require at least a few hours of full sunlight each day and should be watered on a regular basis until the soil appears moist. However, avoid saturating the soil through over-watering as this has the effect of turning the foliage a shade of yellow and can encourage root rot.
To promote regrowth and >fresh blooms, remove any spent flowers promptly. It's a good idea to keep an eye on the soil quality and irrigation aspects, especially if you wish to watch your carnations flourish.
Those who grow carnations on a regular basis will know how important it is to pinch, stop and prune blooms. When it comes to plucking carnations, ensure three to four nodes remain at the base of the plant and remove the stem. In addition to this, ensure the plant's foliage isn't exposed to direct heat, such as that of the sun if outdoors or from an oven if you have the plants inside.
Types of Carnations
Carnation cultivars boast three main three species, these include;
• Large-flowered Carnations – which brandish one large flower per stem.
• Spray Carnations (also known as Mini Carnations) – which feature an abundance of smaller flowers.
• Dwarf flowered Carnations – which feature several small flowers on one stem.
Carnation diseases
Like many plants, carnations can become susceptible to diseases. It's important to know what to look out for if you wish to protect your plant. A few of the more common ailments include the following:
Alternaria Leaf Spot: If your plant develops small purplish spots, which form on the leaves, complete with brown centers and yellow leaves, it's likely your carnation is suffering from this ailment. To treat this disease, apply a fungicide to protect and encourage healthy plants.
Bacterial Slow Wilt or Stunt: Bending, twisting, curling and stunting of side shoots and lower leaves, followed by the death of the lower leaves, is a clear indication your plant is suffering from bacterial slow wilt.
Botrytis Blight: Indications your carnation has this disease include brown tinged petals and a grey, fungal growth. You should look to remove any parts of the plant that appear affected.
Rhizoctonia Stem Rot: Stems at the soil level will showcase lesions, complete with a brown border. The stems will also boast a dry shredded appearance. To treat this issue, place in pasteurized, raised beds. To ensure your other carnations are protected, apply a soil drench to prevent healthy plants from becoming saturated.
Viruses: Yellow spotting and leaves that are mottled is an indication that your carnations are suffering from a virus. To treat, use insect and mite controls and destroy any infected plants.</p>
Rust: Blisters with red-rust spores come in the shape of another common illness that your carnations may suffer from. To treat it, plant virus-indexed cuttings. It's also a good idea to tackle mites and insects and, as with viruses, to destroy any infected plants to prevent the disease from spreading.
Perennial Carnations
Carnations grow as aan>nnual, biennial and perennial varieties. They can be planted in an array of locations, including rock gardens, flower beds and borders. They also make great cut flowers and can be planted or showcased in an array of vessels, containers, and pots. When protected from harsh weather, carnations will flower well into the months of autumn.
Perennial carnan>tions (Dianthus caryophyllus) are particularly popular and are amongst the impressive 300 species that make up the Dianthus genus, which is part of the Caryophyllaceae family. They are also related to other garden blooms, comprising pinks – a category that showcases several different Dianthus species, and annual sweet William (which also goes by the name of Dianthus barbatus).
These beautiful blooms add life and color to an array of floral arrangements and garden displays and provided that you care for them in the correct manner, they will keep on blooming for a lengthy period of time. If you want to add carnations to your garden, have a look at the array of options that are available from Serenata Flowers today.
---
Local And International Delivery
Flowers By Occasion And Holiday
Specialized Gift Ideas