Keeping the magic alive in a relationship is something everyone strives for. However, it can be hard to make a romantic liaison 'romantic' at all times, especially when busy work and life schedules get in the way. We've listed ten 'acts of love' that should guarantee to put a little more romance into your relationship…
1. It is the little things that count
Make every moment count, particularly your mornings. Bringing your partner a cup of coffee while he or she is still in bed is a great way to ensure their day gets off to a good start. On the weekends, why not go the extra mile and make them breakfast in bed. It will not only make your partner feel appreciated, but they're likely to return the favor.
2. Greet one and other with a kiss
When you wake up and when you first walk through the door after work, be sure to greet your other half with a kiss and even a rose. This romantic gesture, although small, is a great way to make your loved one feel special. We're often so busy in life that we forget to greet each other properly. It only takes a few seconds of your time, yet it makes a world of difference.
3. Take time to make time
Whether you plan a cozy weekend in, or a romantic getaway, it's important to take time to make time. The anticipation of looking forward to an activity together will add spark to your romantic life. It doesn't have to be every weekend and can even be a weeknight, as long as the time spent together is quality time.
4. Tell your partner that you love them
Before you leave for work in the morning, tell your other half that you love them and that you can't wait to see them when you get home. It's important to never leave the house without acknowledging your other half or saying, 'I love you'. It will give them an instant warm fuzzy feeling inside.
5. Take the time to tell your partner that they look nice
Whether you tell your loved one you like their outfit, that their hair looks beautiful, or their skin looks great, compliments go a long way and can turn a bad day into a good one in an instant. We all have doubts about our looks every now and again, and hearing your partner say you look nice is an instant confidence boost.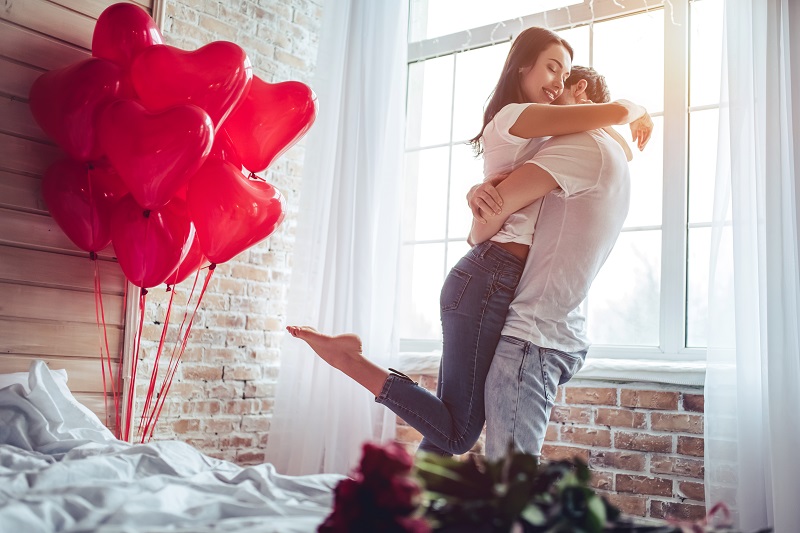 6. Give your partner 100% of your attention
It's easy to forget to give your partner attention, especially when there are so many other things going on in our lives. From ensuring the kids have done their homework, to rushing out the door to make it work on time, we often take those closest to us for granted. When your partner does want to talk to you, it's important to give them the time of day. Stop what you're doing, put the remote control down and give them your full attention. This time, even if just for a few minutes, will make your other half feel loved and important to you. This attention doesn't always have to be in the shape of words, you may wish to send a bouquet of flowers to your loved one's place of work, make them a packed lunch or run a bath for them after a particularly stressful day. These little things are all ways to add more romance into your relationship.
7. Buy your loved one gifts
Next time you are shopping for yourself, why not purchase a few little surprise gifts for your wife, husband, boyfriend or girlfriend? You can stockpile these and dish them out when your other half is feeling a little down. This wonderful, uplifting act of love is a sure-fire way to inject some romance into your relationship.
8. Do something you wouldn't normally do
If your partner is having a tough day and they're usually the ones to take the kids to school, make dinner or clean the house, offer to do these tasks for them. Even if they're not having a rough day, you should still offer to help out every now and again. Asides from showing them that you appreciate all they do for you, it will be a welcome change.
9. Be spontaneous
Life can become mundane; mixing it up is the best way to inject new fire into your relationship. From sending your loved one gift, such as a helium balloon that surprises them by popping out of a box, a beautiful bouquet of blooms, or by renting an old school convertible for the day. These small acts of spontaneity are wonderfully romantic and very simple to organize.
10. Always be a gentleman
From opening car doors to pulling out chairs, chivalry will never go out of fashion. Although the old school, these small gestures are extremely romantic. Taking the time to ensure your relationship is as romantic as it can be is the key to creating a fulfilling love life. Even if you think your ideas are a little silly, your other half will be overjoyed that you took the time to do something loving for them.
Source: psychologytoday.com