Embrace the colours summer is famed for with this idyllic bouquet, which is as sweet to look at as it is fragrant. It's also Serenata Flowers' bouquet of the month and promises to add an instant injection of colour to your home or that of the lucky recipient.
So whether you're looking for some flower inspiration or you're a fan of scented Lily, purple Statice, delicate Germini, pretty Chrysanthemum blooms and blushing pink Lisianthus, this is your go-to.
Style your way
Upon arriving at your door, this beautiful bouquet can be styled just how you'd like it! From opting for a traditional vase, or using something more unique, these blooms promise to brighten up even the dullest of rooms with their hot, vibrant hues, allowing you to enjoy them come rain or shine.
What's inside?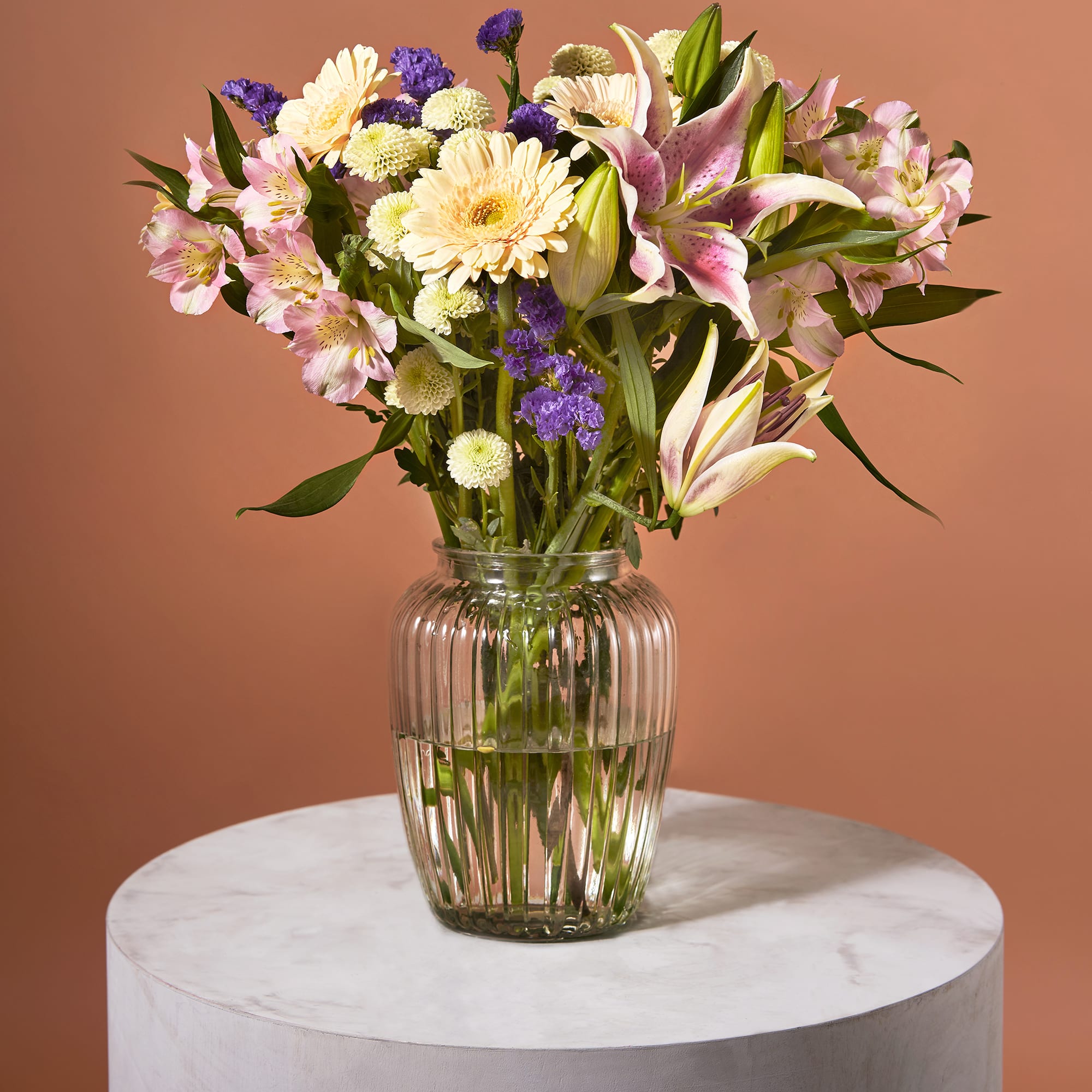 Inside the Summer Time bouquet, you'll discover three White Petite Double Chrysanthemum, three Pink Lisianthus, three Peach Germini, one pink lily and two Blue Statice. All arrive carefully wrapped and ready to display as and where you choose. To create an eclectic centrepiece, opt for a vase that is as bright as these blooms.
Why buy flowers?
Asides from bringing joy to loved ones, a beautiful bouquet of blooms promises to add instant colour to the home or office. With its many vibrant shades, the Summer Time bouquet is certain to put a spring in the step of any recipient these blooms are gifted to.
Flowers are also proven to heighten mood and motivation, which makes them a great option for the office environment – irrespective of whether you're considering them for a home office or corporate set-up.
When to buy flowers?
There is no set rule on when you should buy a bouquet of bright and bold blooms. Many will buy them for yours truly or to decorate the home or office, whilst others will gift them to friends, colleagues and family members.
If gifting to an acquaintance who you know little about, opting for the Bouquet of the Month is a great idea, as this selection is based on popular choice.
Delivery options
There are numerous delivery options to choose from, varying from same and next day delivery, to international options, meaning there is something to suit all. And the best part? This bouquet can be ordered online at the touch of a button.
All blooms are hand-picked, arranged, and delivered by the next-day courier directly from the flower showroom. There are even timed delivery slots available. All you need to do is simply select the appropriate option when placing your order.
Letterbox flowers
Numerous bouquets available online at Serenata Flowers now come in the shape of letterbox blooms. What does this mean for you? Simply put, you don't have to be at home to receive them.
These flowers have been designed to fit directly through your letterbox, meaning they'll be waiting on your (or your chosen recipient's) doormat when you or they arrive home. These blooms are extremely popular with those who work long hours and those who are seldom home to sign for deliveries.
With this style of product, the exact same delivery options are available as those listed above.
How long do flowers last?
Freshly cut flowers may not last forever, but they certainly have some staying power. Provided that you ensure they have the right amount of water (which should be changed every few days), are placed in the correct location (out of direct sunlight and cool breezes) and you follow the care tips provided with the blooms, you'll get a good amount of time out of your bouquet.
Many of today's floral arrangements arrive in bud form too to ensure they last even longer. Flower food is also a must to give your blooms that added boost!
Where shall I place my bouquet?
As long as you place your bouquet in an area out of direct sunlight, and away from draughts, small children and animals, its blooms should be able to thrive. Otherwise, there are no other real rules on where you should place your freshly cut blooms.
They make perfect table centrepieces, especially if you're planning on hosting a dinner party, or you could place them on a coffee table, kitchen counter, a dressing table or a reception desk (if buying for the office). Irrespective of your chosen location, they promise to add colour and fragrance to any room in the household.
Up your style game by choosing a unique vessel, such as an unorthodox vase, a boho-style bucket or square container with fairy lights or coloured pebbles. For best results, try to match the bloom's hues to the colour of the vase or container, or opt for a plain option such as black or white to really emphasise the bright colours.