Gifting and receiving a bouquet of blooms is appreciated by a huge number of people around the world. After all, sending flowers is an ideal way to put an instant smile on somebody's face, while also brightening up their day. Whether you send the blooms to an office or home address, flowers can inject instant colour and fragrance into any environment they're placed into.
Serenata Flowers offers an assortment of bouquets in all hues and styles, meaning there is something to suit all. This month's bouquet of the month is Changing Seasons, so read on to learn more about this bold and beautiful floral display…
Changing Seasons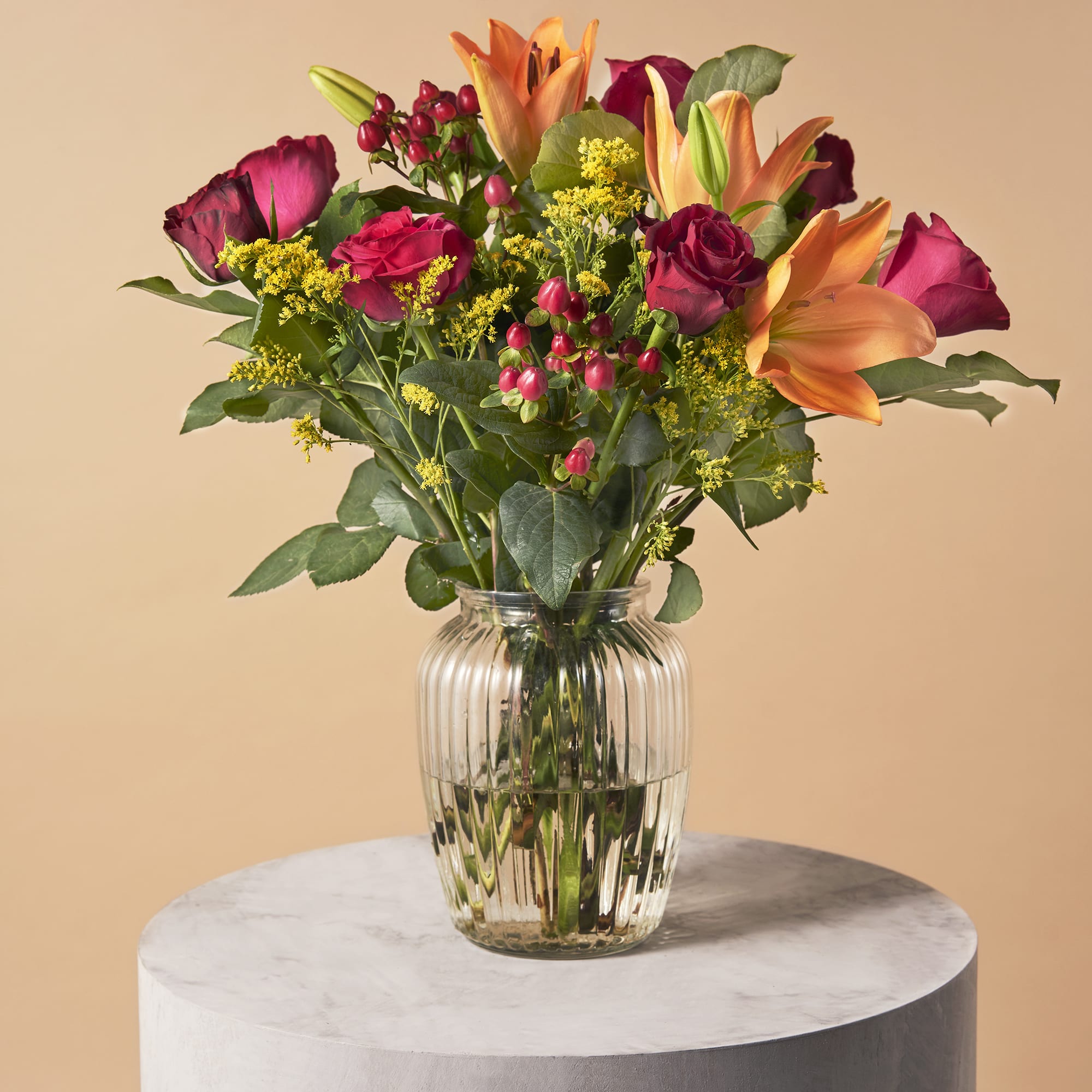 The perfect bouquet to gift a friend, family member, partner, or colleague this month, as it depicts the autumn season in all of its glory. Capture autumnal hues with this stylish bouquet of stunning cerise and vibrant red roses, glorious orange lilies, yellow solidago, and red hypericum berries. It's all of the colours of the season, in one place!
Autumnal tones
Now that the weather is beginning to change slightly and autumn is creeping in, blooms brandishing rusty shades and golden tones are a great gift for that special someone. They add warmth and a feeling of joy to the home. Add bold colours and flair to minimalistic spaces with this bouquet too, which makes for a great table centerpiece, or for injecting rich hues into a hallway or other welcoming space.
Delivery options
Online florists such as Serenata Flowers offer same and next day flower delivery, meaning you can ensure these blooms will be delivered directly to the door of your chosen recipient. Provided that you order before the cut off time, these blooms will arrive in next to no time at all!
Why send flowers?
Flowers are an ideal gift option to give to a number of people and can be suited to all occasions. They're easy to send, add joy to the recipient's day, and add colour and fragrance to the home and office. Send them on birthdays, anniversaries, to say congratulations, as a thank you, or alternatively, just because you feel like sending a beautiful bouquet of blooms to a special someone in your life! They're bound to be appreciated!
Symbolism
Flowers have many meanings, as do the colour of the blooms. For example, those wishing to send a romantic bouquet will often opt for a dozen red roses as this (in the florist world) is the international symbol of love. The Changing Seasons bouquet has more than just the one bloom encased inside, meaning it depicts many feelings, as we've detailed here:
Cerise and red roses: Cerise comes from the French word, which means 'cherry' and the bloom comes in a deep red to pink shade. These blooms are symbolic of true love, passion, romance, and desire. The red rose is a classic way to say to a special somebody 'I Love You', making it a popular choice for Valentine's Day. When these blooms are used in a bridal bouquet, they denote bliss in the marriage as well as true respect and appreciation toward each another. A deep-hued red rose suggests you are ready for commitment. If you want to tell someone that you love them, a red rose is a bloom to choose from.
Orange lilies: This shade of lily symbolizes pride, confidence, and wealth, which comes as little surprise considering their bold demeanor.
Solidago: Traditionally called goldenrods, this bloom is a genus of around 100 to 120 species of flowering plants, which all come from the aster family, Asteraceae. Most are herbaceous perennial species and when in the wild, can be found in open spaces such as meadows, prairies, and savannas. They make a great backdrop to a beautiful bouquet of vibrant, high energy blooms such as those found in the Changing Seasons bouquet.
Red hypericum berries: Also referred to as Sweet Amber or St John's Wort, this perennial shrub is native to hillsides and open woods, and can reach up to 70cm in height. They add subtle texture and visual interest to an array of bouquets, as well as elements of autumnal jewel tones. They make a great filler and are the perfect complement to the other blooms found in the Changing Seasons bouquet.
If you're planning on ordering this bouquet, be it a gift to yours truly to brighten up the home or to a loved one, you'll be pleased to know that it is available for next day delivery. Once your order has been placed, your bouquet will be sent directly to your or the recipient's door.