Looking for a stand-out bouquet to mark a special occasion this month? Then you need the Painted Skies bouquet, a true show-stopper and our bouquet of the month.
The feather-like blooms are the perfect pairing to interiors of all styles. This gorgeous bouquet, packed with glamorous gladioli, stands tall in any vase and can add fragrance and colour to any room in your household.
But the best thing about this bouquet is that it can be delivered to you or your chosen recipient without either needing to be home to receive it.
Letterbox flowers, which can be ordered online at the click of a button, can be effortlessly delivered to your home as they fit through the letterbox!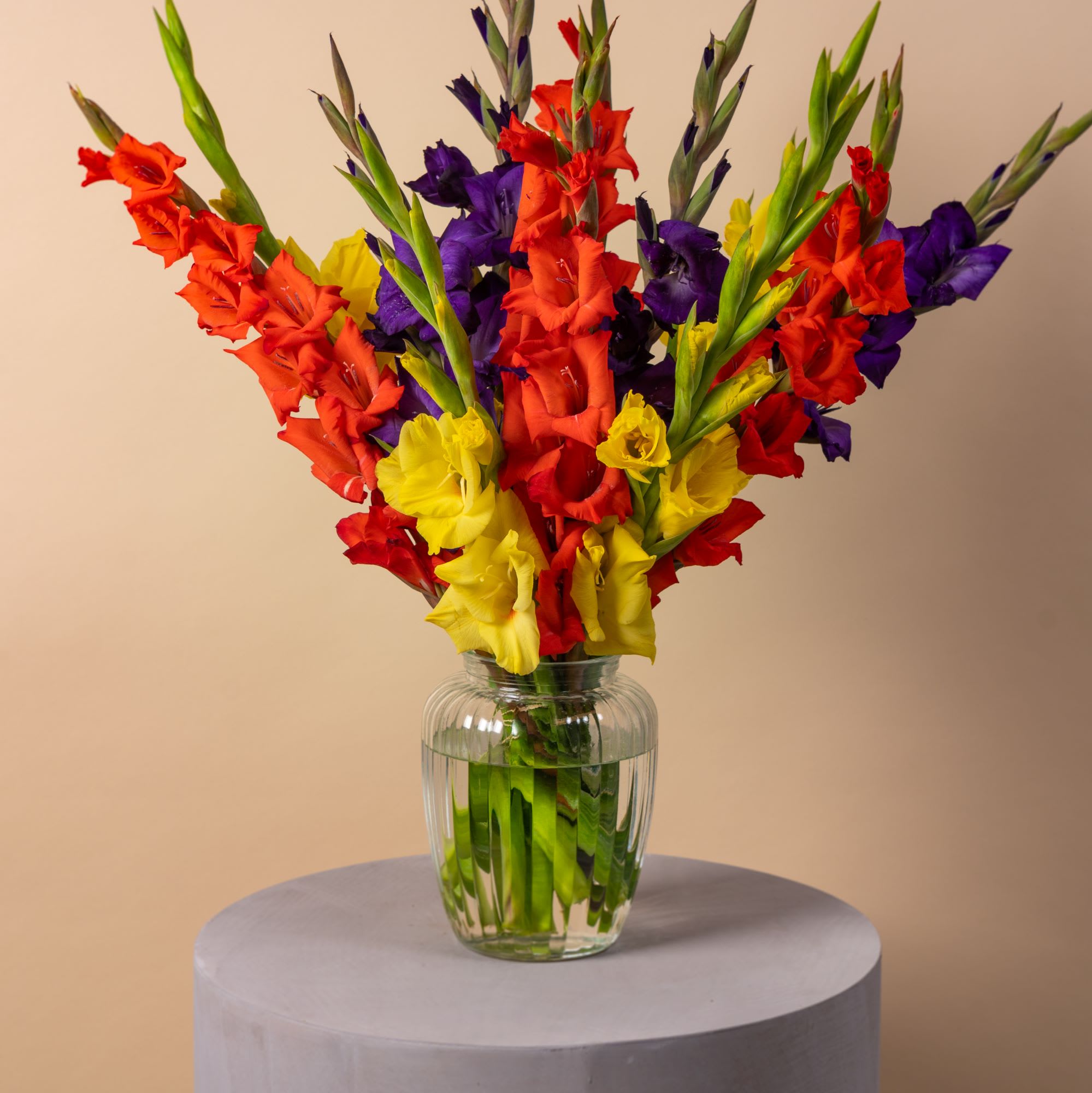 What's inside?
Inside this gorgeous bouquet, you'll discover a total of 12 Gladioli in an array of hues, with a handful of the lily flowers arriving in bud form unopened.
This means you can expect your blooms to last a great deal longer, allowing you to enjoy them for a greater period as you watch them flourish.
Delivery options
There is an assortment of delivery options to choose from, including next day delivery – an asset to those wishing to send these blooms to a special someone celebrating an upcoming event, such as a birthday, anniversary or promotion. It's also a fantastic option for those who are prone to forgetting key dates or who are planning something last-minute.
All blooms are arranged, hand-packed and delivered by next-day courier (between the hours of 8am and 8pm) directly from the Serenata flower emporium. There is also the option to select timed deliveries, however, this shouldn't be necessary when choosing letterbox blooms. On certain arrangements, international delivery is also an option.
Why send flowers as gifts?
Gifting blooms is something that is encouraged in almost every culture. A freshly picked bouquet of flowers is guaranteed to put a smile on anyone's face, even on the dullest of days! They're suited to almost every occasion, from birthdays to anniversaries, to housewarmings and more.
And the best part? Blooms and plants are available in a variety of styles, sizes and colours, meaning there is a bouquet to suit all. If you're unsure of what to go for or need some inspiration, simply opt for Serenata's bouquet of the month!
The way bouquets are arranged, their hue and the type of flower you gift all work to convey different meanings – from friendship or romance to longevity, affection, apologies and a variety of other emotions. This is something to consider when selecting a bouquet. No other tradition is quite as effective when it comes to communicating human emotions. How do we know?
There is decades of research to back this up, including a handful of culturally inspired mythologies. An added bonus when opting for fresh blooms is that they can be tailored to any occasion and personality – showing that you've given a bit of thought to exactly what you wish to get the recipient!
Spread happiness!
One of the joys of gifting and receiving flowers is the happiness it brings both parties. Both delight and gratitude will be felt by both the giver and the receiver, putting an instant smile on everyone's face. Special occasions can be further amplified by the gifting of blooms.
They also act as an instant mood booster! Whether you're gifting yours truly or a special someone, blooms (the bolder and brighter the better) are scientifically proven to enhance our moods. When placed in the home they bring joy to those around them and when placed in the office, they can boost motivation levels.
Blooms visually inspire
The visual effect created by bold blooms lasts long after the flowers have been delivered. When used as a way to spruce up interiors, bouquets of blooms can provide ambience and fragrance to spaces of all styles and sizes – whether an individual lives in a modern or more traditional setting.
They encourage intimate connections
Whether gifting a new love or a long-term partner, flowers have always been a great go-to gift and are a fantastic way to communicate emotions, including intimate connections.
When you receive a bouquet (especially out of the blue) you'll often feel touched, especially if they've been selected with your favourite bloom or colour in mind.
Convenience!
Now that flowers of all shapes, sizes and arrangements can be purchased online, gifting flowers is one of the most convenient presents to give. Simply visit an online florist, choose your selection, make a payment and you're good to go – the blooms will be delivered to your chosen address in little to no time.
They're also a great gift to opt for when you're unsure of what to purchase – after all, who doesn't love a bouquet of beautiful blooms?