Looking to gift a friend, family member, colleague or yours truly with something memorable in the month ahead? If you need inspiration, look no further than a beautiful bouquet of blooms.
Asides from putting a smile on their (or your) face, fragrant blooms are instant mood boosters, can brighten up any room in the household and when ordered online, can be delivered directly to your front door.
How to pick blooms
Whether gifting a special someone or yourself, it's important to consider tastes, styles, hues and plant species. Try to pick blooms that represent the recipient's personality or a bouquet that you know will complement their home decor or style. If you're still struggling to find the right blooms, opt for the 'Bouquet of the Month'.
This is something online florists such as Serenata Flowers feature each and every month to help provide inspiration to those unsure of what bouquet to choose. The blooms are usually seasonal and are designed to suit all tastes and styles.
What is this month's Bouquet of the Month?
This month's Bouquet of the Month is Ivory Embrace – 'A heavenly display of ivory floral shades emerging from an embrace of fragrant Freesias, capturing the gracefulness of white Avalanche Roses entwined with white Lisianthus, Wax flowers and Chrysanthemums'.
As the description suggests, these blooms are both fragrant and sophisticated and promise to add an instant injection of elegance to the home environment, irrespective of where they are placed.
What's inside?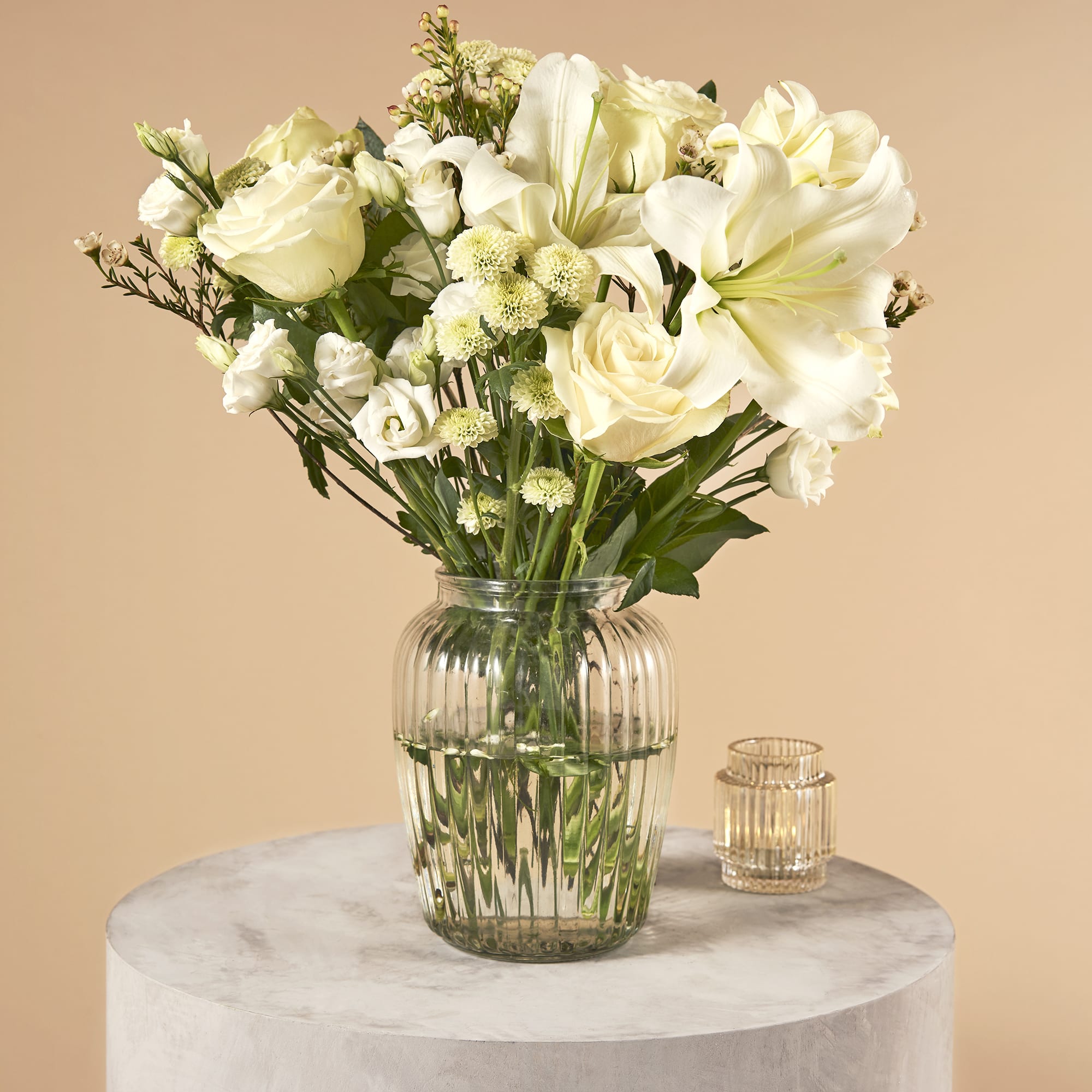 Inside this bouquet, you'll discover three White Lisianthus, one White Oriental Lily, six White Rose Avalanches, three Robusta, three Wax flowers and three White Chrysanthemums – all measuring 60cm in height. This mix of pastel hues makes for an extremely impressive centrepiece.
We recommend adding the bouquet to a simplistic vase, although to create a more eccentric appeal, you may wish to add the blooms to alternative vessels. Consider items such as mason jars, square vases, vintage buckets or an old watering can be fashioned into a boho-style vase.
Why gift flowers?
Flowers are a great gift for any occasion, be it a birthday, an anniversary, an engagement, housewarming or to celebrate a promotion. They're also an easy gift to send further afield, especially with the advent of online florists, who are able to courier flowers on your behalf. Simply choose your selection, add the recipient's address and you are good to go.
Many blooms are applicable for same and next day delivery too, meaning you can get them to the recipient in a little to know the time! Some blooms can even be packed in bud form in boxes that will fit through the letterbox, meaning they last longer and the recipient doesn't need to be home when they're delivered.
Flowers are an asset to the home
Asides from making a great present, blooms are an asset to the home. They add colour and fragrance to numerous rooms in the household and can brighten up an otherwise dull or lacklustre space. They make hallways welcoming, living rooms brighter and bedrooms more appealing.
They're also a great investment for an event, such as a lunch or dinner party, especially when placed in the centre of the dining room table. Alternative, position the bouquet on a mantelpiece or near an entrance door to really make an impression.
How to care for cut blooms
All flowers will arrive with care instructions. In most cases, you will need to trim the ends of the stalks at an angle using a sharp pair of scissors or knife, add fresh water to a clean vase and flower food (which will come in a sachet with the blooms) and put the blooms into the vase.
Place the vase in a position that is out of direct sunlight and away from any drafts or artificial heat, as well as away from animals and young children. After a few days, refresh the water and prune any dead flowers. When cared for correctly, freshly cut blooms can last up to two weeks, enabling you to enjoy their beauty for that little bit longer.
Flower subscription
Looking to enhance your home and mood on a monthly basis? Why not choose a monthly flower subscription. This will ensure freshly cut blooms are delivered directly to your door, every month, without fail. This is a great way to brighten up your mood, often unexpectedly, as it's likely you'll have forgotten you ordered them.
However, if you haven't, it's likely you'll be waiting by the door in anticipation. This is a great gift to sign a loved one up too, especially someone who lives in a different town or city to you. Each and every time they receive a bouquet, they'll instantly think of you and will have flowers on hand to make them feel even better!