There are numerous ways to send a sweet message to a special someone (or even to yours truly) and one such way involves buying a bouquet of bright and beautiful blooms.
However, it can be hard to know which floral arrangement to choose, especially if you don't know what the recipient likes that well. This is when the Bouquet of the Month from Serenata Flowers comes to the rescue…
What is a bouquet of the month?
A Bouquet of the Month is a floral display picked out by expert florists to provide inspiration for those looking for the perfect gift.
As the name suggests, it changes every month and can range from bright autumnal blooms to pretty pastels and more, depending on the season. This month's bouquet of the month is Autumn Glow. This fiery display is brimming with a range of hypnotic floral flames of orange, yellow and red.
All of the autumnal hues complement each other and promise to add an instant injection of colour to someone's day.
What's inside?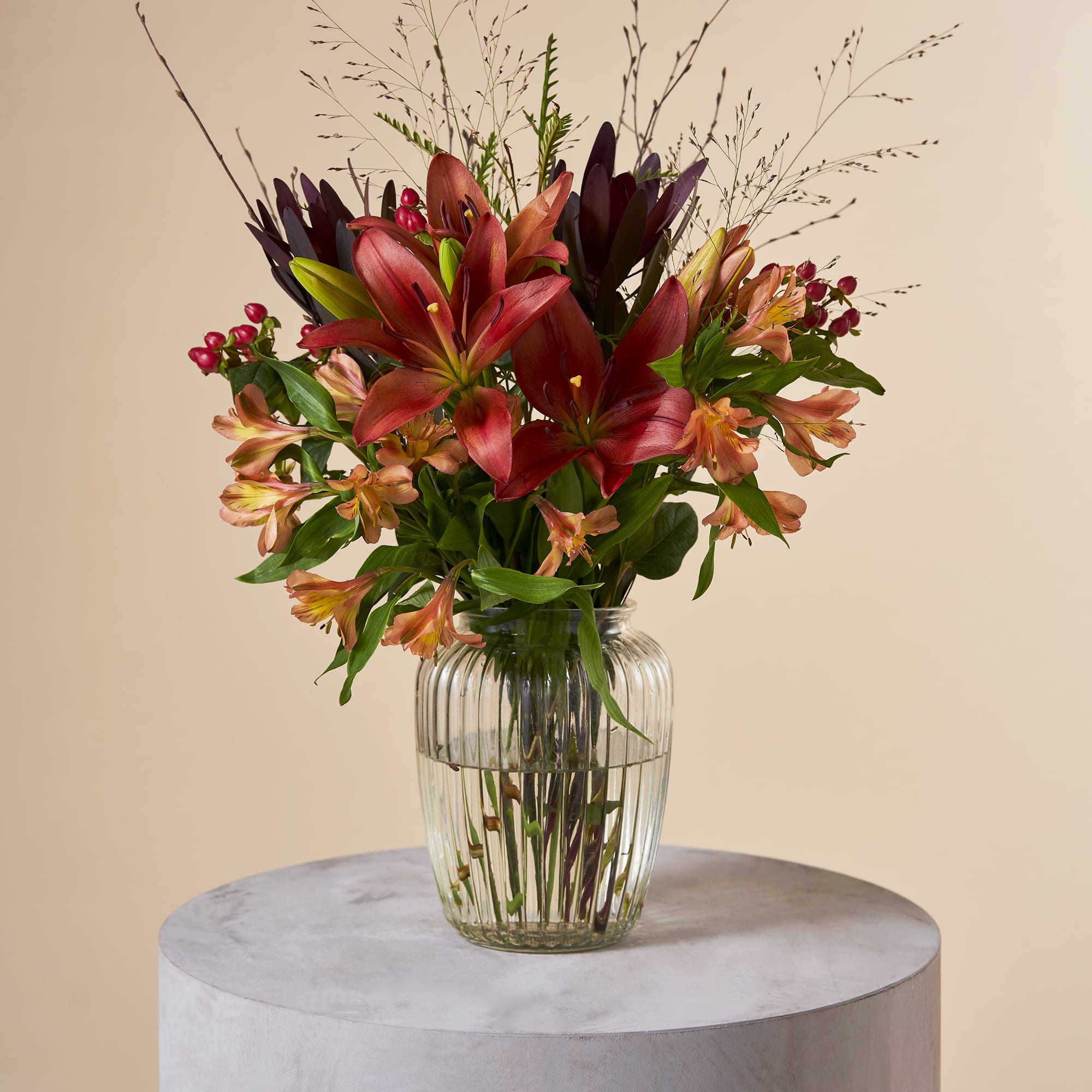 Inside you'll discover a majestic set of bold, red Lilies, which sit alongside Hypericum berries and beautiful Alstroemeria. All of the blooms sit on the perfect backdrop of the painted Warrior Grass. If sending to a special someone or yours truly, this bouquet is guaranteed to add a little fire to their day!
How to order
This is the easy part! Simply visit Serenata online, add the bouquet to your basket, input the address and a message (if sending as a gift) and you're good to go. The bouquet will arrive at the recipient's home in little to no time, especially if you opt for next day delivery.
Next day delivery
Next day delivery with Serenata Flowers is free of charge and ensures flowers are delivered directly to your chosen address. The blooms are cut, arranged, hand-packed and sent via next-day courier service directly from Serenata's flower emporium.
The blooms will arrive between the times of 8am and 8pm unless otherwise specified. You can also opt for a timed delivery option, should you want to send these blooms when you know the recipient is going to be at home.
If the courier is unable to reach the recipient at their abode, they will leave the blooms in a safe place or alternatively, follow the delivery instructions provided by yours truly, which can be provided at checkout.
The individual who has purchased the blooms will receive both an email and text message as soon as the flowers have been dispatched, and confirmation upon their arrival.
Letterbox delivery
This is a popular option today, especially as many people spend time away from their homes and can't always be in to receive a flower delivery.
Autumn Glow is one such arrangement that is privy to letterbox delivery. All blooms are hand packed into a bespoke box, designed to fit through all traditional letterboxes.
These blooms arrive in bud form, which not only means they last longer, it ensures a comfortable delivery to the destination.
Why send flowers?
Whether gifting a loved one or colleague, sending blooms is a great way to brighten up anyone's day and an easy way to show the recipient you are thinking of them.
Little effort is required on your part as the blooms can be ordered at any hour online. This avoids having to travel to a store or deliver the blooms yourself. On top of the ease, flowers are a great addition to any home or office and are proven to heighten the moods of those around them, increasing happiness levels, motivation and more.
They're also a great way to add an injection of colour to an otherwise low-key set-up. They can be displayed in one vase or split, and added to several different vessels of the recipient's choice.
How to care for cut flowers
This is an important factor to take into consideration. Caring for your cut blooms in the correct manner will ensure they last as long as possible. The Autumn Glow bouquet will arrive with care instructions and a sachet of flower food, which should be added to the water in the vase before adding the blooms.
Doing so will give them the nutrients required to survive. You should also change the water if it becomes cloudy over time and place the blooms away from pets, children, drafts, bright and intense sunlight, air conditioning or radiators.
Following these simple tips will ensure your blooms keep on giving, adding colour and fragrance to the entire household or office, depending on where you choose to display them. Just be sure to place them somewhere you are able to enjoy them on a daily basis.
What are you waiting for? Order a bouquet of beautiful blooms today!