Sending blooms to friends, family, loved ones, colleagues, and acquaintances is a great way to show those individuals you are thinking about them. You may wish to thank them for their kindness, wish them a happy birthday, say congratulations, or simply send them flowers for no reason other than to brighten their day.
But regardless of the occasion, purchasing and sending a bouquet of flowers is a fantastic idea if you want to really make an impression. It's also an extremely hassle-free option, especially when ordering from an online florist.
How to pick the perfect bouquet
When it comes to choosing the perfect bouquet, think about the person you are getting the gift for. From considering their favourite blooms to their favourite hues, try to choose a bouquet you know they will adore, as well as a bunch of blooms that will fit in with their decor.
The majority of online florists will offer an assortment of floral displays, including bouquets of the month. If you're struggling to pick a bouquet, this could be just the inspiration you need!
Autumn Burst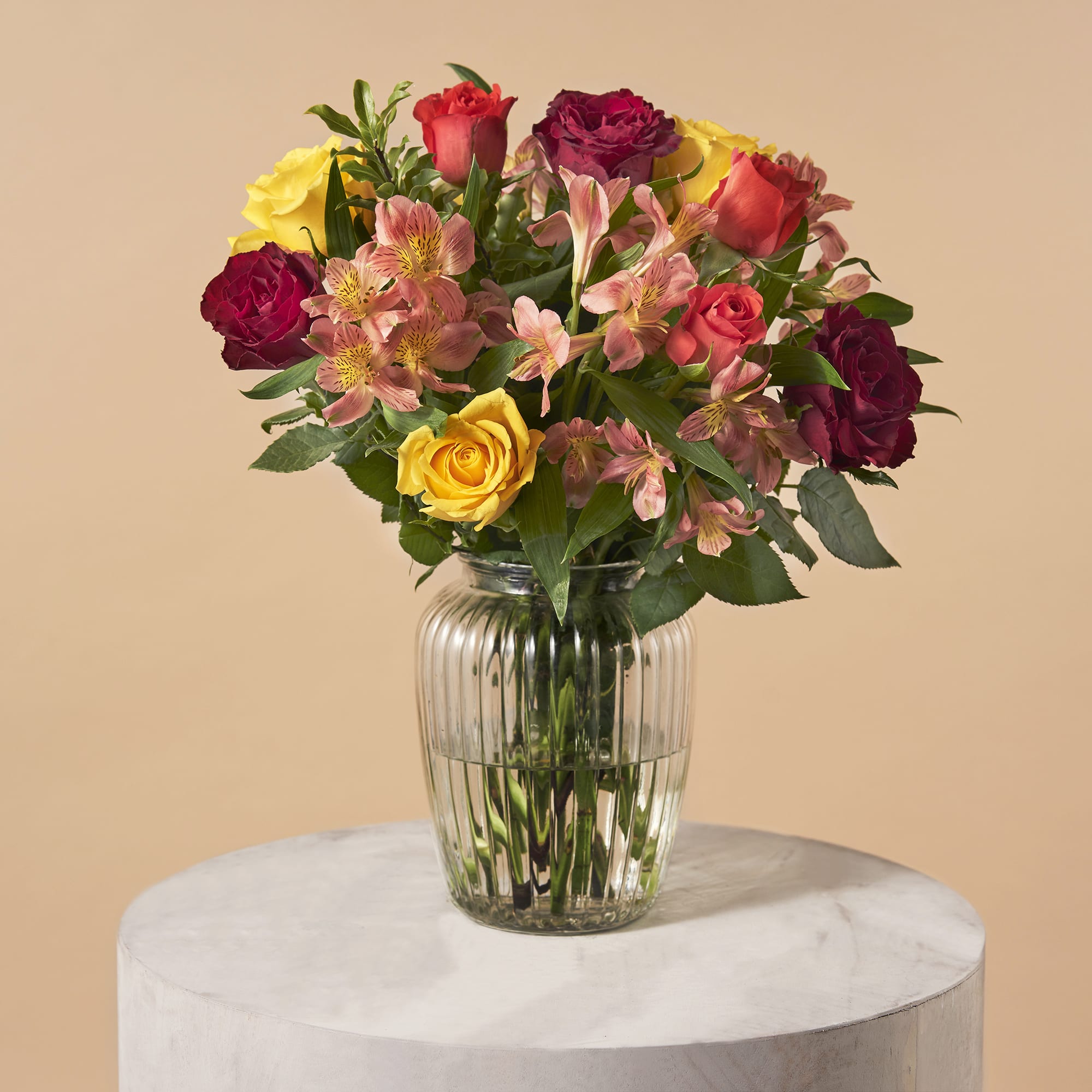 This month's breathtaking bouquet of the month from Serenata Flowers is Autumn Burst.
This floral display is the essence of all the hues that autumn brings. All in all, it is a burst of floral joy that captures the rustle of the autumn leaves and the scent of the forest.
Think rich tones and captivating colours as this bouquet boasts a series of vibrant hues in the shape of orange, red, and yellow roses, alongside yellow Alstroemeria.
What's inside?
Inside the bouquet is five yellow roses, five red roses, five orange Alstroemeria, two Mini Pitto, and five orange roses. This floral display will certainly add a smile to the face of anyone lucky enough to receive it and an instant injection of colour to any room in the home or office.
The best part about ordering online
Ordering from an online florist is an easy, speedy, and efficient way to purchase blooms in the 21st century. You can choose your favourite bouquets at the click of a button and have them delivered to any recipient you choose, or even yours truly. Bouquets don't have to be sent as gifts alone and you can choose to treat yourself too.
If you order before the set cut off time, you can even opt for same or next day delivery. This is a great option if sending them to a recipient for a particular occasion that falls on a set date, or alternatively to your home, as you can guarantee you'll be in to receive them.
You can also make sure that the blooms arrive in time if you're throwing a dinner party and wish to decorate the house in advance of your guests arriving.
Why adding flowers to your home is a great idea?
Asides from injecting colour and scent into your home, a beautiful bouquet of blooms is also a great mood enhancer. It can be the perfect pick me up on a dull day and if cared for correctly (the majority of blooms come with care instructions), freshly cut flowers can last a lengthy amount of time.
For best results add plant food to the water and change this every few days. It's also a good idea to place your blooms out of direct sunlight and out of the reach of children and pets.
Why blooms make a great gift?
Flowers make the ideal gift to give an assortment of people, be it your mother, father, brother, sister, a friend, or even a colleague. And the best part about sending blooms? The smile you'll put on the recipient's face as soon as they open the door to a bold and beautiful bouquet!
Asides from letting them know that you're thinking of them, bouquets of flowers are proven to boost their mood. They will also add to the ambiance of the home, due to both their colour and fragrance.
If you're unsure of which blooms to gift a loved one, worry not, as online florists such as Serenata Flowers feature a bouquet of the month, which is always popular. It's therefore a fail-safe option to gift all tastes and styles.
You could also pair your blooms with a swanky vase, a bottle of champagne, or even a hamper packed with an assortment of treats if you really wish to make a lasting impression! Or maybe you'll want to add an accompanying card with a cute message, especially if gifting on a special occasion.
As an alternative, choose something extremely generic and neutral in hue, such as white or cream blooms set against a backdrop of green foliage. These are guaranteed to appeal to the majority of tastes and will also complement the majority of home and office decors.